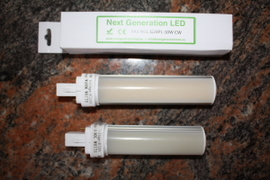 Date Announced: 27 Aug 2010
Pfizer Cafetaria Louvain-la-Neuve Belgium switched their 50 x CFL G24 with PAS-NGL G24 Led Panel Retrofit and now save 71% energy.
26 watt CFL + ballast consumes about 35 watts and have a very low cos Phi(0.33). The brand new released PAS-NGL G24 Panel Led only consumes 10 watt (also available in 6 watt)which results in a 71% less energy consumption.
The new PAS-NGL G24 panel leds were choosen out of other G24 led retrofits because they are free of glare. The PAS-NGL G24 Panel LED retrofit do have a rotatable head which can be used in all recent and older CFL fixtures.
The only modification is the elimination of the ballast, which takes less than 5 minutes.
The PAS-NGL G24 is available in 6 and 10Watt in WW, PW and CW.
The lights are CE, LVD, EMC tested and do have a 2 year warranty.
Panelleds are less expensive and less dependant on cooling than classic LED. Panelled technology is ready to overcome classic LED problems like heat dissipation and glare.
Pfizer Louvain-la-Neuve also installed PAS-NGL-LED T8 tubes in several locations of the plant.
PAS-NGl G24Led retrofits are now available in Europe
PAS-NGL is actually looking to find European distribution partners for G24.
Contact
PAS-NGl Erwin Eeckhaut Bergemeersenstraat 137 9300 AALST Belgium +32 53710942
E-mail:erwin@nextgenerationled.eu
Web Site:www.nextgenerationled.eu