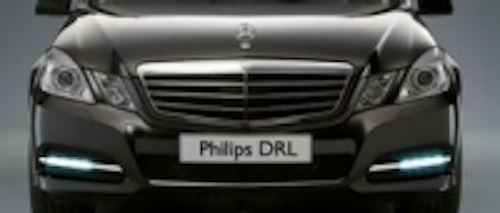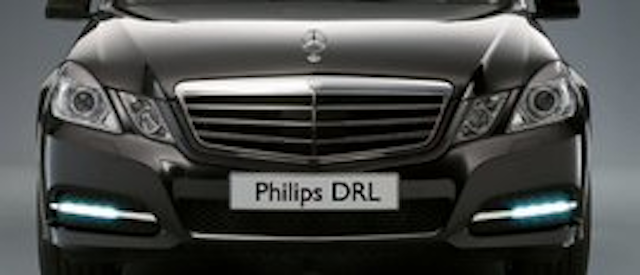 Date Announced: 10 Aug 2010
Mercedes-Benz Implements LUXEON Rebel LEDs from Philips Lumileds for Daytime Running Light Function
SAN JOSE, CA – Daimler AG announced that it has adopted LUXEON® Rebel LEDs for use in the Daytime Running Light (DRL) function on several vehicle models within its fleet. Starting with the E-Class models in June 2010, Daimler intends to expand the use of LUXEON Rebel LEDs for the DRL function in other models, as well.
"We have chosen Philips Lumileds as our partner for the next generation LED DRLs not only due to the product supremacy in lumen output, quality of light and thermal stability, but due to the entirely trustful cooperation between the engineering teams on both sides." said Uwe Kostanzer, head of exterior lighting department, Mercedes-Benz car group.
Commenting on the collaboration, Michael Holt, CEO of Philips Lumileds, said: "We have enjoyed an excellent working relationship with Daimler AG for many years, and the adoption of LUXEON LEDs in the Mercedes platform is an exciting expansion of our relationship."
"Mercedes' leadership in adopting LED technology is a tremendous signal for the entire segment and could further accelerate the penetration of LEDs into vehicles," said Klemens Brunner, VP Global Business Unit Automotive LEDs at Philips Lumileds. "This is another important step in our mission to bring long lasting, energy efficient and environmentally friendly solid-state lighting solutions to the automotive industry."
Adopting LUXEON Rebel LED technology on automobiles enables carmakers to produce lighting modules that increase visibility, enhance safety, save power, and reduce CO2 emissions.
About Philips Lumileds
Philips Lumileds is a leading provider of power LEDs for illumination solutions. The company's leading light output, efficacy and thermal management are direct results of the ongoing commitment to advancing solid-state lighting technology and enabling lighting solutions that are more environmentally friendly, help reduce CO2 emissions and reduce the need for power plant expansion. Philips Lumileds' LUXEON LEDs are enabling new solutions for shop, outdoor, office, school, and home lighting applications.
Contact
Steve Landau Director of Marketing Communications Philips Lumileds +1 408 964 2695
E-mail:steve.landau@philips.com
Web Site:www.philipslumileds.com