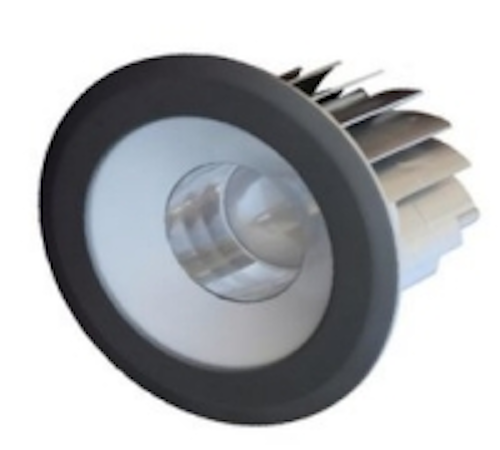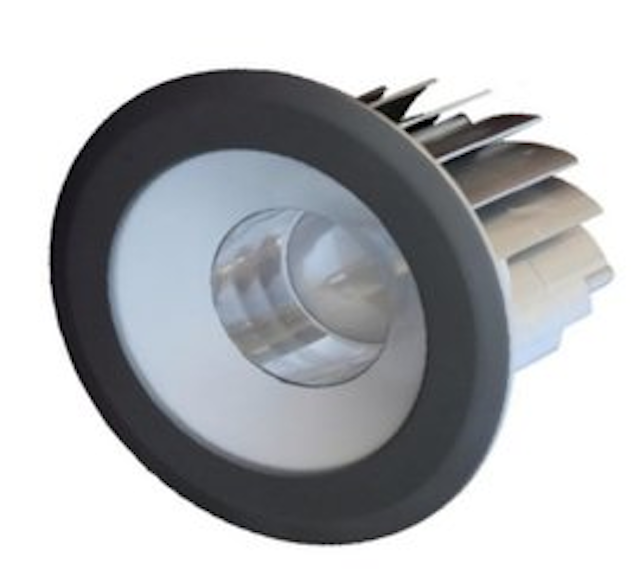 Date Announced: 30 Mar 2010
Fremont, California -- Intematix Corp., a leading innovator in phosphors, LED components and solid state lighting solutions, today announced the introduction of the DL6 solid state retrofit downlight, designed for installation in standard 6-inch recessed can fixtures. The announcement is accompanied by the news that the new DL6 has been awarded Energy Star® certification, and is in compliance with California's Title 24 energy efficiency code.
Producing more than 600 nominal total lumens the DL6 delivers a 3000K warm white output and color rendering index (CRI) greater than 80. Consuming less than 14 watts at normal operating temperatures, it replaces inefficient halogen reflector lamps or unattractive compact fluorescents in recessed fixtures that are typical in hotel and office lobbies, restaurants and retail environments worldwide.
According to Jeff Lagaly, Vice President of Sales, LED Lighting for Intematix, "While the efficiency of LEDs has improved dramatically over the last year, it remains a substantial challenge to produce a quality LED luminaire that offers high efficacy, light quality and reliability. Intematix leveraged its full system-level experience, vertically integrating the technologies from its own patent-backed phosphors and unique multichip LED packages with a precision optical design, efficient drivers and heatsinks, to produce a truly turn-key retrofit LED lighting product."
Mr. Lagaly continued, "With today's announcement, Intematix joins one of only about a dozen companies that have achieved the stringent Energy Star® certification for their LED lighting products. That certification validates the results of our efforts to produce a high quality retrofit downlight that offers commercial facility owners substantial amounts of energy and maintenance expense savings."
The DL6 retrofit LED light is designed for placement in existing 6-inch recessed downlight housings, and features a 60-degree beam angle, CCT of 3000K and CRI in the mid-80s. The internal power supply, innovative optics, good thermal management and control electronics make up a fully integrated assembly that is compatible with a wide variety of dimmers including standard incandescent varieties. The retrofit kit includes all necessary mounting hardware as well as adapters for both Edison screw-base or GU24 socket installations. Intematix' vertical integration and solutions approach allows very competitive pricing for distributors and wholesalers, with typical energy savings and maintenance paybacks as short as 24 months when replacing 65W incandescent bulbs in 24x7 applications.
"LED lighting represents a huge technology leap over anything the traditional lighting industry has dealt with in general lighting applications," commented Yi-Qun Li, Intematix CTO. "We feel that for solid state lighting to achieve its market share as quickly as possible, it will be up to companies that have driven the underlying technology to act as the standard-bearers for how to implement it cost-effectively, and correctly. Intematix has proven its leadership, beginning with critical base technologies, and is now successfully injecting those into a market-leading line of retrofit lighting products aimed at applications where LED lighting demonstrates a clear economic advantage right now."
About Intematix Corporation
Intematix Corporation is an innovator in the LED lighting space, providing high quality, energy efficient solid-state lighting solutions. Intematix leverages decades of expertise in materials science to develop patented phosphors, which serve as the foundation for the company's LED components and modules, integrated LED light sources, and custom signage applications. Intematix products provide attractive, vivid color quality, superior consistency and stability. Headquartered in Fremont, California, Intematix maintains R&D, manufacturing, business and support operations in the U.S. and Asia.
Contact
Ilkan Cokgor Intematix Corp. Tel: +1.510.668.0227
E-mail:icokgor@intematix.com
Web Site:www.intematix.com