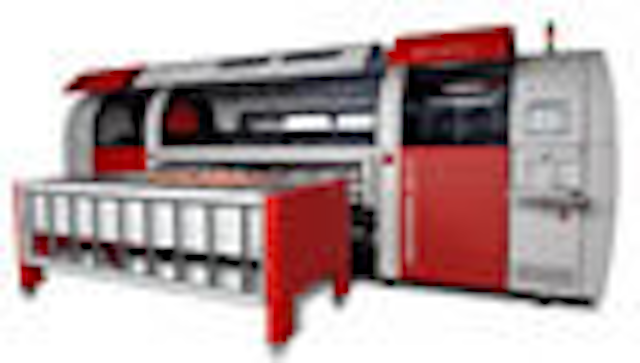 Date Announced: 01 Mar 2010
Hillsboro, OR -- Agfa Graphics has long been known and respected as a key player in the printing equipment industry and in recent years has become a serious player in the wide format UV Inkjet business. Agfa has continued to grow and develop their line of :Anapurna printers and print engines in response to the evolving sign-making marketplace which is the primary target area for these printers.
The :Anapurna line of wide format UV inkjet printers are designed for indoor and outdoor signs & displays. These UV ink-curable engines provide quality printing on a wide variety of coated and uncoated rigid as well as on-roll media.
The brand new :Anapurna 2500 LED is a wide format UV inkjet printer using Agfa's proprietary head and ink technology in combination with high performance UV-LED curing lamps based on Semiconductor Light Matrix (SLM) Technology provided by Phoseon. Phoseon's UV-LED curing technology enables output on a wider media mix and an extended range of applications while at the same time allowing a low total cost of ownership.
The :Anapurna 2500 LED prints in 3 quality throughput modes on uncoated rigid as well as on roll media at widths of up to 2.5 m (100") and at speeds of up to 60 m2/h. Applications encompass posters, billboards, fleet displays, POS & POP displays, exhibition panels, stage graphics, construction announcements, ad panels etc. :Anapurna 2500 LED produces highly saturated top quality colors at resolutions up to 1440 dpi, using Agfa made UV curable inks.
The :Anapurna 2500 LED lamps emit UV light at a peak wavelength of 395 nm. This long wavelength enables an ink curing that goes deep into the ink layer. The :Anapurna 2500 LED ink guarantees an outstanding adhesion, high scratch resistance and a non tacky ink surface on a wide range of media types. :Anapurna 2500 LED produces a large color gamut with vibrant saturated colors, as requested in many outdoor printing applications.
"We're extremely happy to see Agfa's successful rollout of UV-LED technology for UV wide format printing" commented Bill Cortelyou, President and CEO of Phoseon Technology. "We believe Agfa customers will immediately see the benefits of the technology and the technology will continue to gain traction in wide format inkjet."
About Phoseon Technology
Phoseon Technology is the world leader in UV-LED curing solutions for a variety of UV curing applications. Primary applications in the printing industry are for curing and drying of UV inkjet inks for high speed single-pass inkjet printing machines and for high-speed wide-format roll or flatbed systems utilizing piezo drop-on-demand inkjet heads. Other applications include UV curing for coding and marking system as well as screen, flexographic and offset/sheeted printing systems. Phoseon's UV-LED curing products are based on patented Semiconductor Light Matrix (SLM)™ technology. SLM sources provide purer light with less wasted energy and longer useful life than traditional gas discharge and microwave ultra violet lamp-based sources. With SLM technology, OEMs can manufacture the environmentally cleanest, coolest operating, and most efficient UV-based systems commercially available. For more information please visit www.phoseon.com.
Contact
Tom Molamphy Phoseon Technology 503-249-0361
E-mail:info@phoseon.com
Web Site:www.phoseon.com