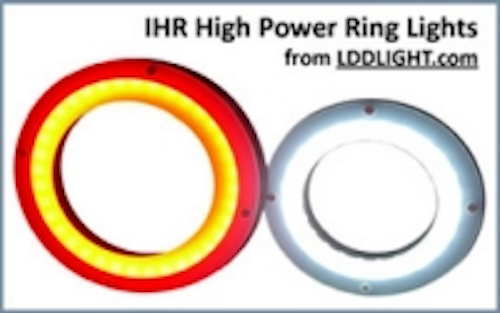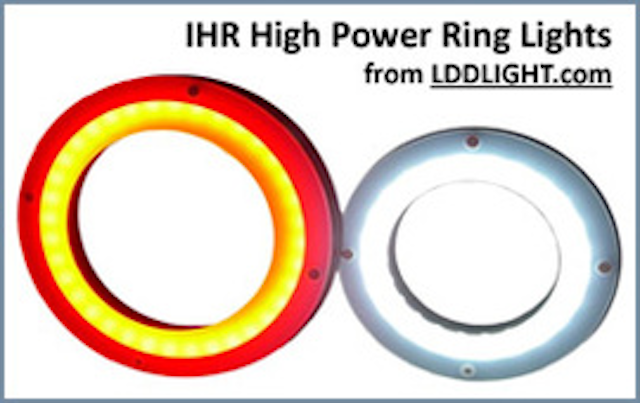 Date Announced: 09 Mar 2010
The new IHR Series High Power Ring Lights from LDDLIGHT.com are designed for applications requiring high light intensity, illumination of large areas or long working distances. Unique within our Ring Series, IHR's are equipped with Power LEDs that provide significantly higher output when compared to more conventional LED ring lights. The high illumination intensity in models sized up to 350 millimeters in diameter creates opportunities to deploy these long-life, high-efficiency LED units in applications that have been using less efficient, shorter life fluorescent or incandescent sources.
Available in six sizes with outer diameters of 85, 124, 154, 223, 273 and 353 millimeters, IHR models are available with red, white, blue or green LEDs. Additional wavelengths or sizes may be custom ordered. All IHR models are equipped with a standard diffusion optic for uniform illumination. Optional polarizing optics are available for applications requiring the suppression of glare from specular surfaces.
To see all available IHR High Power Ring Light models and pricing, visit http://www.lddlight.com and enter "IHR" into the site's Search Box.
About LDDLIGHT.com
LDDLIGHT.com offers an extensive lighting line. Detailed and graphical specifications assist you in choosing lighting techniques. Simple menus guide you through model choices and help you add the right light and accessories to your shopping cart. Enter your account information, select a shipping method, and use the encrypted checkout for fast, secure credit card purchases. Don't want to use a credit card? No problem, just enter your PO number and we'll invoice you. Products are quickly shipped, and backed by a 2 year warranty and "no questions" return policy.
LDDLIGHT.com is the domain of LDD Trading Associates, LLC.
Contact
603-732-0057
E-mail:sales@lddlight.com
Web Site:www.lddlight.com