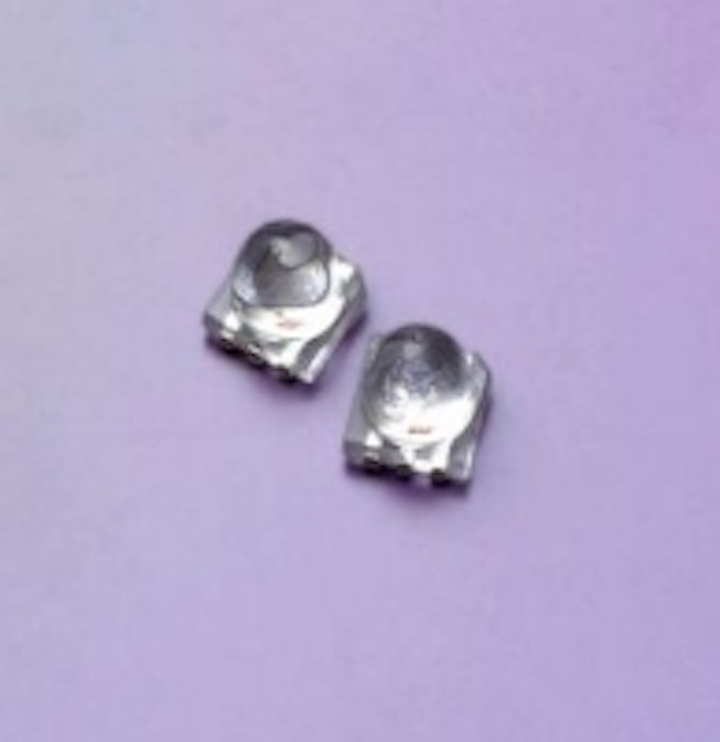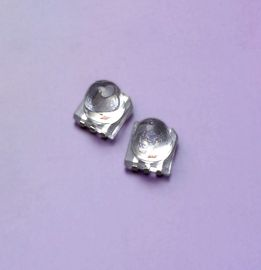 Date Announced: 10 Mar 2010
-- Compact Design Provides Superior Brightness in a Low Profile Package for Easy Implementation
Böblingen, Germany -– Avago Technologies a leading supplier of analog interface components for communications, industrial and consumer applications, today announced a new miniature auto focus light emitting diode (LED) for use in ultra-slim digital still camera designs. Avago's ASMT-FJ60, which is an enhancement to its ASMT-FJ30 auto focus LED series, is ideal for use as an auxiliary auto focus flash in camera applications that require long distance illumination and a narrow radiation pattern. With a footprint that can fit on the head of a pencil eraser, the ASMT-FJ60 offers superior brightness and is one the thinnest auto focus LEDs in the industry. Additionally, this new auto focus LED will enable designers to further reduce the overall thickness and size of digital still cameras.
Avago's ASMT-FJ60 flash LED is an easy to install miniature surface mount technology (SMT) dome LED lamp which incorporates an untinted, non-diffused lens that provides light output within a narrow 10-degree radiation pattern to assist the auto focus function in digital still cameras operating in low-light or dark environments. Moreover, it also provides greater functionality per square inch of printed circuit board (PCB) space while achieving superior performance in terms of brightness and power consumption. As a result, design engineers can pack more functionality, features and performance in less space to make even smaller digital cameras that will enhance the end user's overall experience.
The ASMT-FJ60 package also provides convenience in the assembly process and is available in 1,000 unit tape and reels to facilitate pick and place operations. As a result, design engineers will benefit from shorter time to market and overall cost savings.
Features
- Smooth, consistently narrow radiation pattern
- 10-degree viewing angle
- Package dimensions: 4.8 mm (L) by 4.8 mm (W) by 4.35 mm (H)
- High intensity light output: 29cd @20mA
- Clear, non-diffused epoxy
- Compatible with 2x solder reflow process
- Meets IEC/EN 60825-1 Eye Safety Class 1M requirement
- RoHS compliant
Availability
Avago's ASMT-FJ60 SMT LEDs are supplied in 16 mm tape on 380mm (15-inch) diameter reels for compatibility with automated manufacturing processes. Samples and production quantities are available now through Avago's direct sales channel and worldwide distribution partners. More information about Avago´s products can be found at: www.avagotech.com
About Avago Technologies
Avago Technologies is a leading supplier of analog interface components for communications, industrial and consumer applications. By leveraging its core competencies in III-V compound and silicon semiconductor design and processing, the company provides an extensive range of analog, mixed signal and optoelectronics components and subsystems to approximately 40,000 end customers. Backed by strong customer service support, the company's products serve four diverse end markets: wireless communications, wired infrastructure, industrial and automotive electronics, and consumer and computing peripherals. Avago has a global employee presence and heritage of technical innovation dating back 40 years to its Hewlett-Packard roots. Information about Avago is available on the Web at www.avagotech.com
Follow Avago on Twitter at http://twitter.com/Avagotech.
Contact
Avago Technologies Ref.-Nr.: PRAV10011 Postfach 2260 D-35532 Wetzlar Fax: +49 (0) 64 41 / 92 46 46
E-mail:axel.schneider@ptworldwide.de
Web Site:www.avagotech.com