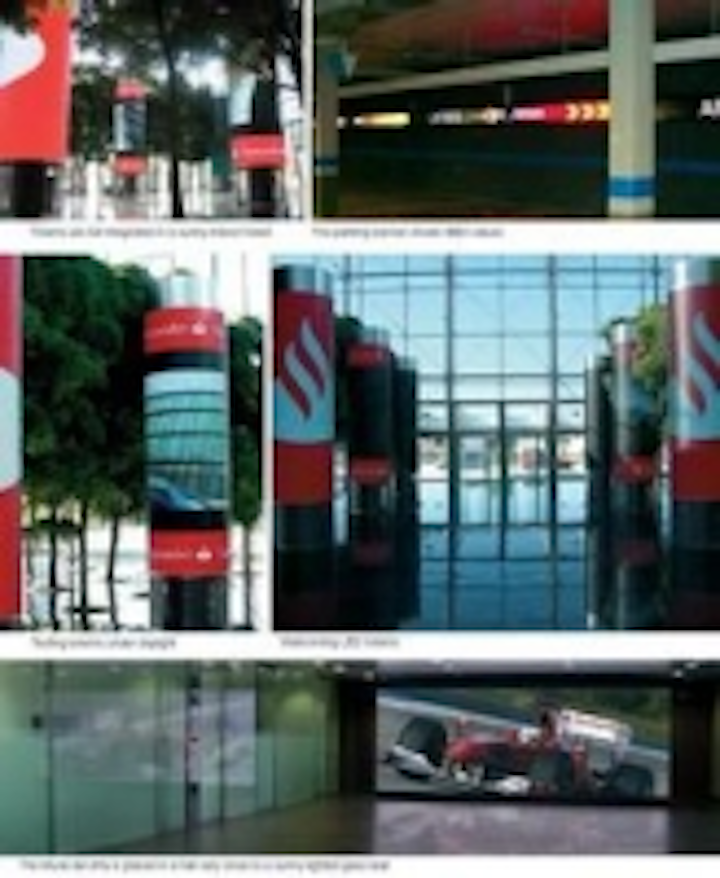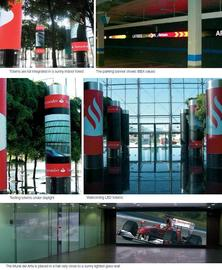 Date Announced: 26 Mar 2010
Imago Architecture provided a turn-key solution to install several LED Screens to the new Visitors Center at La Ciudad Grupo Santander located in Boadilla del Monte (Madrid).
Six custom-made cylinders, known as totems, will be installed into a huge glass cube, where all visitors must pass to access the facility. The cube acts as a greenhouse and contains trees and LED screen cylinders, which create a unique atmosphere.
Each cylinder, is 1.2m in diameter and is installed around air conditioning tubes. Because of this, Imago had to design a special structure to provide front-access for sign maintenance. Each screen has a 6mm pixel pitch, and an incredible contrast ratio due to black-body SMD LED.
The extremely slim 6mm pixel-pitch will allow Banco Santander to show artwork from different artists, use it for presentations and corporate meetings. Elegance, high resolution and fl exibility are combined in one product.
Beyond the totems, the project included three linear banners (51 meters long) that are installed at each parking floor to provide continuous text messages, images and information.
Contact
Rafel Fors Architecture Division - IMAGO GROUP
E-mail:rafel.fors @imagoscreens.com
Web Site:www.imagoscreens.com