W-DMX™ Goes Full Speed Ahead at Touareg World Premiere
Mar 1st, 2010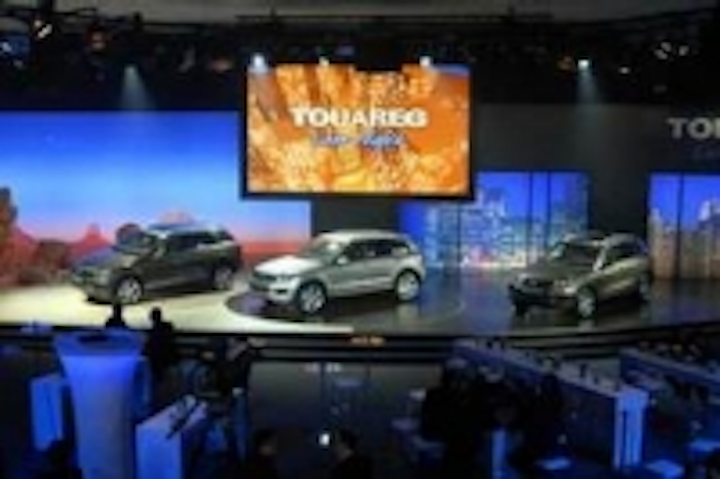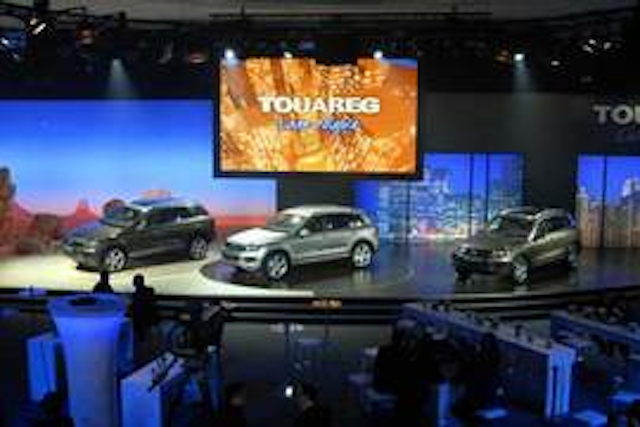 Date Announced: 01 Mar 2010
Wireless Solution Sweden AB put the pedal to the metal at the world premiere of the new Volkswagen Touareg SUV at the Postpalast in Munich, Germany on February 10. This high-profile world premiere and press conference was attended by approximately 500 of the world's top automotive experts and VIPs and the reveal was highly anticipated by the press.
The Volkswagen Touareg has been a favorite among soccer moms and SUV fans since its introduction in 2002. At the premiere, Volkswagen unveiled the completely redeveloped Touareg, hailed as the most technically innovative "VW" since the brand has been in existence. The new Touareg is nearly 20 percent more fuel efficient and equipped with a large variety of new assistance and safety systems. It will also be the first and only off-roader in Europe by a German manufacturer to be available in a hybrid version, bringing it worldwide attention for its Green initiative.
Lighting Designer Martin Kuhn pulled out all the stops for the event, which included colorful LED columns to compliment the Touareg and dazzle the audience. Production was supplied by Leyendecker GmbH of Wuppertal. Because of the location of the columns, no DMX cables could be run, so Kuhn turned to W-DMX™ by Wireless Solution.
W-DMX™ was used to provide DMX coverage to the columns, which were backlit with LED, as well as to the outdoor LED fixtures on the roof. A total of 8 feeds of wireless were used. Kuhn explains, "I chose W-DMX because of previous excellent experience during the opening of the Football World Cup 2006 (also in Munich) and because I needed 100% reliability in an environment with lots of radio microphones, wireless TV cameras and of course cell phones. We never once lost signal and had a very successful launch."
"I have to admit I was sad not to be able to attend the launch," said Lotta Schiefer, EMEA Sales Manager for Wireless Solution, "The Touareg launch was quite the buzz, plus Volkswagen is known worldwide for its high-profile reveals and the lighting and production values are some of the best in the world. We're always proud to work with Martin and happy our product delivers him with perfection every time."
W-DMX™ by Wireless Solution Sweden AB has become the world standard for wireless DMX, winning awards on both sides of the Atlantic. W-DMX "outshone the rest" in an independent test (Lighting & Sound International). Specified with perfect results in high-profile lighting projects everywhere, W-DMX has been used for lighting the 2010 Olympics in Vancouver; the Olympic Council of Asia (OCA) Headquarters in Kuwait; Andrea Bocelli live at the Colosseum; Times Square in New York City; the Nobel Prize Banquet; the Berlin Wall 20-year Anniversary; and many more.
For more information about W-DMX™ by Wireless Solution, visit www.wirelessdmx.com. For more design and production work from Martin Kuhn, visit www.mkld.de.
Photos: Courtesy of Martin Kuhn.
Contact
Joan Lyman joan@m-m-pr.com +1 719 466 1784
E-mail:sales@wirelessdmx.com
Web Site:www.wirelessdmx.com