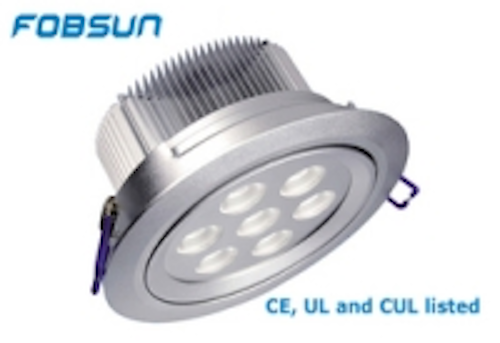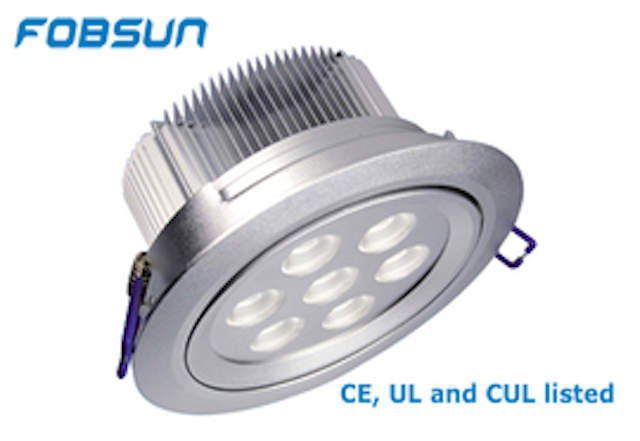 Date Announced: 11 Mar 2010
FOBSUN ELECTRONICS LIMILTED releases their new LED Dimmable Downlight recently. As one of the biggest Chinese LED Lighting Factories, Manufacturers, Suppliers and Exporters, FOBSUN insists on supplying LED Lighting products with best design and quality to the market, now let us see what the unique selling proposition of FOBSUN New Dimmable Downlight is first:
1. Compatible with most traditional ELV dimmers
FOBSUN LED Dimmable Downlight can be compatible with most traditional ELV dimmers, only need to work with the customized drivers.
2. Special Heat Sink Design
The heat can be fully dispersed by the special Heat Sink and the heat sink area will be enlarged. The external power supply makes the discharge of heat more easily, and ensures the long life of the lights.
3. Drivers listed by CE, UL and CUL
The drivers are listed by CE, UL and CUL, so you can use the lights in the areas of Europe and North America.
4. Adjustable Centre-Tilt
20-30 adjustable tilt of Aluminum Centre Tilt Downlight, can be mounted with different angles by only sliding the centre-tilt, which is more user-friendly for the installation and operation.
5. Rectangular Beam Focusing Lens
The original rectangular beam pattern focusing lens guarantees no darkness between each lamp, and sharply increases the using efficiency of the lights. 8° Optic, 15° Optic, 30° Optic, 45° Optic and 60° Optic could meet different demands.
FOBSUN ELECTRONICS LIMILTED, a high-tech enterprise, founded in 1998, is professionally engaged in researching, developing and manufacturing energy saving products, and mainly specializes in designing, producing, distributing and licensing lighting emitting diode (LED) controllable digital decoration and illumination lighting systems, In 2004, FOBSUN established a factory as a branch of LED lighting devices in mainland.
FOBSUN's main products: LED T5 | T8 Tube Lights, all kinds of LED Downlights (Round, Square, Linear, ELV Dimmable), LED Strips (Flexible, Rigid), LED Spotlights (MR10, GU10, E27, E14, E26, G24), LED Wall Washers(Round, Square, Linear, IP20 or IP65), LED Rope Lights, LED Neon Rope Lights, LED Strings, Drivers, RGB Controllers, Dimmers and DMX Decoders etc.
Our products have been widely applied for commercial and residential illumination, such as office, school, hotel, restaurant, library, display, decoration, industry & hospital and so on. Utilizing of high performance optical system, excellent heat sink and dissipation system ensures their best quality, and they feature the property of energy saving, long lifetime, and environment-friendly without any harmful radiation and glaring effects.
Contact
Phone: +86 755 3366 2660 Fax: +86 755 3366 2986
E-mail:sales@fobsun.com
Web Site:www.fobsun.com