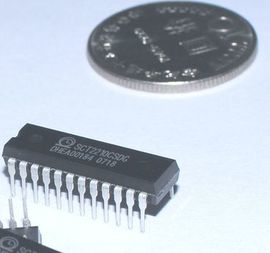 Date Announced: 23 Mar 2010
With only +-1% maximum error between bits & all of the bits are on and +-1.5% maximum error between chips in the system, Starchips (www.starchips.com.tw) SCT2027, LED driver current sinks 16 LED clusters with serial-in parallel-out for data latch up format, is designed to fulfill the fastest response requirement from customers. Besides, it is excellent in taking stress from the output voltage up to 24V where other similar drivers reached 17V only.
You may ask why SCT2027 is special from other similar part. Yes there are many features that will be boosting up your product performance!
About Starchips and its LED Driver products
Based in Taiwan Hsinchu Science based park, Starchips is a fabless IC design house focuses on analog and mixed-signal applications requiring constant current driving technology. ASE is one of the biggest share holders of SCT who focuses on strategic markets of LED driver for screens, backlight and project-based cases with ISO 9001: 2000 certified. All of SCT ICs are with RoHS compliant.
Contact
Ms. Rowena 4F, No 5, Technology Rd, Science-Park, 300 Hsinchu, Taiwan
E-mail:rowena@starchips.com.tw
Web Site:www.starchips.com.tw