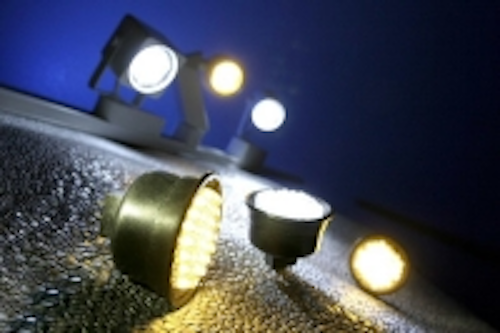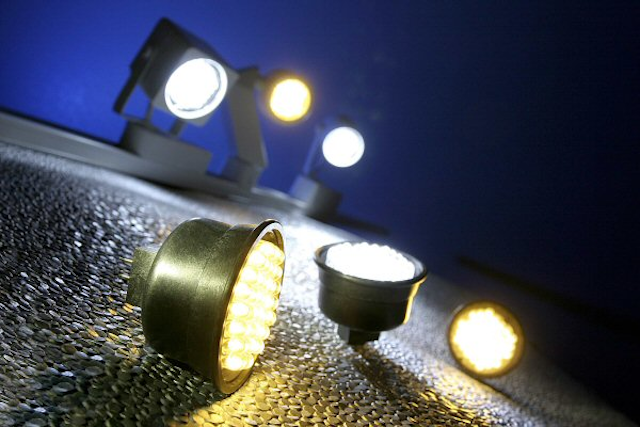 Date Announced: 08 Feb 2006
TORRANCE, CA — February 3, 2006 — LEDtronics introduces additions to its line of drop-in replacement MR16-styled LED bulbs: High-powered White MR16 TrackLEDs.™ These new LED bulbs have two big advantages over other MR16 LED bulbs.
First, they are engineered to handle the variations in voltages that may accompany "noisy" or "dirty" AC or DC power supplies, eliminating burnout from incoming voltage that are higher than the lamp's capacity. Second, the new MR16 LEDs remove the need to stock a variety of MR16 LED bulbs to coordinate with different voltages that may present with 12V – 24V DC power supplies, simplifying procurement and inventory procedures.
High-powered MR16 TrackLEDs have 2-pin bases, draw just 2.5 Watts, feature 42 LEDs and are offered in cool white and incandescent white. Four beam angles are available: Narrow (15º - 20º), standard (2º5 - 30º), medium (40º - 50º) and wide (100º - 120º). With factory-approval, MR16 TrackLED lamps may be ordered in other LED colors, voltages and beam angles.
Lamps carry a 3-year limited warranty. Unlike halogen MR16 lamps that create potentially damaging heat, LED-sourced MR16 lamps generate little heat while operating and pose no threat to the objects they are illuminating.
Lighting professionals, architects, industrial designers and maintenance departments will find these lights to be excellent solutions for maintenance-intensive and low-voltage applications. MR16 lamps are commonly used for accent, task and display lighting in museums, jewelry stores, residential lighting and entertainment venues.
With an average White LED life span of 50,000-plus hours (5 years), LEDs operate reliably year-after-year. Solid-state design renders LEDs impervious to electrical and mechanical shock, vibration, frequent switching and environmental fluctuation. Integrated current-limited resistors prevent short-circuiting. LED lamps use only 10% - 20% of the energy consumed by equivalent incandescent lamps that when combined with their maintenance-free operation results in substantial cost savings.
Prices for MR16 TrackLED LED Lamps are $59.00 each, depending on quantity. Availability is stock to 4 – 6 weeks for special requirements.
For additional information, contact LEDtronics toll free at 1-800-579-4875, telephone 310-534-1505, fax at 310-534-1424, e-mail webmaster@ledtronics.com or mail at LEDtronics Inc., 23105 Kashiwa Court, Torrance, CA 90505. Visit our website at www.ledtronics.com. Ask for data sheet (log #189). The URL address is as follows:
The URL address is as follows: http://www.ledtronics.com/ds/mr16-42acdc
Contact
Jordon Papanier Tel. +1 310-534-1505
E-mail:jpapanier@ledtronics.com