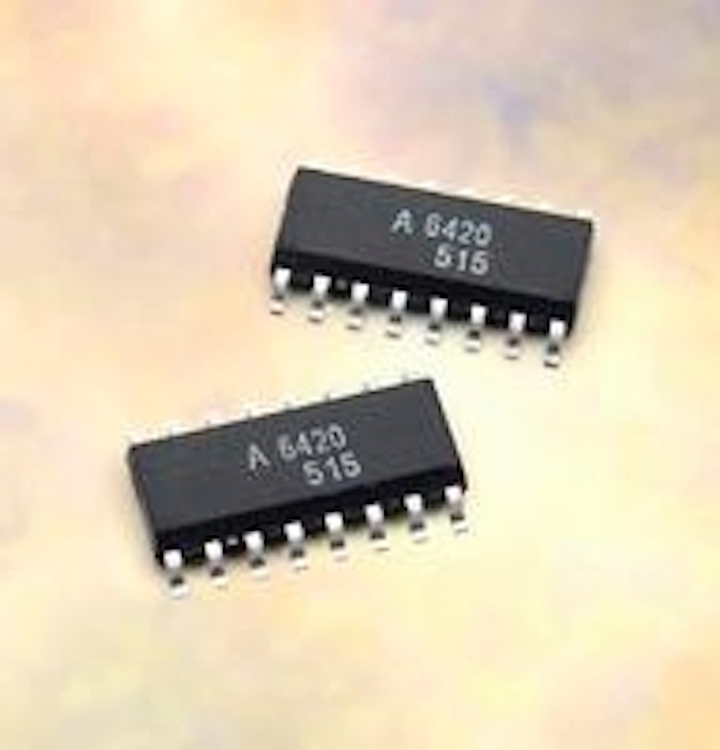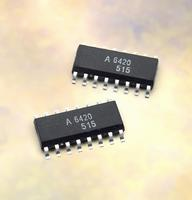 Date Announced: 06 Feb 2006
Multiple Unidirectional and Bi-directional Channels Reduce Parts Count, Board Space and System Cost
SAN JOSE, Calif., Feb. 6, 2006 -- Avago Technologies today expanded its industry-first family of 3.3 V, 15 MBd, multi-channel and bi-directional digital optocouplers in compact (9.9 mm x 5.9 mm x 1.7 mm), 16-pin thin SOIC packages. The Avago ACSL-6xx0 series optocouplers allow customers to reduce parts count, board space and system costs in a wide range of applications by replacing one- and two-channel digital optocouplers with a smaller, more compact solution. Popular applications include network bus isolation in Profibus, DeviceNet and CAN bus systems. Other key digital applications include Inter-Integrated Circuit (I2C) bus isolation, which comprises POE (power-over-Ethernet), power system management and I2C long-distance transmission.
Avago's previously released ACSL-6210 and ACSL-6410 optocouplers are successful in medical systems where they isolate address lines between the microprocessor and the system interface. The new ACSL-6xx0 series extends the range of multi-channel and bi-directional digital optocouplers offered by Avago Technologies.
The new digital optocouplers are:
o ACSL-6300 with triple unidirectional channels.
o ACSL-6310 with triple bi-directional (2/1) channels.
o ACSL-6420 with quad bi-directional (2/2) channels.
Avago's patented manufacturing technology for stacking LEDs provided the integration breakthrough necessary to develop multi-channel optocouplers. The integration of multiple optocouplers is achieved through stacking LED die and an insulating layer on a silicon substrate.
"Avago continues to innovate with breakthrough products for the isolation market," said Chong Tze Siong, vice president and general manager for Avago Technologies' Optical Communication Solutions Division. "Our new ACSL family helps customers improve their end-product designs and reduce costs. As the world's largest supplier of photo-IC optocouplers, Avago is equipped to provide an entire family of multi-channel optocouplers, in virtually any quantity, with short lead times."
Avago's ACSL-6xx0 series optocouplers perform at a typical operating speed of 15 MBd. These devices exhibit high common-mode rejection of 10 kV/ microsecond minimum and operate from 3.0 V to 5.5 V supply voltages with an operating temperature range of –40 C to +100 C. They are designed to meet the most widely accepted international safety regulations: UL1577 (2500 Vrms), CSA Component Acceptance Notice No. 5, and IEC/EN/DIN EN 60747-5-2.
U.S. Pricing and Availability
The Avago ACSL-6xx0 multi-channel optocouplers range in price from $2.07 to $3.99 each in 10,000-piece quantities. All versions are available now through Avago Technologies' direct sales channel and worldwide distribution partners.
More information is available at www.avagotech.com/optocouplers.
About Avago Technologies
Avago Technologies is the world's largest privately held semiconductor company, with 6,500 employees and net revenue of $1.8 billion in fiscal 2005. Avago provides an extensive range of analog, mixed-signal and optoelectronic components and subsystems to more than 40,000 customers worldwide. The company serves three primary product categories comprising optoelectronics, RF/microwave components and enterprise ASICs, and is recognized for providing innovative, high-quality products along with strong customer service and the industry's best on-time delivery. Avago's heritage of technical innovation dates back 40 years to its Agilent/Hewlett-Packard roots. Information about Avago is available on the Web at www.avagotech.com.
Contact
Avago Technologies +1 800 235 0312
E-mail:support@avagotech.com
Web Site:www.avagotech.com