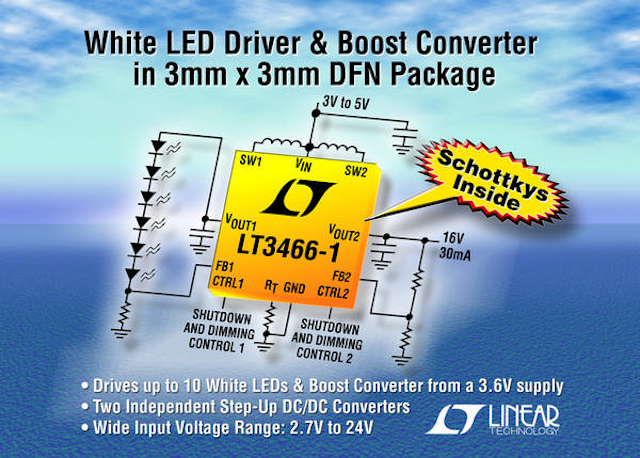 Date Announced: 22 Feb 2006
Linear Technology has announced the LT3466-1 dual step-up DC/DC converter: a white LED driver and a boost converter in a low profile 3mm x 3mm DFN package.
The LED driver channel can drive up to 10 white LEDs from a single cell Li-Ion input at up to 83% efficiency. The boost converter can generate TFT-LCD bias voltages or drive an OLED display. Each channel has independent dimming and shutdown control. Schottky diodes are integrated, eliminating both the added cost and board space required by external diodes. Its 3mm x 3mm DFN package and tiny externals provide a very compact footprint for space-constrained handheld applications.
The LT3466-1 switching frequency can be set between 200kHz and 2MHz via a single resistor, enabling the designer to minimize solution footprint and maximize efficiency. Constant switching frequency minimizes noise, greatly reducing potential interference with onboard RF or noise sensitive circuitry.
Its 2.7V to 24V input voltage range enables it to operate in applications from Li-Ion powered handheld devices to automotive backlighting. Both the LED driver and the boost converter have overvoltage protection and internal soft-start.
The LT3466-1 is available from stock in a 3mm x 3mm DFN-10 package. Pricing starts at $1.95 each for 1,000-piece quantities.
Summary of Features of the LT3466-1:
* Two Independent Step-Up DC/DC Converters
* Drives Up to 10 White LEDs from a 3.6V Supply
* Independent Dimming and Shutdown Control of the Outputs
* +1.5% Output Voltage Accuracy (Boost Converter)
* + 4% LED Current Programming Accuracy
* Internal Schottky Diodes
* Internal Soft-Start Eliminates Inrush Current
* Fixed Frequency Operation Up to 2MHz
* 83% Efficiency Driving 8 White LEDs at 15mA from a 3.6V Supply
* Wide Input Voltage Range: 2.7V to 24V
* Tiny (3mm x 3mm) 10-Lead DFN Package
Contact
UK and Ireland: Alastair Boyd, Linear Technology (UK) Limited Tel: +44 (0)1628 477066 E-mail: aboyd@linear.com North America and General Information: Doug Dickinson, Linear Technology Corporation Tel: (408) 432 1900 ext. 2233 E-mail: ddickinson@linear.com
E-mail:uksales@linear.com
Web Site:http://www.linear.com