NeoPac launches high-power RGB-variable LED Tube Light Engine
Feb 10th, 2006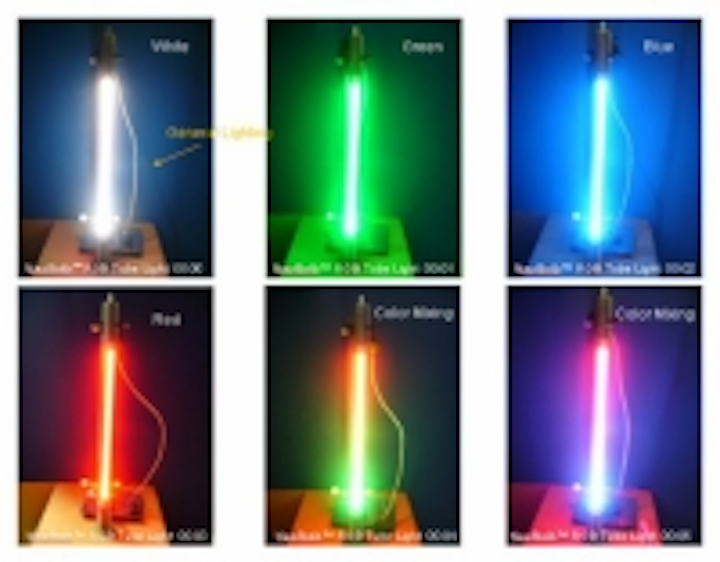 Date Announced: 10 Feb 2006
- One Tube for both general lighting and entertainment
Presenting its latest advance in bright illumination and energy efficiency, NeoPac Lighting is launching the world's first high-power RGB-variable NeoBulb™Tube Light Engine for wide versatile applications.
Designed to function like fluorescent tube bulbs, the new NeoBulb™ Tube Light Engine has much more to offer with its RGB variable colors. The LEDs Tube Light Engine provides 300 lumen point-light-source in white light, or individual RGB colors, or with mixed color combinations (see photo).
The NeoBulb™ Tube Light Engine is opening up new possibilities, with multiple applications for adaptation in commercial, residential, and office settings. As such, it is the industry's bright new star and has enormous potentials for worldwide markets.
It can be set for regular fixture or in color change mode – with dynamic display of lighting color change in sequence from less than micro-second interval up to longer time procession.
Offering illumination in either static or dynamic display functioning with change of lighting colors, the NeoBulb™ Tube Light Engine can meet the needs in wide variety of uses for both general lighting and for entertainment as well.
Jeffrey Chen, President of NeoPac Lighting, Inc. explains the world's leading high-power RGB-variable NeoBulb™ Tube Light Engine (double side) is made with two 8 chips (RRGGGGBB) packaged VE4700 NeoBulb™ Light Engines that offer two point-light-sources on the two ends of the tube.
The patented NeoBulb™ Tube Light Engine also comes in a single-side module with one 6-watt NeoBulb™ Light Engine to offer 150 lm RGB mixing white light and also the sparkling RBG-variable colors. It has multi-purpose applications for conventional setting, decorative illumination, and for new lighting environments.
"Through our proprietary NeoBulb™ Universal Platform and revolutionary system-in-package technology, the RGB chips junction temperature in VE4700 NeoBulb™ Light Engine can be well controlled at 60°C or below. Since Red chips have higher decay rate than Blue and Green chips at elevated junction temperature, keeping such low Tj at such high power dissipation will be the key point for packaging multiple RGB power chips together.
"The 6-Watts 8 power chips, single-packaged, point-light-source with Tj below 60°C is also a new world record for LEDs package," adds Jeffrey Chen.
He states, "Our NeoBulb™ Tube Light Engine adds color to people's lives. It provides whole new ways of lighting design possibilities for homes, at work, and at play."
Contact
Chin Tsai NeoPac Lighting, Inc. Tel: +886-3-558-3620 ext. 208 Fax: +886-3-558-6909
E-mail:chin@neopac-lighting.com
Web Site:http://www.neopac-lighting.com