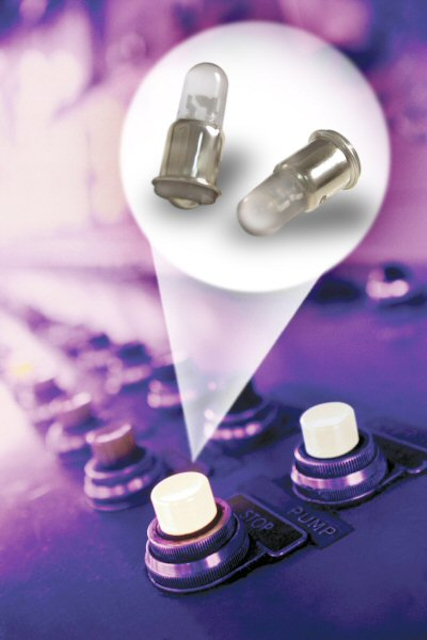 Date Announced: 09 May 2006
MIDGET FLANGE BASED LED REPLACES INCANDESCENT LIGHT BULBS
EL SEGUNDO, Calif. (May 2, 2006) — DDP, a leader in engineered LED solutions, has developed a warm-white midget flange LED lamp designed to retrofit and replace incandescent light bulbs. The T1 ¾ midget flange based LED is ideal for indicators used for backlighting switches, pushbutton rockers and panel builders in harsh conditions including off-highway, transportation, military/aerospace and industrial applications.
"Because of the fragile nature of incandescent light bulbs, robust LEDs are preferred in harsh environment applications for their durability," said Tony Toniolo, DDP President. "Solid-state lighting provides other advantages such as maintenance and power savings, as well as performance enhancements like reliability, longer life span, and consistent color and brightness levels. The warm and white colors of our LEDs mirror the brightness of traditional incandescent lighting."
DDP's midget flange based LEDs ensure a clean white light without any color mixture, a requirement for many applications that demand specific color and brightness levels such as railroad stations and trains as well as military/aerospace applications.
The subminiature T1 ¾ size midget flange based LED features an industry standard mount and is available in 6V, 12V, 14V, 24V, and 28V versions. It also works with a variety of color lenses.
DDP incandescent light replacement solutions are available in either standard or custom assemblies. Samples are available from DDP with a typical lead-time of stock to one week.
About DDP
Established in 1970, DDP provides unmatched service and attention to customers in the form of engineering, innovative designs, LED prototypes, test and evaluation, and tailored LED solutions for specific indication and illumination applications. Located in El Segundo, Calif., DDP's 45,000-square-foot manufacturing facility includes a flexible production line, a dedicated quality assurance department, surface-mount assembly equipment, a machine shop for prototyping and development, and an engineering lab for new product design and qualification. DDP is ISO 9001 certified, demonstrating its commitment to continuous improvement of products, processes, and responsiveness to the needs of customers.
Contact
Tony Toniolo President, DDP 800-421-6815
E-mail:tony@datadisplay.com
Web Site:http://www.datadisplay.com