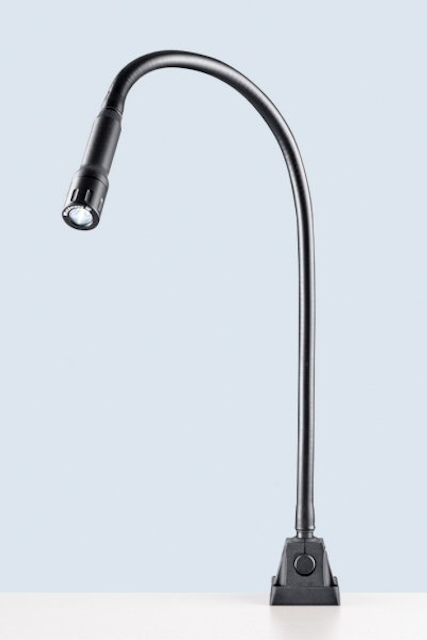 Date Announced: 15 May 2006
Wheeling, IL –For ease of installation, Waldmann Lighting has designed their newest gooseneck LED as a pre-wired "All-In-One" version.
This new model features a rugged 29.72"gooseneck, attached universal mounting base for providing both horizontal or universal mounting, operating device in IP67 waterproof housing, and cord set. Plus, choose either a 6° spot or 25° flood beam to meet your application requirements.
These robust LEDs are completely IP67 waterproof-protected, and designed to withstand today's hostile industrial environments while offering fast installation and efficiency.
Cool-to-the-touch and maintenance-free, "All-In-One" LEDs are ideal for illuminating microscope applications, and also perform well in machine environments including vision systems, metalworking, food processing, pharmaceuticals, and woodworking. Plus, they provide up to a 50,000 hour life (20 year at 40 hours per week) which eliminates frequent lamp changes.
In addition to the gooseneck versions, a 2.72" x 1.14" head-only model is also available. Both the head-only and gooseneck models feature an aluminum housing with corrosion-resistant coating, which is ideal for use where petroleum-based fluids and coolants are prevalent.
Plus, a protective ESD diode on the LED circuit board eliminates static charging and polarity reversal. All LEDs also run on direct current, which eliminates the flickering "stroboscopic effect" making these luminaires ideal for machine vision applications.
Waldmann Lighting, an ISO 9001:2000 certified company, is a leading purveyor in the design and manufacture of quality lighting systems and solutions for the industrial, electronic, medical, architectural, and office environments. Their North American subsidiary is located in Wheeling, IL.
Contact
Waldmann Lighting Company 9 W. Century Drive Wheeling, IL 60090 Ph: 800-634-0007 Fax: 847-520-1730
E-mail:tmurray@waldmannlighting.com
Web Site:http://www.waldmannlighting.com