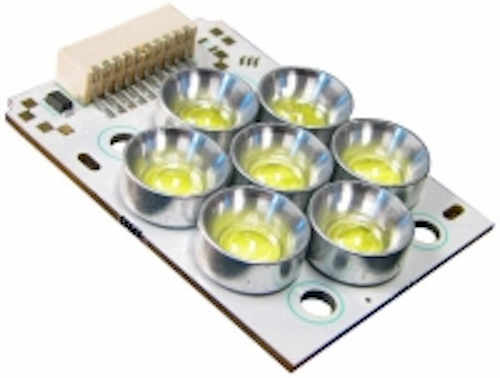 Date Announced: 25 May 2006
Lamina Ceramics Launches Next Bright Idea in Warm White Light
- New Low-Profile Titan LED Light Engines Feature Unprecedented Output
WESTAMPTON, NJ – May 24, 2006 – Lamina Ceramics today launched yet another record-setting product line, Titan, which features the only 3000K, 25-watt warm white LED light engine available on the market.
Also available in RGB and "daylight" white models, these low-profile, ultra-bright light engines will debut at the LIGHTFAIR INTERNATIONAL trade show and conference in Las Vegas, May 30 - June 1, 2006.
"Our new Titan warm white light engine boasts an output of over 600 lumens in roughly two square inches," said David McConaghy, Lamina's vice president of sales. "This is the first warm white product on the market equivalent to 50-watt PAR-30 wide-angle halogen floodlight, while consuming much less power."
At greater than 1,200 lumens, the Titan daylight white model is competitive with compact fluorescent bulbs – although Titan's 60-degree projection angle eliminates the need for the reflectors required in fluorescent applications. Titan white, at 4700K, is ideal for architectural and office lighting applications, task lamps, machine vision and high-powered flashlights.
Boasting an 800 lumen output, the Titan RGB LED light engine produces any of 16 million saturated and blended colors (including white with variable color temperature) from a single point source. Applications for the Titan RGB include 360-degree moving heads and projector lamps for stage and theater lighting.
"Our manufacturing technology allows for Titan to produce consistent white light and will be available in bins," said McConaghy. "Plus, all Titan products are optimized for installation using Lamina's EZ Connect Board technology."
Featuring a natural wide flood light emission pattern perfect for task light and down light applications, the entire Titan line is compatible with commercially available drive electronics.
All of these technical benefits result in unparalleled ease in design builds and integration, plus Lamina provides unmatched product integration support. The company's experienced sales application engineers, knowledgeable in LED design integration, optics, heat sinks, and electronics are just a phone call away.
To request a sample or to speak with a sales applications engineer, lighting designers can call the company at (609) 265-1401. Product samples are available in June, with production volume in July 2006.
About Lamina Ceramics, Inc.
Founded in 2001, Lamina Ceramics defines the state of technology in the development and manufacture of super-bright LED light engines. Lamina's LED packaging technology and design with its proprietary packaging provides unsurpassed thermal management and interconnectivity. Lamina's ceramic technology was twelve years in development by Sarnoff Corporation.
Lamina Ceramics is headquartered in Westampton, New Jersey, USA, (between Princeton and Philadelphia) and occupies a 50,000-square-foot state-of-the-art, automated manufacturing facility. The Lamina team consists of industry-seasoned engineering and production personnel dedicated to designing and building long-lasting LED light engines to exacting specifications. Lamina is supported by an industry leading global sales and distribution network. Its investors include Morgenthaler Ventures, REDSHIFT Ventures, Granite Global Ventures and CID Capital.
Contact
John Ekis 609-265-6828
E-mail:jekis@LaminaCeramics.com
Web Site:http://www.LaminaCeramics.com