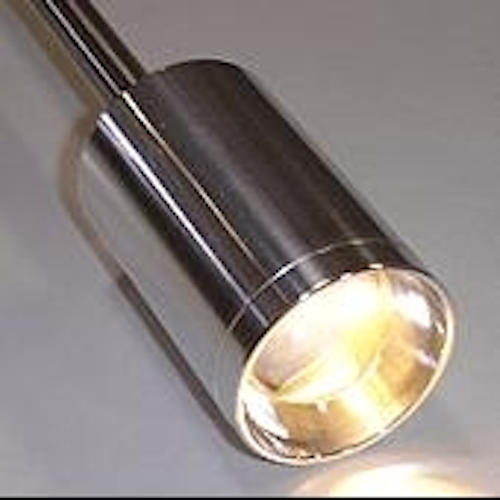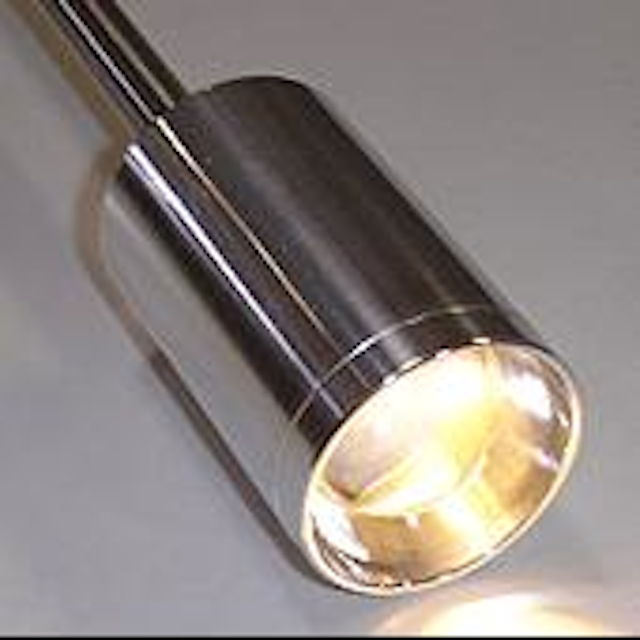 Date Announced: 25 May 2006
• Class 2 System Runs Directly on Line Voltage (120VAC) for Quick Installation
• Consumes 25X Less Power than Comparable Halogen Systems
Tustin, CA – Permlight Products announced today the introduction of its Enbryten Bullet LED lighting system for use in lighting outdoor signage and providing ambient outdoor general illumination.
The new compact ENBB Series consumes only 2Watts, making it 25X less power than comparable conventional 50 Watt halogen lighting systems.
The ENBB Bullet Series measures 3.09" long x 1.98"in diameter and comes equipped with a Class 2 step down electronic transformer for converting line voltage (120VAC) to the operating power of the supplied, modular, and replaceable/serviceable LED module.
The weather proof housing and enclosure features Permlight's specially designed LED optic which collimates and intensifies light output from the 2Watt LED modules to replace comparable 50Watt halogen lighting systems.
"For years Permlight has been the industry leader in providing LED illumination systems for replacing neon in channel letters," commented Manuel Lynch, President and CEO of Permlight, "today we are showcasing our potential of replacing halogen and incandescent decorative lighting used to front light signs – our products will easily from a cost and performance standpoint replace decorative solutions made available to sign companies and retailers."
The ENBB Series is available in black or brushed nickel body finishes with warm white (2750K) or cool white (5600-6500K) LED. Each ENBB Bullet is configured for direct coupling from 0.375 (3/8)-inch to 0.75 (3/4)-inch conduit or piping systems.
The ENBB Series ranges in price from $39-64 based on volume, body finishes, and lighting options.
About Permlight:
Permlight Products is a leading developer and manufacturer of thermally managed LED lighting systems for Signage (LED channel letters), Residential LED lighting under the ENBRYTEN brand name (including recessed cans, under cabinet, and LED glass pendants), marina applications ( docks/slips), and Theater and Performing Arts Center lighting. Founded in 1995, Permlight has the longest track record of supplying LED lighting systems that provide high brightness, low energy, long lifetime, and low maintenance.
Using its enabling patented thermal management techniques for spreading and dissipating heat Permlight is well known for providing low cost solid state lighting systems. Permlight is an affiliate member of the California Lighting Technology Center at UC Davis which is funded by the California Energy Commission.
Contact
Manual Lynch President & CEO, Permlight Tel. +1 714 227-0556
E-mail:info@permlight.com