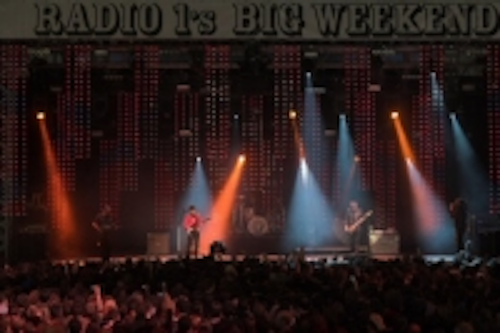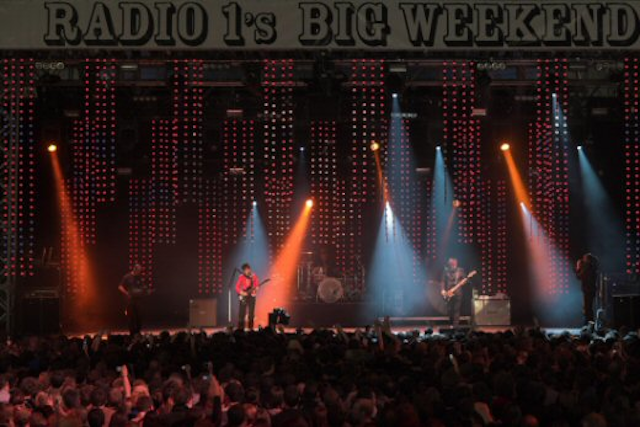 Date Announced: 23 May 2006
XL Video supplied Lighting designer Nick Jevons and his company Electric Fly productions with over 7000 Barco Mi-Sphere elements for Radio One's largest One Big Weekend to date – in Dundee.
The event kicked off the glorious 2006 UK festival season in style with a powerful line up, including Snow Patrol, Muse, The Streets, Razorlight, Primal Scream, Bloc Party, Dirty Pretty Things and many more.
The Mi-Spheres are a customised LED product originally manufactured for U2's epic Vertigo Tour, when they were hung as giant low resolution roll drop fixtures. This is the first time they have been used in an alternative context, and XL undertook several modifications to ensure they worked with Jevons innovative design.
Jevons has produced creative lighting and video visuals for the One Big Weekend since it started. This year he titled the work "Eclectricity" which he describes as a special type of power. Having integrated several new LED products into his designs at previous One Big Weekends, Jevons states "I wanted a totally different look once again. No-one had used the Mi-Shperes outside of U2 for which they were designed, so it was an obvious choice – to boldly go where no-one had been before with them!"
XL's Des Fallon adds, "It's always exciting working with Nick. He dares to be different, continually pushes creative boundaries, and his ideas are full of imagination and idiosyncrasy. He is definitely a leader of the new generation of integrated lighting and video designers".
Jevons' distinctive stylistic oeuvre has always been to blend the two mediums of video and lighting into a coherent multimedia result, building set and structural elements within the lighting design.
He worked closely with XL's live music specialists – Des Fallon, Phil Mercer and Jo Beirne - to achieve the desired result for this show.
Mi-Spheres were hung in 24 different drops off the front, middle and rear trusses onstage creating layers of depth. The standard size was a banner style of 4 Mi-Sphere's wide by 15 deep. XL made up special 20-deep versions for the back truss and 30-deep panels for the edges of the front truss.
This year the festival weekend – staged for the first time in Scotland - was recorded for broadcast on the BBC 3's satellite channel, with selected artists also filmed for Top Of The Pops slots. So Jevons was lighting for the cameras as well as the 15,000 music fans each day –the Mi-Sphere strings proving perfect eye-candy for both.
In addition to the onstage Mi-Spheres, Jevons designed two scenic walls of it amidst the crowd, hung from trusses supporting the audience lighting fixtures. Each of these contained three 12 wide by 40 deep panels
Content for the Mi-Spheres was stored on a Catalyst digital media server, triggered by an Avolites Pearl lighting console run by Joey Jevons. They commissioned visual artist Kerstie Allman to produce bespoke content for the event.
Allman created over 150 video clips with a witchcraft, black magic and pagan worship ritual theme. On the low res surfaces, these produced a dynamic and colourful collage of mesmeric, kaleidoscopic and abstract moving patterns.
Jevons comments, "It's been excellent working with XL. The team has really gone out of their way to help bring my ideas to fruition – and nothing has been too much trouble".
XL also supplied two Mi-Sphere technicians – Icarus Wilson Wright and Stephan Vanbeisen.
Contact
XL Video UK Tel. +44 (0)8702 202623
E-mail:info@xlvideo.tv
Web Site:http://www.xlvideo.tv