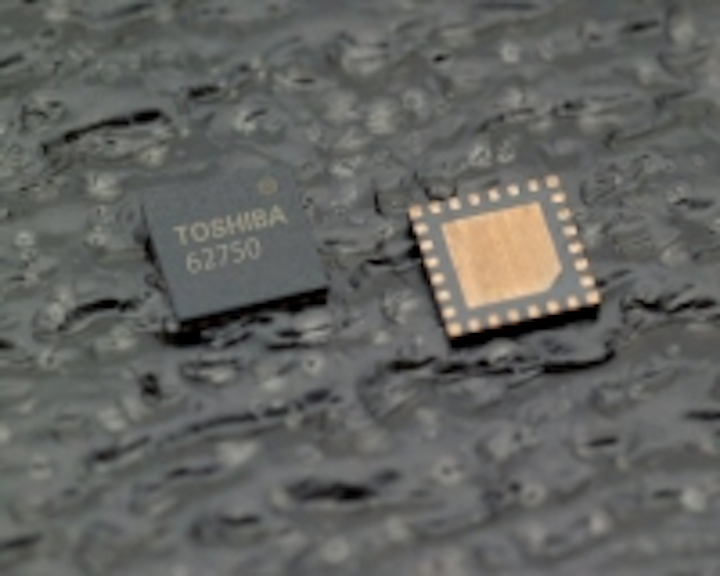 Date Announced: 04 May 2006
Realizes Low-power Consumption, High Efficiency and High Precision
Latham, New York: Marktech announces the addition of a new driver IC that powers white LEDs used in applications such as camera flashes and strobes as well as backlighting color LCD panels in mobile devices such as cell phones, PDAs, MP3 players along with test equipment and instrumentation.
The Toshiba TB62750FTG, white LED driver IC incorporates over-voltage protection and thermal shutdown functions and achieves high power-efficiency of 80% for longer rechargeable battery life.
Toshiba has engineered the TB62750FTG Step-Up DC-DC Converter white LED driver to provide an ideal combination of over-voltage protection, high-precision current regulation and high power-efficiency for today's advanced portable devices. The optimized design minimizes the total circuit size which can contribute to an applications small footprint.
The TB62750FTG can be operated in "Light Mode" which allows continuous operation of up to 350mA or in "Flash Mode" with a constant current of 800mA maximum and 300mS max light time. The high power-efficiency of 80% extends rechargeable battery life. The device achieves high-precision current regulation of ±2% of the required value; this allows exact control of backlight brightness and uniformity.
Solid State High Intensity LED Lighting is increasing in popularity for cameras requiring flash and strobe effects. In addition, color LED panels are continuing to gain popularity in hand-held electronics, test equipment and instrumentation.
Because these devices run on battery power with finite battery life, it is becoming more common to use a white LED that can emit bright light for backlighting while consuming little power. As a result, world demand for white LEDs is rapidly increasing. Toshiba and Marktech are meeting these needs by bringing to market a white LED driver that realizes low-power consumption, high efficiency and high precision.
Features
• Achieves high power-efficiency – 80% in flash mode
• Reaches a current precision value of ±2%
• Achieves low power consumption and requires a minimum number of external components
• Built-in Thermal Shutdown (TSD)
• Built-in Over Voltage Protection (OVP)
• Can be operated in either Flash Mode or Light Mode
Key Specifications
• Process - BiCD with internal Nch-MOS Transistor for switching the external inductor
• Power Supply Voltage - 2.8V-5.5V
• Output Rating - 1000mA
• Operating Frequency – 2MHZ
• Over-voltage Detection Voltage – 10.7V (Typ.)
• Package Type – 24 Pin – VQON24-0404-0.65 (PLCC)
Pricing and Availability
Pricing for the TB62750FTG is $1.65 in 1K lots with free samples currently available.
Marktech Optoelectronics: Marktech has been an industry leader in the application and design of LEDs for over 20 years. Toshiba America Electronic Components, Inc. has chosen Marktech to handle all North American technical sales and marketing for their Tosbright® LEDs and Toshiba Constant Current LED Drivers. In addition to their Toshiba line Marktech also offers a wide range of standard Discrete, Surface Mount, and Dot Matrix Displays along with a complete line of Photo Sensors.
Contact
Contact: Carrah Daley Marktech Optoelectronics, 3 Northway Lane North, Latham, New York 12110, USA Phone: 800.984.5337 Fax: 518.785.4725
E-mail:c.daley@marktechopto.com
Web Site:http://www.marktechopto.com