Infinilux introduces 1-watt, daisy-chainable, InfiniPower™ light engine
Apr 10th, 2006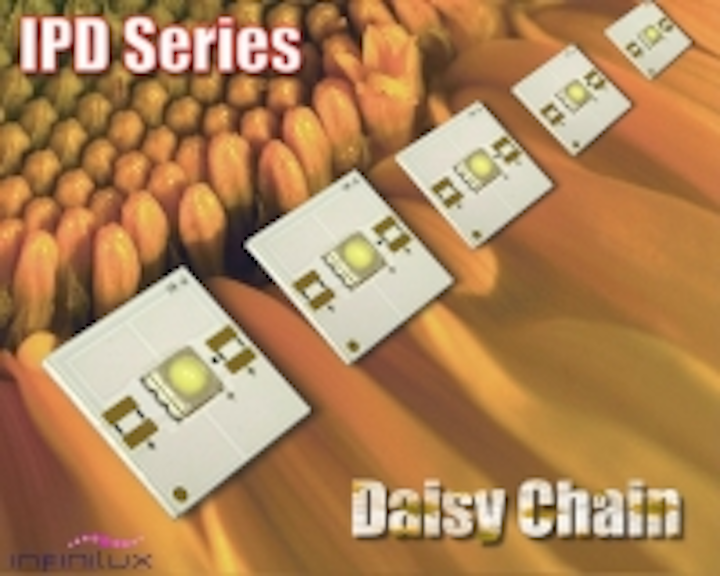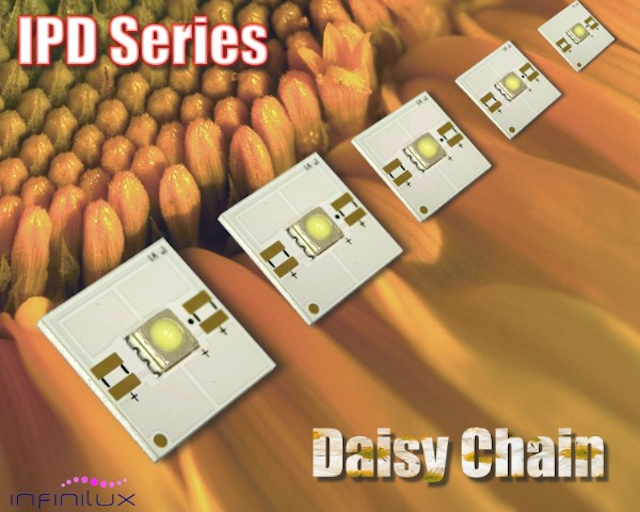 Date Announced: 10 Apr 2006
New IPD1 InfiniPower light engines allow designers to create endless strings of high-power, high-efficiency solid-state light. All IPD1 products are RoHS and WEEE compliant ensuring worldwide compatibility.
Infinilux™, announces the introduction of the IPD1 series of daisy-chainable, 1-Watt light engines powered by the latest Cree Xlamp technologies. These 1.0" x 1.0" [25.4mm x 25.4mm] modules are mounted on 2mm thick metal core printed circuit boards (MCPCB) to simplify thermal management and provide an economical mounting method.
The modules are available in wavelengths from 400nm UV, 455nm-475nm Blue, 500-510nm Cyan, 520-535nm Green, 585nm-595nm Amber, 610-620nm high-efficiency Red/Orange and 620-635nm Red. The IPD1 series modules can be specified with plug-and-play two-pin connectors or come standard with solder pad terminations allowing for endless configuration possibilities.
The IPD1 series is capable of outputs in excess of 50 lumens using the Cree XL series of high power XLamps and outputs in excess of 57 lumens with the new XR series (5500 minimum CCT). The maximum input voltage range per module is 3.0V @ 350mA for amber, red/orange and red and 4.0V @ 350mA for the UV, blue, cyan and green modules. These modules are the brightest and most efficient available industry wide and have a service life in excess of 50,000 hours (50,000 hours to 70% of initial lumens output).
The IPD1 series is ideally suited for channel letter illumination, cove lighting, discrete and decorative lighting, backlight design, general illumination and research applications. When used in conjunction with the Infinilux ICCD series of global input voltage range constant current drivers, 18 IPD1 series light engines can be coupled to provide upwards of 1026 lumens of 6500k white output.
Anthony Vilgiate, Infinilux Vice President said, "The ability to link endless strings of light engines together is a major breakthrough for lighting designers, or anyone considering using ultra-high power solid state lighting products" Vilgiate added, "Simple plug-and-play configuration allows the designer to decide how much light is needed and then simply plug the appropriate number of modules together."
InfiniPower IPD1 modules are immediately available from stock with standard pricing starting at under $3.84 per module in 500 piece quantities (IPD1-R-100). For more information, contact Infinilux, Inc., at 310-561-8546 or visit Infinilux on-line at www.infinilux.com
About Infinilux, Inc.
Infinilux deigns and manufactures high performance lighting products that can be used worldwide in high-profile applications within the architectural, public spaces, theater lighting, retail, residential, landscape, signage, entertainment, hospitality, fine arts, and commercial markets.
The Infinilux product line includes a variety of high-output indoor and outdoor Solid State retrofit lamps to replace inefficient incandescent lamps as well as a wide range of color wash and accent LED-lighting strips. These strips are ideal for under cabinet lighting in both homes and recreational vehicles and are suitable for use as a light engine for standard lighting fixtures and displays.
Contact
Infinilux Inc. 2030 E Gladwick St., Rancho Dominguez, CA 90220, USA Tel: (310) 561-8546
E-mail:anthony@infinilux.com
Web Site:http://www.infinlux.com