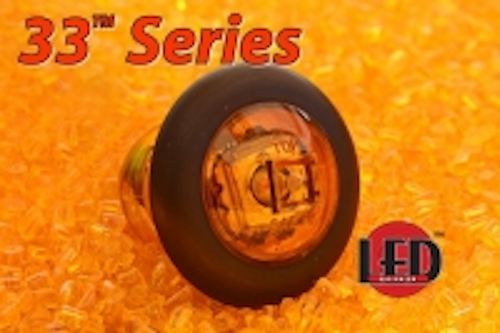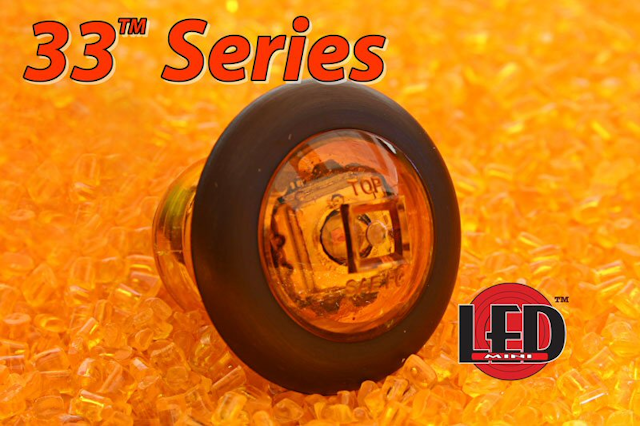 Date Announced: 05 Apr 2006
How would you like to eliminate $100 every time you need to replace a lamp?
"Almost half of lighting maintenance costs are the result of physical damage," said Tim Walker, Sr. Vice President of World Wide Sales.
"For fleets delivering in commercial and residential areas, almost 1 of every 5 lamps damaged stem from tree limbs, signs, and other environmental materials hitting the front and sides of trailers. Truck-Lite's new Amber 33™ Series Clearance and Marker Lamps help to eliminate the expense."
Damage Resistant:
Today, Truck-Lite introduces two amber LED-Mini™ marker variations to the popular 33 Series of lamps. "The lamps are flush mounted into the vehicle and are about the size of a US penny, making a very small target as compared to traditional lamps", continued Walker. "In addition, all of the components of the lamp are recessed within the vehicle, providing additional protection. Tests have shown that you would literally need to damage the front upper header in order to damage Truck-Lite's amber 33 Series lamps."
Exceeds Optics Requirements:
"Fleets have challenged Truck-Lite to help them reduce their lighting costs" said Brad Van Riper, Vice President of Research and Development. "Our engineering staff rose to the challenge and overcame a remarkable feat by releasing the Worlds Smallest Marker Clearance Lamp in 2004. Red marker lamps require 90° of lamp output at .25 candela. Amber marker lamps also require 90° of lamp output but at .62 candela, almost three times greater. This is primarily due to the fact that the color red grabs your attention quicker and doesn't need to be as bright as amber. Technology for amber LED's has yet to meet the levels of red in brightness so it took some engineering ingenuity to meet the high candela standards in such a small package. In traditional LED lamps, you would overcome this easily by adding more LEDs."
Increased versatility:
"Even more exciting, said Bob Ives, Vice President of Marketing is that engineering not only released a standard amber marker clearance lamp, but they also were able to accomplish the release of a combination version that saves fleets even more money. The 33 Series Combination lamp requires light output at 180° left to right at .62 candela. When mounted on the corner of the vehicle, this allows the lamp to be seen from both the side and front, so that only one lamp needs to be used per side rather than two."
Easy installation and trailer manufacturing:
The 33 Series of lamps require a standard ¾" drill for mounting both the grommet or flange versions. Trailer manufacturers no longer need special tooling, and Truck-Lite's Mini-Marker LED lamps require less assembly time. The lamps are so small; they can be carried into protective extrusions or mounted below mechanical features, unlike larger traditional style lights.
"Trailer builders can now offer their customers more durable, damage resistant lighting," continued Walker. "The small size and ability to be mounted flush with minimal interior protrusion provides carriers with greater protection. That translates directly to lower operating costs. Fleets that previously avoided premium LEDs on trailers because of exposure to damage can now enjoy the benefits of LED lighting with greatly reduced replacement costs. Also, owner operators and truck show competitors, including those vying for the NAST national championship and the Truck-Lite Trophy, have greater flexibility in placing marker lamps more creatively all around their trucks."
Additional features:
Additional 33 Series LED Mini-Marker Lamp Details:
• US Patent Pending
• Limited Lifetime Lamp Warranty
• Impervious to shock and vibration as compared to incandescent lamps
• Completely encapsulated in epoxy with a hard-wired design to resist corrosion and moisture
• Designed at 13.5 volts, .13 amps, drawing less current, allowing more power for other vehicle requirements
• Recommended thickness for flange mounting is .040" - .250", grommet mount is .125" - .250"
Truck-Lite:
Headquartered in Falconer New York, with additional manufacturing facilities in Wellsboro, Coudersport, and McElhattan, Pennsylvania, as well as Birmingham England and Eisenach, Germany, Truck-Lite is a major producer of signal lighting, forward lighting, wiring harnesses, mirrors, turn signal switches, and safety accessories to the heavy duty truck, trailer, and commercial vehicle industries.
Contact
Truck-Lite Co., Inc. Sherry White Manager, Marketing Communications & Services 310 E. Elmwood Ave. Falconer, NY 14733 Tel. +1 800 562-5012
E-mail:swhite@truck-Lite.com
Web Site:http://www.Truck-Lite.com