Philips Intuos multi-die LED technology improves color mixing
Apr 28th, 2006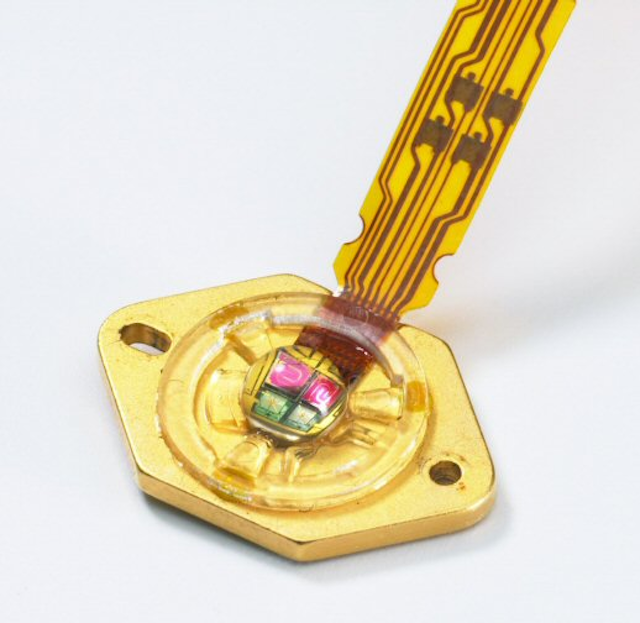 Date Announced: 28 Apr 2006
Latest LED technology innovation from Philips represents a breakthrough in accent lighting
Royal Philips Electronics showed its Intuos Multi-die LED technology that promises a breakthrough in accent lighting at Light+Building, held in Frankfurt from 23 to 27 April 2006.
This new technology enables the creation of mini spotlights for accent lighting with perfectly controlled and reproducible color adjustment. The result gives uniform, consistent lighting that is far superior to what has up to now been possible with LED technology.
A key feature of the Philips Intuos Multi-die LED technology is 100% color mixing within the secondary optics of the luminaire itself. Thanks to this inherent 100% color mixing, the Intuos Multi-die LED technology creates an enhanced, homogeneous spot effect with no disturbing color shadows, for example behind objects moving through the light beam. Objects illuminated by white light give a uniform color impression with good color rendering (CRI), resulting in an attractive display presentation.
This consistent lighting is an especially important benefit in multi-spot arrangements. Using the Philips Intuos Multi-die LED technology these create perfectly uniform colored lighting and tunable white light with a high CRI, which is ideal for decorative and accent applications such as wall washing, alcove lighting and premium displays.
Of course the existing benefits of LED lighting also apply, such as a cool IR- and UV free beam, low energy consumption, high reliability and very long lifetime. For luminaire manufacturers this technology promises outstanding design freedom because of the miniature and fully integrated LED packages, its dynamic lighting capability with both white and saturated colors, and its adaptability to numerous applications and environments.
Philips Intuos Multi-die LED technology uses a miniature, highly integrated RGBA (RGB +Amber) LED package. This is based on a multi die package including both the Optical System In Package and Electronic System In Package technology. The integrated package is much more compact than current color mixing LED solutions. The calibrated combination of these two components with a predefined interface integrates the functions of light generation, protection, temperature sensing and primary optics.
The multicolor source driver enables accurate, consistently reproducible color point settings, with the ability to predefine both white and saturated colors independent of binning differences in LED selection. Built-in temperature compensation eliminates the effect of temperature on light color, resulting in high stability.
By presenting the Philips Intuos Multi-die LED technology Philips is further underlining its leadership in the field of LED lighting, and its commitment to develop modules and systems as the basis for compelling new applications. These will enable lighting OEMs to introduce innovative and distinctive LED based lighting concepts offering significant benefits to end users.
Following the first showing at Light+Building, Philips expects limited product availability towards the end of 2006, with broader availability to follow during 2007.
Contact
Philips Lighting, Guildford Business Park, Guildford GU2 8XH tel: 01483 293 071 fax 01483 575534
E-mail:barbara.neate@philips.com
Web Site:http://www.lighting.philips.co.uk