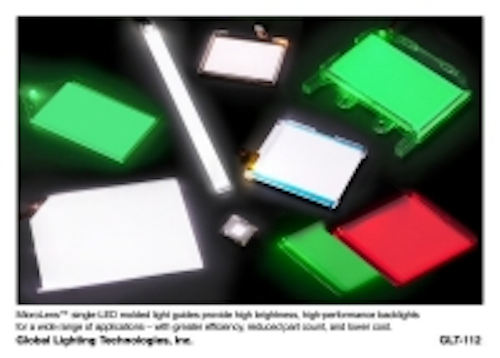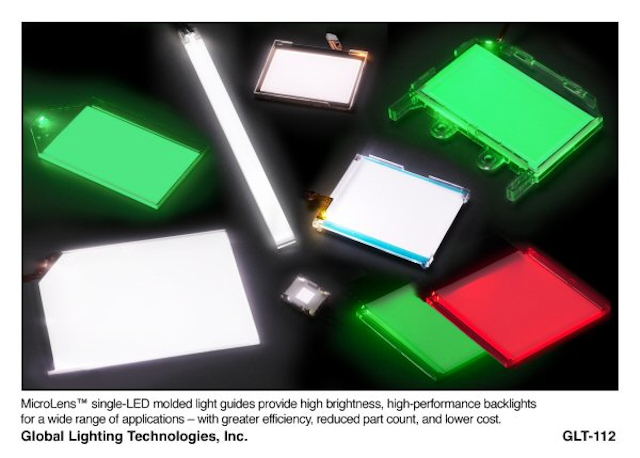 Date Announced: 03 Apr 2006
NEW MICROLENS™ MOLDED LED LIGHT GUIDES USE ONLY ONE LED
TO BACKLIGHT DISPLAYS IN A WIDE RANGE OF APPLICATIONS
Brecksville, OH – A new family of single-LED molded light guides using Global Lighting Technologies' patented MicroLens™ technology provide higher brightness than other LED based backlighting solutions – with greater efficiency, reduced part count and lower cost – for a wide variety of applications.
GLT's MicroLens™ backlights can be designed in sizes from 0.24" diagonal to 15.4" diagonal to provide single LED monochrome, bi-color or tri-color backlights. Applications include microdisplays used in digital still cameras and camcorders, Gen 3 mobile phone displays, PDA keypads, programmable touchscreen thermostats, home security system controller keypads, fish finders, instrumentation and control displays, automotive interior displays, and even desktop monitors.
MicroLens™ pixel-based light extraction technology provides the most efficient utilization of today's LEDs, making it possible to offer fully integrated backlighting modules with higher brightness, crisp color, extreme thinness (to 0.60 mm or below), outstanding uniformity (approx. 80-85% on average), lower power consumption (typically 1-20 mA @3.5 V), and the obvious cost advantages of a smaller form factor with fewer components.
MicroLens™ molded light guide backlights utilize the most advanced and efficient light extraction technology, providing a unique "transition" area that spreads the light uniformly, extracting light precisely at each point across the panel.
MicroLens™ light guides are developed in a very thin package, with mechanical holding features that can be designed into the backlight, or on a custom-designed backlight frame. This allows chip-on-glass (COG) or chip-on-flex (COF) LCDs or the entire display assembly to be easily mounted into the host application. This can reduce part count and assembly and material costs.
"For most applications, we provide a total backlight solution with LED, films, flex circuit or PCB with connector, and, of course, our MicroLensTM light guide," said David DeAgazio, GLT's Director of Sales Worldwide.
GLT's three Far East production facilities and in-house tool making make it possible for the company to offer these custom backlighting modules in production quantities with quick delivery. The extensive design and engineering capabilities at its Brecksville, Ohio, headquarters offer customers full custom design, prototyping, test & measurement, and optical modeling/simulation.
Pricing for GLT's high-efficiency single-LED backlights is highly dependent upon size, design, and annual volume. However, simple single-LED backlights can be purchased in quantity for as little as $1.00 or less. For details, contact Global Lighting Technologies with your application.
Contact
David DeAgazio Global Lighting Technologies, 55 Andrews Circle, Brecksville, OH 44141
E-mail:info@glthome.com
Web Site:http://www.glthome.com