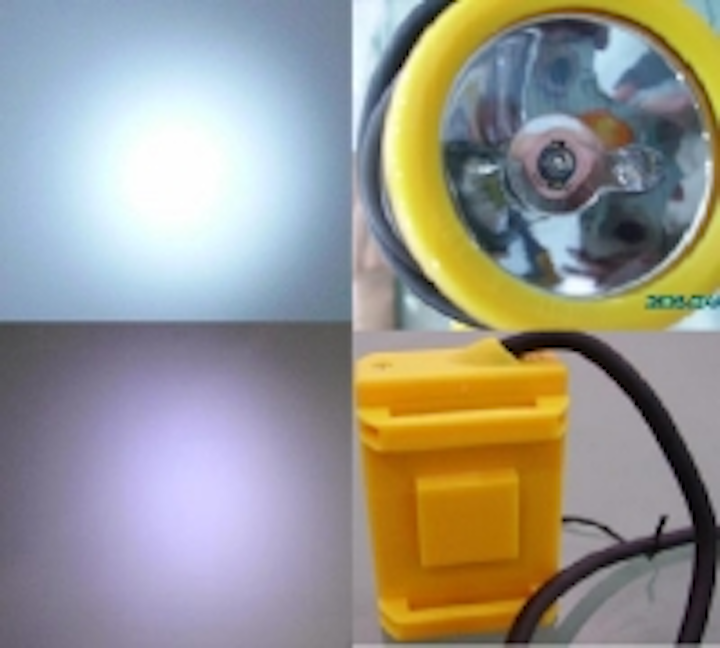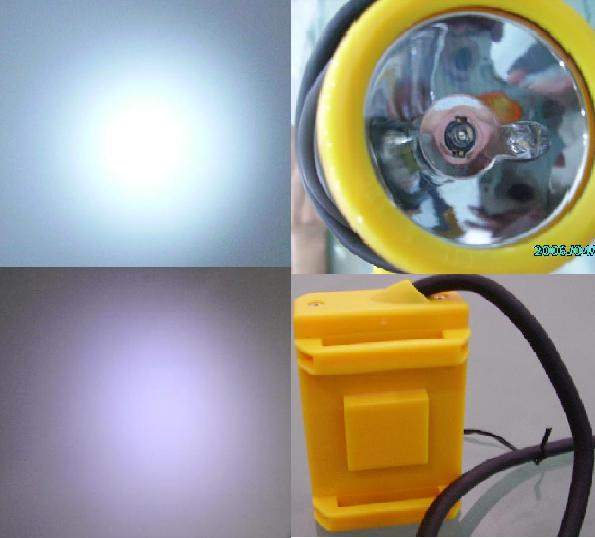 Date Announced: 13 Apr 2006
KL5M LED light Li-ion battery Miner's lamp:
MFOT successfully make the KL5M LED light Li-ion battery miner's lamp. The miner's lamp is made from the high bright, big power white light LED ,Lumileds Luxeon 1W,and high efficient Li-ion battery etc, the miner's lamp is high performace, KL5M safety lamp is special coal miner cap lamp and specially designed for the coal miners work in very bad environment.We have invention etc patents of this miner's lamp.
Product features:
Safety:in sealed design of the whole product,short-circuit protection, LED light head lamp and anti-static housing make the product has very good function of explosion-proof. The miner's lamp is reasonable tool for the coal miners..
Reliability:The high strength housing, optimized structure design, LED is solid lighting and using high efficient IC drive the LED make the product endure at strong power attacked, the perfect of protection for Li-ion battery over charge/discharge design strengthen the reliability of the lamp.The miner's lamp is very sutibale to work under bad environment of the coal mine.
Portability:Small in size, light in weight, portable to carry, free of maintenance, simple charging, easy usage.The miner's lamp has received many praises from the miners.
Efficiency:bright as 2500-3000Lux from the work begin to the end, working hours 15hours, usage life 1200 cycles (in reasonable working condition).
Environmental:the miner's lamp is made from environmental Li-ion battery and other environmental materials.So the miner's lamp is an very good green product.
Economy:duration of usage three times longer than lead and acid miner's lamp, plus Li-ion battery is free maintenance then save in maintenance fee make the product higher economy benefit. Much more better than the traditional miner's lamp.
LED Miner's lamp Major Technical Specifications:
Features KL5M Specifications
Rated capability 5Ah(lithium-ion battery)
Rated voltage 3.6V
Continuous discharging time 15h
Main light LED Working voltage 3.2V
Main light LED Working current 0.35A
Main light Power 1W
Main light Luminous flux 50Lm
lamp lighting degree Initial Lighting degree 2500-3000Lux (distance in 1m)
lamp lighting degree Lighting degree at work 2000Lux (distance in 1 m)
Main light Usage life hour 30000h
Accessory light Power 0.4W
Accessory light Usage life hour 100000h
Short circuit protect time 15ms
Usage duration of battery (recharges) 1200 recharges (in reasonable working condition)
Charging time 8h-12h
Dimensions 76x31x79mm (size of the li-ion battery)
Weight 0.5kg
Safety lamp User Guide:
1. There's no need for initial charging for high power Li-ion battery miner's lamp, it can be used immediately after daily charging.
2. Stable current stable voltage charging, the charging current is 1000mA ±100mA, voltage is 4.2V ±0.05V, charging time is about 8-12 hours. The circuit designed with perfect watching and controling system, able to automatically watch and control charging process. At the beginning of charging it is stable current charging at 1000mA ±100mA, the charger indicator is red color. When charging voltage reaching 4.2V, automatically turn to stable voltage charging, at this moment the battery is charged about 70%, at this moment, the charger indicator start turn into orange color and current is reduced step by step. when the battery is charged enough it automatically powered off to stop charging and charger indicator display as green color. (note: you can charge at any time, no need to wait to charge after use up the power, bring forward charging is better for prolonging the life span of the battery).
Daily maintenance:
1.In case of short-circuit, the protection circuit will cut off the power at an instant. After the problem of short-circuit is solved, re-switching on of the lamp would restore the usage.
2. The miner's lamp can't be used or stored in a environment of over 60ºC and should be stored in a low-temperature and dry environment. When long-term storage is needed, charging should be done half year, 50% charging capacity should be reached each time.
MFOT also make all powerLED lighting fixture for mining industry, copper, petrol and Coal ,dangerous job like firman headlamp, military Flashlight using Lumileds 1W,3W.
Of course, mulit-watt spot lamp is available,like 90W replacing 200W metal halogen lamp and so on.
OEM/ODM service with two factories in Shenzhen is available now.
Contact
Ms. Michelle Overseas Sale lady Mail: michelle@mfoptotech.com or info@mfoptotech.com Office: RM#1107,08,Fl#11,HG Bldg., ShenNan Road#6031, Shenzhen City,HongKong Factory: adjacent to Shenzhen international airport Tel: 0086-755-88299586 Fax: 0086-755-88299589 Mobile: 0086-13798404194
E-mail:info@mfoptotech.com