Tridonic COB-based LED light sources offer high efficacy
Apr 28th, 2006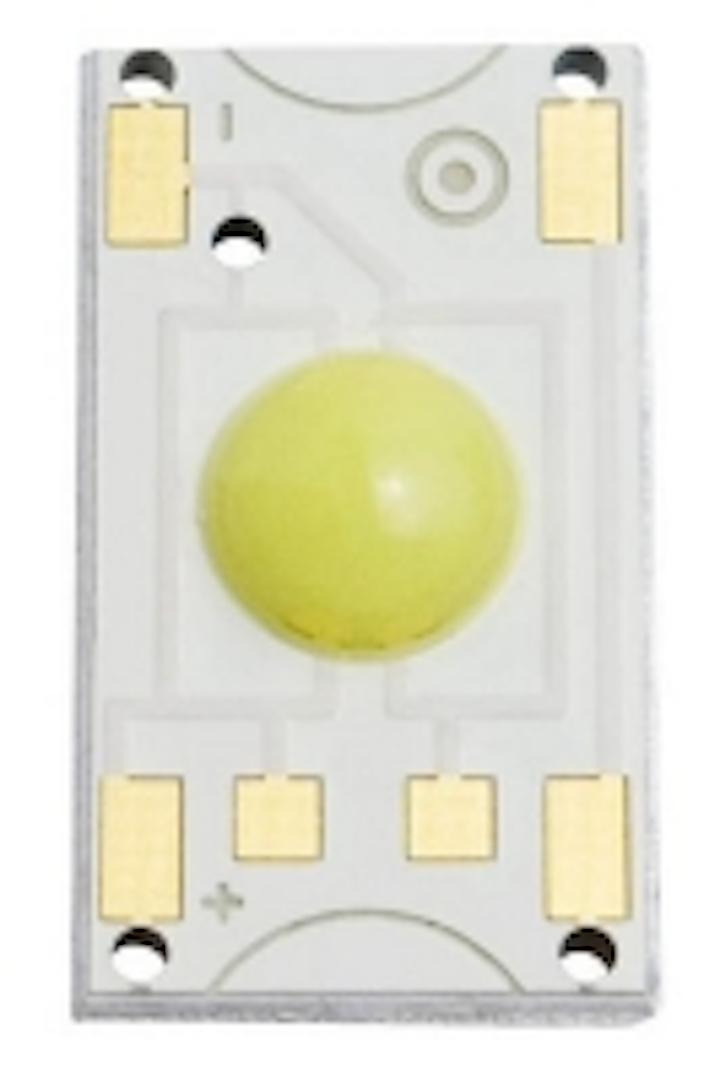 Date Announced: 28 Apr 2006
The second generation of high-intensity powerLED EOS modules from TridonicAtco GmbH & Co. KG, Dornbirn/Austria offer significant improvements in efficiency and luminous efficacy – the daylight white version achieves a luminous flux of up to 70 lm per light source.
The outstanding photometric properties of the modules when operated on the new matching 700 mA converters offer the ideal basis for finding new applications for LED light, such as replacing low-voltage halogen lamps or small compact fluorescent lamps.
Chip-on-Board technology (COB) is used in these multi-chip modules. This brings significant benefits in terms of optimum thermal management at high packing densities, compact designs and long life. Energy efficiency at around 35 lm/W is another impressive characteristic of the innovative powerLED EOS modules.
The new modules from TridonicAtco, which can now be operated with a constant current of up to 700 mA, cover a wide range of applications. The single light point version P211 has now been joined by the P214 modules with four chips, P215 modules with nine chips and P216 modules with twelve chips. These compact light sources, particularly in white, have a unique combination of luminous efficacy, colour tolerance and colour rendering.
There is a choice of Warm White (3000 K), Neutral White (4200 K) and Daylight White (6500 K). Very close colour tolerances are another important factor. This high quality means that there is no need for further matching within particular light colours. A uniform appearance comes as standard.
The high colour rendering index of Ra > 80 rounds off the positive profile of the high-power LED modules. The powerLED EOS modules are therefore ideal as replacements for low-voltage halogen lamps or small compact fluorescent lamps in lighting systems that are in continuous operation. The range of applications covers everything from accent spotlights in shop lighting and subtle orientation lighting in hotel corridors to reading lights.
EOS modules
The second-generation powerLED
EOS P211
single light source (see photo) measures 18 mm x 10 mm and achieves a luminous flux of around 40 lm with a 1 mm
2
daylight white high-power LED operated on a current of 350 mA. With good cooling and if operated on the new 700 mA converter, this rises to as much as 70 lm.
The 0211 lens set is offers high-quality optics. The narrow-beam spot lens has a beam angle of 10° for all the colour versions and 20° for white. This produces a homogeneous white appearance without any annoying colour edges.
The diffuser is a simple low-cost means of producing impressive colour effects. If several powerLED EOS P211 modules with lenses in the basic colours of red, green and blue are arranged next to one another, the diffuser will ensure perfect colour mixing for wall-wash applications. The result is "colour wallpaper" that can also be used to backlight counters for example.
The powerLED EOS multi-chip modules from TridonicAtco offer even higher luminous efficacy. The
P214 module
measures 15 mm x 15 mm and has four daylight white light emitting diodes. These produce 160 lm from a constant current of 350 mA and 280 lm from 700 mA. This corresponds to an output of 4.8 W and 9.6 W.
With the 25 mm x 25 mm powerLED EOS
P215 module
with its nine light sources, the luminous flux rises to 360 lm and 630 lm and the output to 10.8 W and 21.8 W.
The powerLED EOS
P216 module
, measuring 30 mm x 30 mm, is the ultimate in luminous efficacy. The twelve daylight white high-power LEDs offer 480 lm and 840 lm and 14.4 W and 28.6 W depending on the constant current.
K700 converters
All four powerLED EOS modules are operated with specially calibrated K700 converters from TridonicAtco. The new family comprises four units in wattages of 2.5 W, 5 W, 10 W and 30 W – ideal for operating the four different modules at 700 mA. All four K700 versions are thermally stable, in other words the converters reliably maintain the constant current within a small tolerance of ±5%. This ensures optimum operation and therefore long service lives for the EOS modules.
The second generation of powerLED EOS modules are ideally placed to replace low-voltage halogen lamps and small compact fluorescent lamps. As a result, new areas of application will open up for high-intensity multi-chip modules from TridonicAtco. This is supported not only by expertise in the development of light emitting diodes but also by extensive know-how in operating equipment that can now provide a constant current of 700 mA. TridonicAtco is setting standards everywhere – including the LED segment.
Contact
Mirjam Jäger Tel. +435572/395-4315 Fax +435572/395-94315 TridonicAtco GmbH & Co. KG, Färbergasse 15, A-6851 Dornbirn, Austria
E-mail:mirjam.jaeger@tridonicatco.com
Web Site:http://www.tridonicatco.com