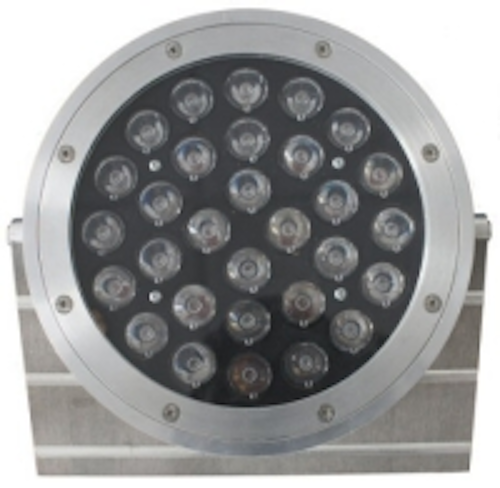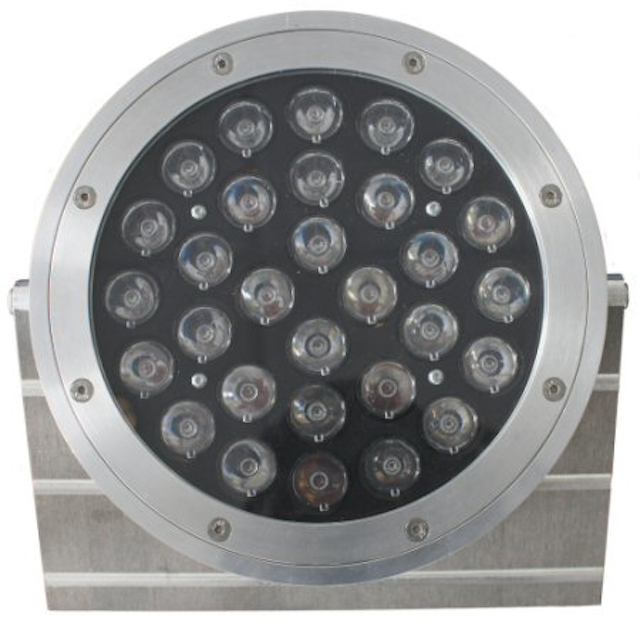 Date Announced: 05 Jul 2006
Metropolis AV boosts its extensive range of LED products with the launch of three 3 new fixtures each designed for cost effective, energy efficient lighting requiring little maintenance – ideal for use in restricted and difficult to access spaces.
TC30-75 "Beamer" 75 Watt RGB Projector
(pictured) is a solid state full colour fixture capable of delivering a blistering 75 Watts of LED power, designed specifically for hi-brightness colour changing applications.
The Beamer is perfect for lighting both large interior and exterior expanses and for highlighting specific features, due to an assortment of available beam angles, and comes with standard spreads of 6,15, 25 and 25 x 6 degrees (letterbox).
It features a substantial heatsink on the projection head itself, allowing passive non-fan cooling of the LEDs. Another heat-reducing factor is that the driver is located in a separate unit.
The TC-30-PSU driver unit connects to the LED Projector via an RJ45 plug, and can drive through more than 30 metres of structured Cat5 cable and be DMX 512 controlled.
The TC30-75 has a usable life of between 50,000 and 75,000 hours on normal colour change, and offers excellent efficiency with low running costs.
Luxeon-500 Cove Strip
This was designed specifically for longevity in demanding installation situations where servicing is difficult or the fixtures are inaccessible - e.g. behind glass or in elevated locations – once again stressing the importance, of low maintenance.
500 Cove Strip has 24 Luxeon LEDs per metre and the strips are available in standard 500mm and 1000mm lengths. These are tightly packed devices for quick blending of light offering 22 Watts of output per metre, an 125mm pixel pitch (8 per metre) and a 10.5mm RGB pitch
The Luxeon-500 strips are powered by the TC-18V range of DMX controlled devices which can drive up to 5 metres of fixture.
Installation is simplified by polarised male/female jumper cables, ensuring that connections can only be connected the right way around ….. unless excessive force is used!
By using genuine Luxeon devices and onboard regulators, along with generous heat dissipation and providing a constant current drive, Metropolis has ensured that maximum lifetime will be achieved.
pCove 250 RGB Strip
This product uses RGB LED light engines for pre-mixed light at source, giving instant colour blending. This is particularly useful in areas where the blending distance is small and installation is in restricted cavities. A tight pitch of 62.5mm and a low profile of just 27 mm allows pCove 250 to be used most effectively in these situations, providing even illumination where required.
There are 16 RGB LEDs per metre giving a total of 48, and the strips themselves measure 27 mm wide x 16 mm high. They are available in 250/500/1000mm lengths (with 2000 mm on request). The minimum PCB length is 250 mm containing four RGB engines, and can be inserted into almost any extrusion length required. Each 250mm section provides 5.5 Watts of output or 22 Watts per metre. The 250mm size is considered as a "Link LED" system for contouring around pillars or finishing off odd sized linear runs.
The pCove 250 is compatible with the TC-18V Met3 Driver system with the appropriate connectors, and it can drive 24 x 250mm, 12 x 500mm or 6 x 1000mm pCove strips or any variations of these – up to 6 metres in total.
Contact
Simon Harris, Metropolis AV Tel. +44 (0)20 8549 1111
E-mail:info@metropolisav.com
Web Site:http://www.metropolisav.com/led-lighting-products-met3/index.php