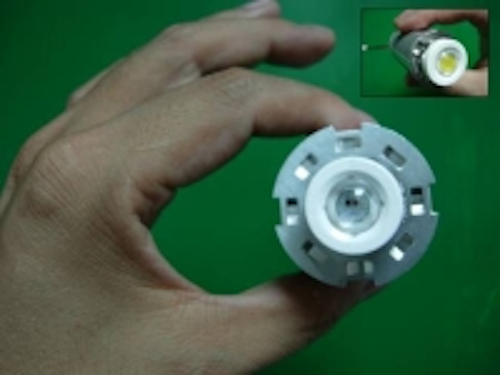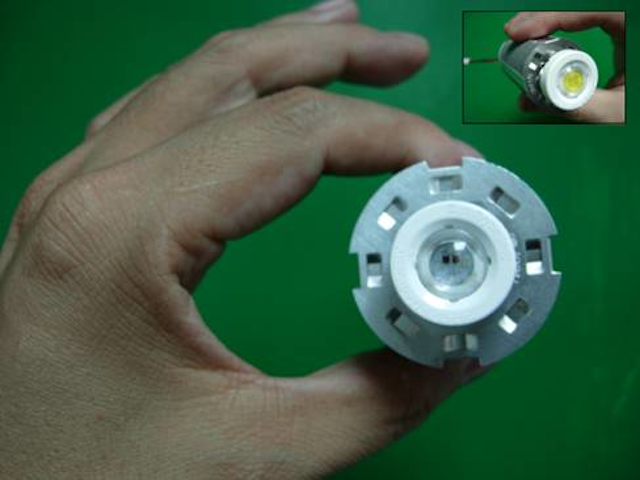 Date Announced: 01 Jul 2006
NeoPac Optoelectronics, a subsidiary of NeoPac Lighting, has recently launched a world leading system-in-package, ultra-high-power, point-light-source RGB-based LEDs component for all-purpose color lighting requirements.
NeoPac integrates its proprietary first-level LED packaging (NeoPac® Emitter) and second-level high-efficiency heat sink (NeoPac® Thermal Module) into a revolutionary system-in-package component, called "NeoPac® Light Engine".
The E47V012-NE NeoPac® Light Engine (see photo), as the core component of new styled LEDs general lighting fixture, can provide high-brightness output in mixing white (6 Watts, junction temperature Tj < 60℃), red, green, and blue in single color as well as mixed colors on demand. This is the world's latest LEDs package revolution for realizing RGB mixing white light applications for general lighting.
Jeffrey Chen, CEO of NeoPac Lighting said "It is a breakthrough technology for empowering the single-packaged RGB Light Engine at 6 watts for mixing white, and control the RGB LEDs junction temperature under 60℃ as well. It is a crucial issue to keep RGB light source at such low Tj since the decay rate of Red, Green, Blue chips in same package are different, particularly at high junction temperatures. It was always a challenge for the RGB approach to compete with pc-White solution for general lighting application. By having our system-in-package RGB solution, we see a bright future in RGB-based LEDs lighting market"
Since the system thermal resistance, Rja (from LEDs junction to ambient), of this NeoPac® Light Engine is only 5.8℃/W, the temperature difference between LEDs junction and ambient air is only 35℃. If the application keeps the LEDs junction temperature at 120℃, the E47V012-NE NeoPac® Light Engine can overdrive up to 16 Watts.
As part of NeoPac® Light Engine, the patented NeoPac® Emitter is a single package format with eight 40mil x 40mil power chips (RRGGGGBB), using flip-chip technology to fix on a silicon submount which is supported by a proprietary NeoPac-designed hollow LTCC chip carrier. The high-density RGB multi-chips module attaches directly on the flatten end of a micro heat pipe that is surrounded by stacked aluminum dissipation fins, each at 40mm in diameter. The heat pipe-based NeoPac® Thermal Module coupling with NeoPac® Emitter can take the heat out efficiently from LEDs chips to the surrounding air.
"We can say that the E47V012-NE NeoPac® Light Engine is a 16-Watt package (Tj at 120℃ as ambient temperature at 25℃) or it is only a 6-Watt package (Tj at 60℃ as ambient at 25℃) for general lighting purpose. When we talk about the LEDs power dissipation, we have to talk about the corresponding LEDs junction temperature as well. It is a very important concept for the definition of LEDs power dissipation since Tj is a crucial issue for general lighting application. Controlling the junction temperature is very important to LEDs system integrators. It is also a critical barrier for high-power LED package and module assembly houses. In high power LED application, too much heat will degrade the RGB chips and the lighting-emitting source components. It would also shift their spectral characteristics, and this alters the chromatic color output," Jeffrey Chen states.
Chen said this new packaging solution can provide a new direction for the industry and eventually improve a cost-down value-chain infrastructure for LED lighting.
He pointed out that the NeoPac® Light Engine is also a basic building block for the "NeoBulb™ Universal Platform". NeoPac Lighting has formally launched the platform and demonstrated a number of new LEDs lighting devices (NeoBulb and NeoBulb Combo) at the Lightfair International exhibition, in Las Vegas in early June.
The NeoPac® Light Engines and its combination product series are thus well-suited to provide high-brightness output and high power lighting for consumer use, industry and residential settings needing applications in color illumination and general lighting.
Contact
Jason Pan Special Assistant to President NeoPac Lighting, Inc.
E-mail:jasonpan@neopac-lighting.com
Web Site:http://www.neopac-lighting.com