Artistic Licence launches Pixi-Flex color mixer
Jul 10th, 2006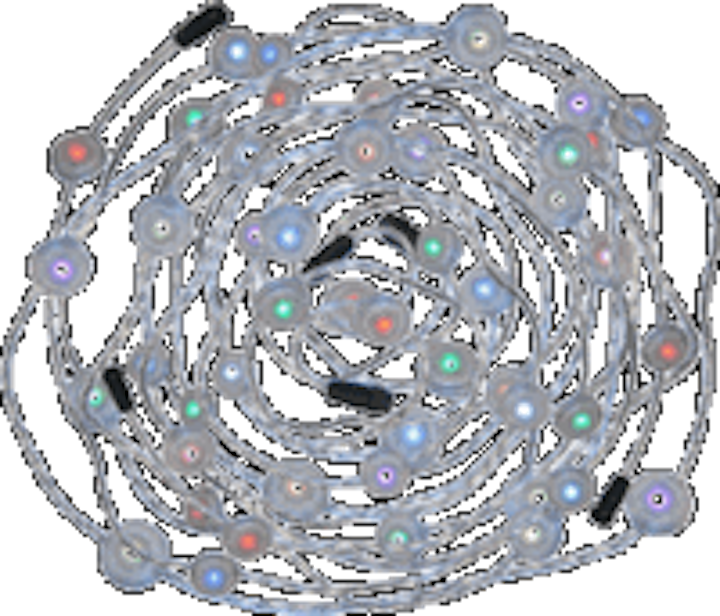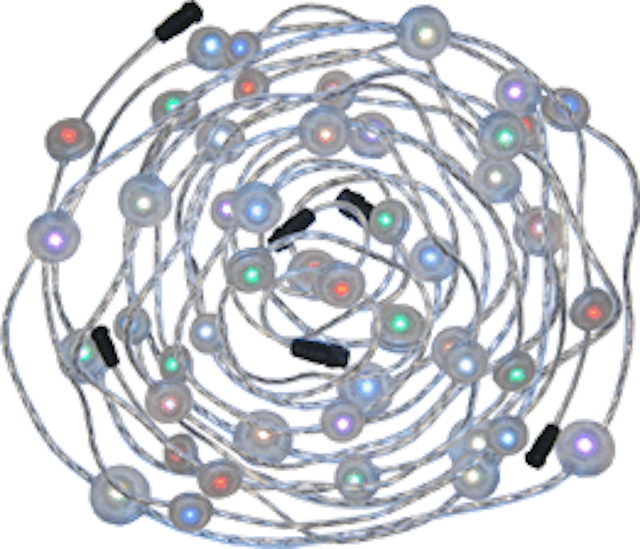 Date Announced: 10 Jul 2006
"Pixi-Flex is a new and flexible component for pixilated lighting effects"
Pixi-Flex consists of individual pixels moulded onto a cable. Each pixel is individually controlled and can display over 16 million colours. Three standard versions are available: 16 pixels with a nominal pitch of 250mm, 16 pixels with a 500mm pitch and 32 pixels with a 125mm pitch. Special variants of these can be manufacturer for custom projects.
The product can be surface mounted using the integral 3mm thread, or simply push fit into a suitable hole in the set, wall or fabric. Pixi-Flex is perfect for creating pixilated walls of light, similar to video walls. The big difference is that Pixi-Flex can flow around contours and make three-dimensional shapes.
Pixi-Flex uses a new "point-source" RGB LED that creates both an exceptionally bright white light output and, with their consistent colour mixing ability, provides an enhanced colour palette with a superior range of pastel colours and tints.
Artistic Licence has developed an innovative technique that ensures excellent pixel to pixel colour and intensity matching and avoids the gradual loss of intensity with distance seen in some products on the market.
In combination with the Colour-Tramp control system, Pixi-Flex spearheads the convergence of lighting and video. Live video can be rendered in real time to the Pixi-Flex and combined with dynamic lighting effects.
Pixi-Flex is terminated with two waterproof miniature connectors. The entire assembly is weatherproof to IP65 allowing both internal and external installation.
A total of 160 pixels can be controlled by the associated Pixi-Power SB12 power controller. This product is controlled by DMX512 and RDM (Remote Device Management) and has numerous personalities including internal programmes.
More information can be found here:
Pixi-Flex: www.artisticlicence.com/item324.htm
Pixi-Power SB12: www.artisticlicence.com/item356.htm
Colour-Tramp: www.artisticlicence.com/item220.htm
Pixi-Flex is also the building block for our Pixi-Cloth product (www.artisticlicence.com/item352.htm). Pixi-Flex can be used to create your own star cloth.
About Artistic Licence
Since 1988, Artistic Licence has specialised in the design, development and manufacture of products for the architectural lighting and entertainment technology industry. The product range encompasses DMX512-A, RDM, Ethernet, Art-Net and MIDI. The range extends from test equipment to data distribution and motion control to LED lighting.
This vast range of products has evolved from years of experience in solving technical problems. At Artistic Licence, no job is too large or too small and no technology is too old, new or complex.
The Artistic Licence Special Projects department provides a unique service by offering the entire product range as building blocks for custom development. Why reinvent the wheel when you can turn to Artistic Licence!
The product line is available throughout the world via a growing number of progressive dealers, a list of which is available from our web site: www.ArtisticLicence.com. Visitors to our website can also order on-line and download technical data and user guides.
Contact
Tracey Patterson Sales & Marketing Director Tel: +44 (0)20 8863 4515
E-mail:Tracey@ArtisticLicence.com