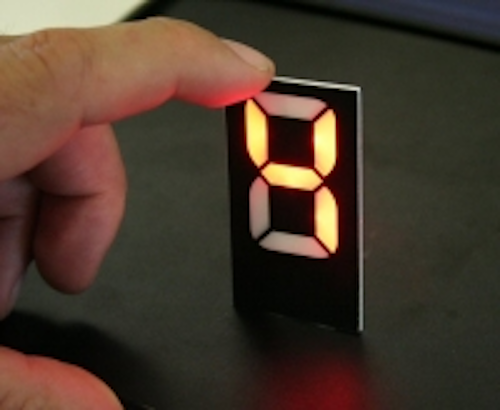 Date Announced: 26 Jul 2006
Design LED Products announce the ability to incorporate a 7 segment display into their thin, flexible display products.
Manufactured using printed light guides with embedded LEDs, customers have independent illumination control of segmented areas within the display.
Less than 2mm thick, they are scaleable to any size and include other illuminated icons, text or backlights to create a fully customised display product. Lighting effects include colour change, colour fading & secret-until-lit.
"Designers have a new medium to work with" says Iain Kyle Business Manager. "For example, we are looking at one application that needs a thin numerical temperature readout in which the numbers change from green to red when the temperature reaches a dangerous level."
Based on an established & widely available printing technology used to manufacture membrane keypads, Design LED's products have tooling costs are fraction of those for injection moulded lightguides and OEMs can quickly ramp to volume manufacture.
Design LED Products
Founded in 2004, Design LED products have developed and patented a Light-guide manufacturing technology to create high impact display products with Light Emitting Diodes (LEDs).
Design LED embed LEDs with printable light guides to create display products which are thin, flexible and have segmented areas of illumination. End uses range from backlighting individual keypad buttons and icons to simple animation effects on customers brand logos. Potential applications include: consumer electronic, industrial, automotive and point-of-sale display products.
Contact
Iain Kyle, Business Manager. Tel :+44 (0)141 585 6470
E-mail:info@designledproducts.com
Web Site:http://www.designledproducts.com