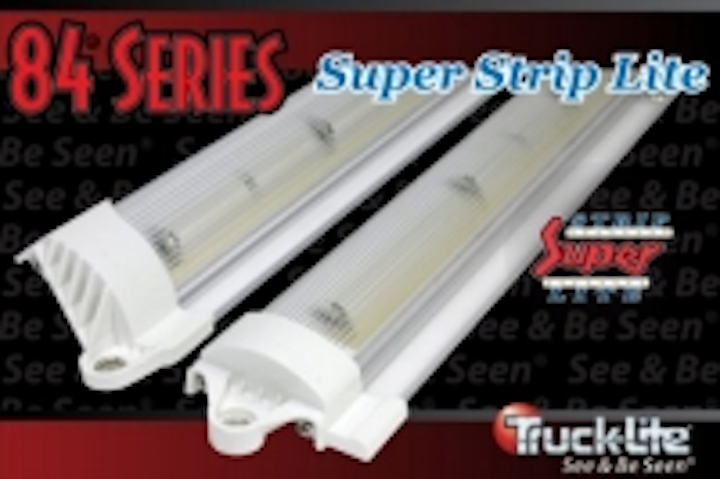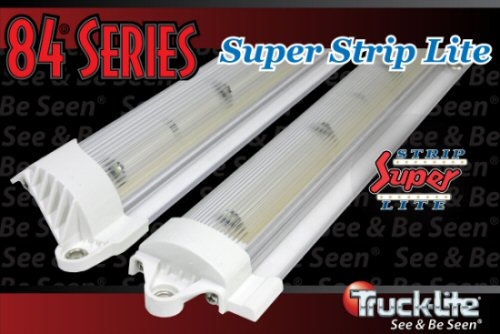 Date Announced: 13 Oct 2006
LED Super Strip-Lite® with lens is the newest addition to the Truck-Lite family of LED interior lighting products
October 2006, Falconer, New York - - Truck-Lite Co., Inc., introduced a new revolutionary concept in interior trailer and truck lighting today. The patent pending LED Super Strip-Lite, now available with a replaceable lens, is a new form of lighting using Light Emitting Diodes (LEDs) evenly spaced on a fabricated aluminum channel. Four-foot strips use 12 diodes, while two foot strips have six diodes. Both have diodes spaced every four inches. The lightweight LED Super Strip-Lites are available in two styles, shaped either for mounting flat or into corners. They can be mounted almost anywhere, but are most effective in corners, evenly spaced on roof interiors or, in vocational trucks, along horizontal or vertical shelf and cabinet surfaces.
"Interior lighting quality is important in many trucking operations," said Bob Ives, Vice President of Marketing. "These new LED strip lamps improve brightness inside truck bodies and trailers, and eliminate most shadows that interfere with a driver's ability to get the job done."
Each 6-diode strip draws only 0.7 amps. 12-diode strips draw 1.4 amps. Each strip covers a broad area, so lighting is even with minimal shadows. White LED lighting is brighter and whiter than other forms of interior trailer lighting, so colors are truer and freight labels are easier to read. This helps eliminate errors in securing product, selecting items and filling out paperwork.
LED lighting is rugged, lightweight, durable and reliable. This new product line has all the benefits of LED safety lighting with minimal intrusion into cargo or workspaces. That helps avoid damage from loading equipment. Truck-Lite Super Strip-Lite also saves an average of 3 lbs per lamp in a typical installation as compared to fluorescent lighting products.
All LED Super Strip-Lite offer these benefits to users:
- Replaceable lenses for easy maintenance and customization.
- Brighter, more even lighting for safer, easier, accurate and efficient work.
- A low profile that minimizes intrusion into cargo or workspaces and reduces damage.
- Rugged aluminum construction that improves durability and reliability, and minimizes damage.
- Easy mounting using predrilled holes.
- Modular design that makes retrofit or replacement quick and easy.
- Light weight that maximizes cargo.
- All the benefits of Truck-Lite's high quality LED line.
LED Super Strip-Lite lamps are covered by the same warranties applicable to other Truck-Lite LED products. This includes Truck-Lite's exclusive Limited Lifetime Warranty.
Headquartered in Falconer New York, with additional manufacturing facilities in Wellsboro, Coudersport, and McElhattan, Pennsylvania, as well as Birmingham England and Eisenach, Germany Truck-Lite is a major producer of signal lighting, forward lighting, wiring harnesses, mirrors, turn signal switches, and safety accessories to the heavy duty truck, trailer, and commercial vehicle industries.
Contact
Truck-Lite Co., Inc. Sherry White Manager, Marketing Communications & Services 310 E. Elmwood Ave. Falconer, NY 14733 1/800/562-5012
E-mail:swhite@truck-Lite.com
Web Site:http://www.truck-Lite.com