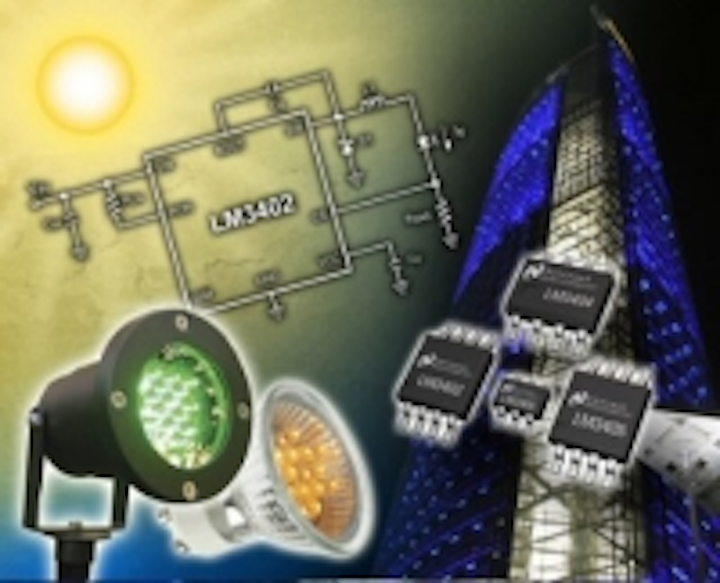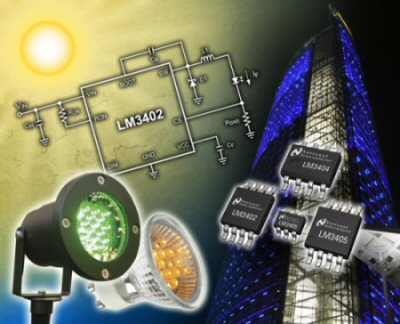 Date Announced: 25 Oct 2006
National Semiconductor Introduces New Family of LED Drivers to Power High-Brightness LEDs
Optimized for Industrial and Automotive LED Applications, New Family Provides Constant Current Through LEDs and Features Low Feedback Voltage to Minimize Power Dissipation
Light Emitting Diodes 2006 Conference, SAN DIEGO, Calif.—October 17, 2006 — Worldwide power management leader National Semiconductor Corporation (NYSE:NSM) today introduced a new family of light-emitting diode (LED) drivers designed to power the new generation of 1W to 5W, high-brightness LEDs found in automotive, industrial and general illumination applications.
National's LM3402, LM3404 and LM3405 LED drivers offer the wider input voltage range required by this fast-growing market segment. In addition, National's new LED drivers provide a constant current to regulate the LED brightness and low feedback voltage to minimize power dissipation.
"National already offers a wide portfolio of LED drivers designed for low-power portable applications such as those in cell phones and PDAs," said Mal Humphrey, product line director for the Power Management Group at National Semiconductor. "This new family of products extends that portfolio, using our higher voltage and current capabilities to address the high-brightness LED market as well."
Optimized for 1W LEDs, National offers two versions of the LM3402 LED driver that provide wide input voltage ranges of either 6V to 42V or 6V to 75V. For 3W and 5W LEDs, the LM3404 and LM3405 have additional output current drive capability.
Technical Features of the LED Drivers
The LM3402 is a compact, constant-current buck regulator with up to 95 percent efficiency that drives up to 525 mA of current. Offered in an 8-pin mini SOIC package, the LM3402 has an enable pin that also can be used for dimming via pulse-width modulation (PWM) inputs and a reduced feedback of 0.2V for current sensing. The LM3402's input voltage ranges from 6V to 42V. For higher input voltages, the LM3402HV offers the same features and a 6V-to-75V voltage range. For more information on the LM3402 and LM3402HV or to order samples and an evaluation board, visit http://www.national.com/pf/LM/LM3402.html and http://www.national.com/pf/LM/LM3402HV.html.
Offered in an 8-pin SOIC narrow package, the LM3404 and LM3404HV share the same functionality as the LM3402 and LM3402HV, but have the ability to drive currents up to 1.2A. These products are well-suited to power 3W and 5W LEDs at current levels of 700 mA or 1A, respectively. For more information on the LM3404 and LM3404HV, visit http://www.national.com/pf/LM/LM3404.html.
Offered in an 8-pin mini SOIC package and a tiny 6-pin SOT-23 package, the LM3405 constant-current buck regulator delivers up to 1A of current to drive 3W or 5W LEDs. With a 0.2V reference voltage for constant-current feedback control and a switching frequency that is internally set to either 550 kHz or 1.6 MHz, the LM3405 provides a simple, highly-efficient solution for driving LEDs. In addition, the LM3405 has an input voltage range of 3V to 22V, is internally compensated and has an En/Dim pin for PWM dimming.
For more information on the LM3405, visit http://www.national.com/pf/LM/LM3405.html. For more information on National's lighting solutions, visit http://led.national.com.
About National's Power Management Products
National Semiconductor is the number one supplier of voltage regulator ICs with 14 percent market share, according to iSuppli's 2005 Semiconductor Market Share survey. National's innovative power management products include best-in-class linear regulators; power monitoring, control and reference ICs; and switching converters, such as high-voltage ICs for DC-DC conversion, switched capacitor converters, lighting management ICs and inductive switching converters. National also offers online tools that enable power designers to select the best power management chips for their applications. National's Webench® design tool allows designers to choose a product, create and analyze a design, and then build custom prototypes that can be delivered within 24 hours. More information about National's power management products is available at http://powernational.com.
Pricing and Availability
The LM3402 and LM3402HV are available now in production quantities. Samples of the LM3404 and LM3404HV are available now and production quantities will be available in November. Samples of the LM3405 will be available in November and production quantities will be available in January 2007. Prices for these LED drivers start at $135 for the LM3402 and $1.65 for the LM3402HV in 1,000-unit quantities.
About National Semiconductor
National Semiconductor, the industry's premier analog company, creates high-value analog devices and subsystems. National's leading-edge products include power management circuits, display drivers, audio and operational amplifiers, interface products and data conversion solutions. National's key analog markets include wireless handsets, displays and a variety of broad electronics markets, including medical, automotive, industrial, and test and measurement applications. Headquartered in Santa Clara, Calif., National reported sales of $2.16 billion for fiscal 2006, which ended May 28, 2006. Additional company and product information is available at www.national.com.
Contact
Gayle Bullock National Semiconductor Public Relations 3689 Kifer Road, M/S G1-124 Santa Clara, CA 95051 Tel: (408) 721-2033
E-mail:gayle.bullock@nsc.com
Web Site:http://led.national.com