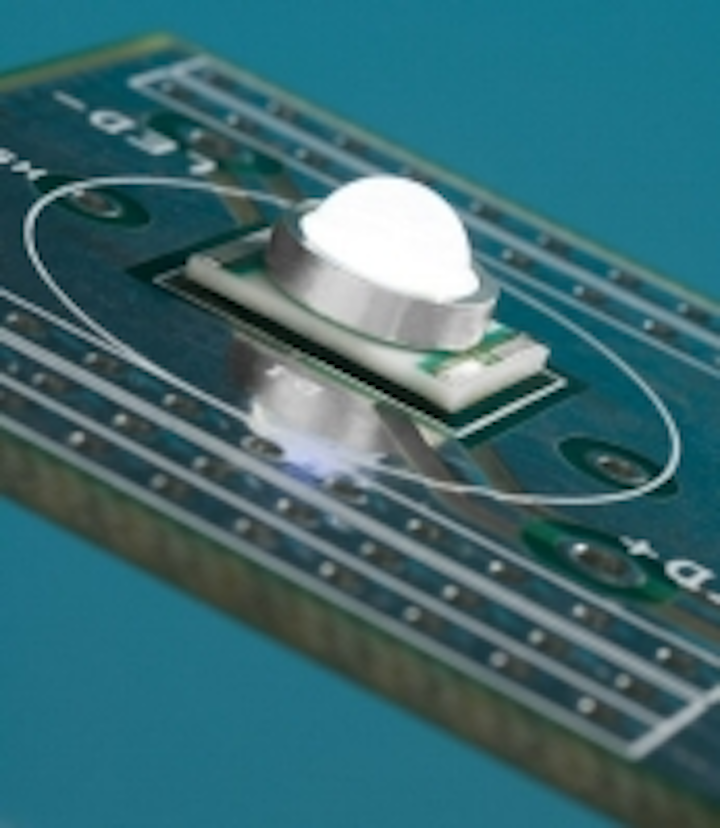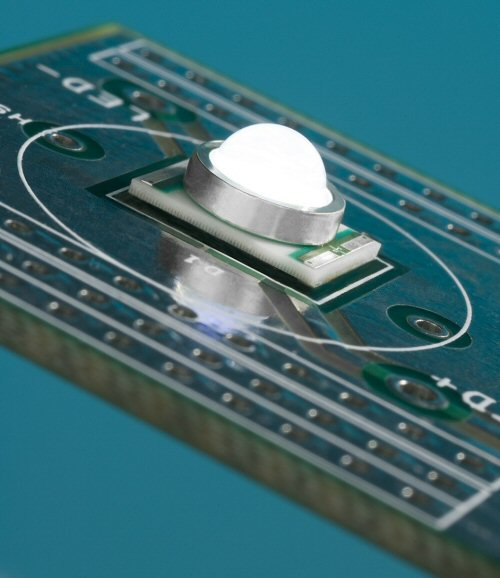 Date Announced: 09 Oct 2006
-- XLamp LEDs now as efficient as fluorescent sources
DURHAM, NC — Cree, Inc. (Nasdaq: CREE), a leader in LED solid-state lighting components, today announced new benchmarks for power LED brightness and efficacy with the release of the newest white Cree XLamp® 7090 power LED.
This new XLamp LED, available in volume quantities, produces luminous flux of up to 95 lumens or 85 lumens per watt at 350 mA, and up to 160 lumens at 700 mA.
Typical luminous flux for the new Cree XLamp 7090 LED is 80 lumens at 350 mA, yielding 70 lumens per watt. The new XLamp LED was designed to enable general lighting applications, such as street lighting, retail high bay lighting and parking garage low bay lighting, as well as to vastly improve the light quality in consumer applications such as flashlights.
LED technology has been sufficiently bright for many general illumination applications for some time. The new XLamp 7090 LED, however, offers the efficiency and reliability needed to make LEDs cost-effective for more of these applications.
The new XLamp 7090 LED is the first power LED based on the company's EZBright™1000 LED chip, which provides the industry's highest efficacy at 350 mA.
"Cree LEDs are achieving efficacy levels formerly delivered only by the most efficient traditional lighting sources, including fluorescent bulbs. We have established a new class of LED performance," notes Mike Dunn, Cree general manager and vice president, lighting and backlighting LEDs. "Our goal at Cree remains to aggressively increase the brightness and efficacy of our LEDs to ensure that LEDs become a cost-effective, energy-saving alternative for all lighting applications."
"The Department of Energy is pleased to have been a contributing partner in the Cree research and development efforts that have achieved a new level of performance for power LEDs," notes Alexander Karsner, Department of Energy Assistant Secretary for Energy Efficiency and Renewable Energy. "Now, more than ever, our nation needs energy-saving technology that is top-quality and cost-effective. The Department will continue to work with Cree and other lighting-industry partners to turn advanced energy-saving technology into commercially available and successful products that save energy for consumers."
The Cree LED research and development efforts were enabled in part through funding from the Department of Energy's Building Technologies Program, within the Office of Energy Efficiency and Renewable Energy, and also in part through funding from the Department of Commerce's National Institute of Standards and Technology's Advanced Technology Program.
Cree is also a charter member of the Department of Energy's Solid-State Lighting Partnership with the Next Generation Lighting Industry Alliance (NGLIA), an organization of lighting manufacturers that provides input to enhance the manufacturing and commercialization focus of the Department's solid-state lighting portfolio.
For additional information on Cree XLamp 7090 power LEDs and Cree EZBright LED chips, please call (800) 533-2583 or visit www.cree.com.
About Cree, Inc.
Cree is a market-leading innovator and manufacturer of semiconductors and devices that enhance the value of solid-state lighting, power and communications products by significantly increasing their energy performance and efficiency. Key to Cree's market advantage is its world-class materials expertise in silicon carbide (SiC) and gallium nitride (GaN) for chips and packaged devices that can handle more power in a smaller space while producing less heat than other available technologies, materials and products.
Cree drives its increased performance technology into multiple applications, including exciting alternatives in brighter and more-tunable light for general illumination, backlighting for more-vivid displays, optimized power management for high-current, switch-mode power supplies and variable-speed motors, and more-effective wireless infrastructure for data and voice communications. Cree customers range from innovative lighting-fixture makers to defense-related federal agencies.
Cree's product families include blue and green LED chips, lighting LEDs, LED backlighting solutions, power-switching devices and radio-frequency/wireless devices. For additional product specifications please refer to www.cree.com.
About the Department of Energy
The Department of Energy's Office of Energy Efficiency and Renewable Energy invests in a diverse portfolio of energy technologies to provide American consumers with a greater choice of energy-efficient products and enhance quality of life. The Building Technologies Program works with a wide array of industry, state, and university partners to accelerate the development and use of advanced building technologies such as solid-state lighting (SSL). SSL has the potential to more than double the efficiency of general lighting systems, saving energy costs for consumers and reducing overall U.S. energy consumption.
The unique attributes of SSL drive the need for a coordinated Federal approach that encompasses research, development, and commercialization support. In partnership with industry, the Department has developed a comprehensive R&D plan to ensure that DOE funds appropriate research topics that will improve efficiency and move SSL from the laboratory to the marketplace. To ensure that DOE R&D investments result in technology commercialization, the Department also implements commercialization-support strategies including lighting design competitions and the development of ENERGY STAR® criteria for SSL products. The Department works closely with the Next Generation Lighting Industry Alliance, utilizing the expertise of this organization of manufacturers to enhance the manufacturing and commercialization focus of the SSL portfolio.
For more information on the DOE solid-state lighting portfolio, visit www.netl.doe.gov/ssl.
Cree and XLamp are registered trademarks and EZBright is a trademark of Cree, Inc. Energy Star is a registered trademark of the Environmental Protection Agency, a federal agency of the U.S. Government.
Contact
Tel. +1 (800) 533-2583
E-mail:XLampSales@cree.com
Web Site:http://www.cree.com