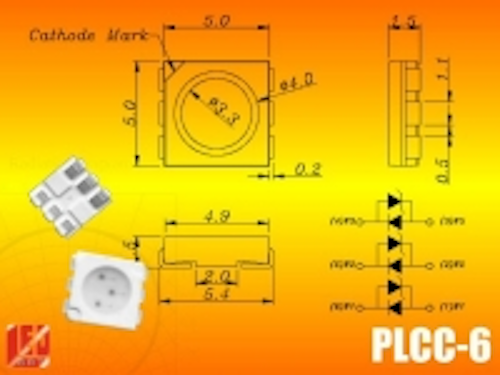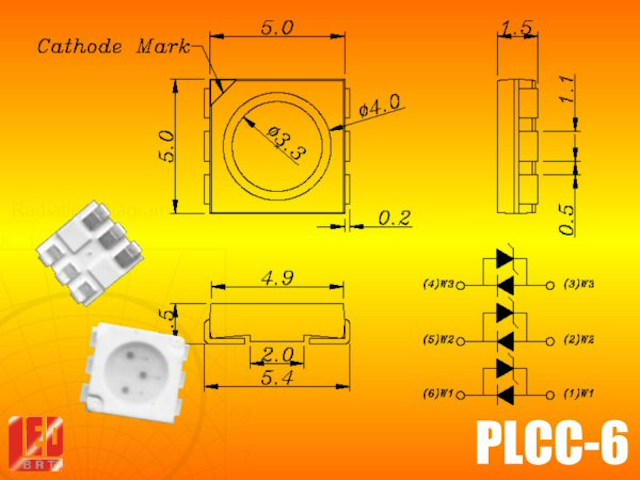 Date Announced: 05 Oct 2006
The new BL-PPW boasts industry-leading output of 18 lumens from a tiny 5.0mm x 5.0mm square PLCC-6 package.
Chino, Ca. – American Bright Optoelectronics introduced the BL-PPW series of high brightness surface mount LEDs designed to meet the changing needs of the backlighting and specialty luminaries industries. The tiny device, only 5mm x 5mm [0.197 x 0.197] incorporates the industry standard PLCC-6 package and is capable of producing up to 18 lumens of cool white light though a combination of three individually addressable LED die. The new package takes advantage of the industry standard PLCC footprint allowing for seamless integration into any standard production environment. The package is completely RoHS and WEEE compliant making it suitable for products with global integration and use.
Other unique features of the BL-PPW series is the integration of three individual Zener diodes paired with each LED die to provide ESD protection up to +/- 6000kv. This built in protection assures the integrity of the LED die over a wide range of operation conditions. The typical viewing angle afforded by this compact design is 120º, which makes the BL-PPW series ideal for wide area backlighting such as LCD TVs and visual marking applications such as stairway, egress and ingress paths, exit and other symbol luminaries.
The BL-PWW series has a maximum forward current rating of 25mA per LED die. Photometrical ratings are provided at both 20mA and 25mA per die, providing the design engineers all the necessary data to select the appropriate forward voltage and current combination to achieve the necessary output. Outputs of 15 lumens are achieved with a total forward current of only 60mA @ 3.4VF and a maximum output of 18 lumens is achieved at 75mA @ 3.4VF.
"This LED is producing a stable output at brightness levels only dreamed about a year ago," said George Lee, President of American Bright Optoelectronics Corporation. "We are seeing many applications that are benefiting from this design including highly efficient side-markers for truck trailers, safety lighting for steps and exit ways as well as traditional signal and symbol applications," said Steven Chen, Project Manager for American Bright Optoelectronics Corporation.
The BL-PPW series is available from stock and is priced from $1.20 each in production quantities. Samples are available to qualified OEM customers. The BL-PPW series is shipped 1000 pieces per reel in anti-static bags. Custom configurations are available, please contact the factory for further information toll free at 1-888-533-0800, or visit American Bright online at www.americanbrightled.com.
About American Bright Optoelectronics
American Bright Optoelectronics is a subsidiary of Taiwan-based Bright LED Electronics Corporation, a recognized leader in the research, engineering, manufacturing and marketing of LED components to major markets worldwide. Formed as the marketing organization for the Americas and Canada in 1995, American Bright has enjoyed sustained growth while introducing several innovations to a wide variety of markets.
Conscious of their global responsibility to the environment, the majority of products are produced with lead-free, RoHS compliant materials and processes. Bright LED Electronics and American Bright Optoelectronics are ISO9001:2000; ISO 14000: 2004 and TS16949 certified.
Contact
American Bright Optoelectronics Corporation 13815-C Magnolia Ave., Chino, CA 91710. Tel: (909) 628-5050 Fax: (909) 628-5006 Toll Free (888) 533-0800
E-mail:info@americanbrightled.com
Web Site:http://www.americanbrightled.com