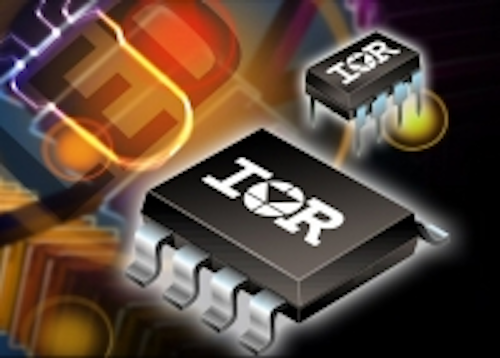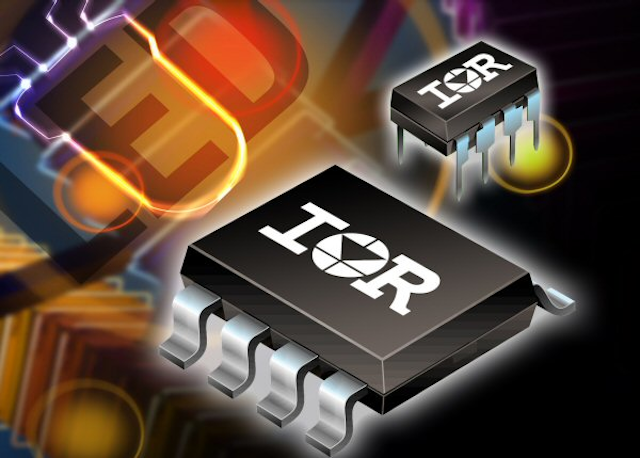 Date Announced: 23 Oct 2006
A high-voltage, high-frequency buck regulator control IC for AC-DC offline, non-isolated applications requiring multiple light-emitting diode (LED) circuits or requiring DC-DC color-mixing capabilities has been introduced by International Rectifier. Applications include indoor and outdoor signage as well as architectural, entertainment, design and decorative lighting.
Rated at 200V or 600V, the IRS254x series incorporates a continuous mode, time-delayed hysteretic buck regulator to control the average load current within a tolerance of five percent, using an accurate on-chip band gap voltage reference. An external high-side bootstrap circuit drives the buck switching element at high frequencies up to 500kHz. A low-side driver is also provided for synchronous rectifier designs.
The new ICs deliver a micro-power startup of less than 500µA for extremely low losses at turn-on and a deadtime of 140ns for continuous current regulation. Other features include auto restart, non-latched shutdown and PWM dimmable capability, incorporated into a compact 8-pin DIP or 8-pin SOIC package, also available in tape and reel.
These ICs utilize IR's advanced high-voltage IC process which incorporates latest-generation high-voltage level-shifting and termination technology to deliver superior electrical over-stress protection and higher field reliability, in addition to other new features and enhancements.
Specifications:
IRS2540xPbF
Package: DIP8, S08 -- Voltage: 200 -- Load current regulation: +/- 5% -- Micro-power start-up: <500µA -- Deadtime: 140ns -- Frequency: <500kHz
IRS2541xPbF
Package: DIP8, S08 -- Voltage: 600 -- Load current regulation: +/-5% -- Micro-power start-up: <500µA -- Deadtime: 140ns -- Frequency: <500kHz
Production orders are available immediately. The devices are RoHS compliant and data sheets for the devices are available on the website at http://www.irf.com.
About International Rectifier
International Rectifier (NYSE:IRF) is a world leader in power management technology. IR's analog and mixed signal ICs, advanced circuit devices, integrated power systems and components enable high performance computing and reduce energy waste from motors, the world's single largest consumer of electricity. Leading manufacturers of computers, energy efficient appliances, lighting, automobiles, satellites, aircraft and defense systems rely on IR's power management benchmarks to power their next generation products. For more information, go to www.irf.com.
Contact
Mike Wigg, International Rectifier Co Ltd European Regional Centre, The Omnibus Building, Lesbourne Road, Reigate, Surrey RH2 7JP Tel: +44 (0)1737 227 203 Fax: +44 (0)1737 227 201
E-mail:euronews@irf.com
Web Site:http://www.irf.com