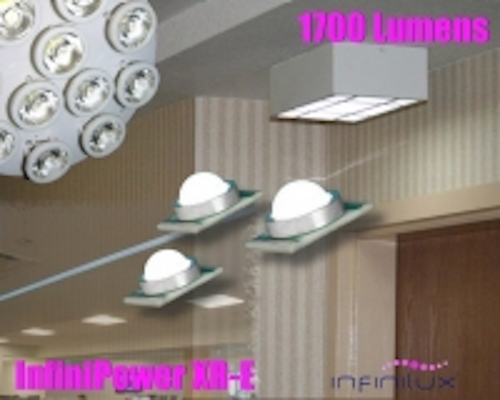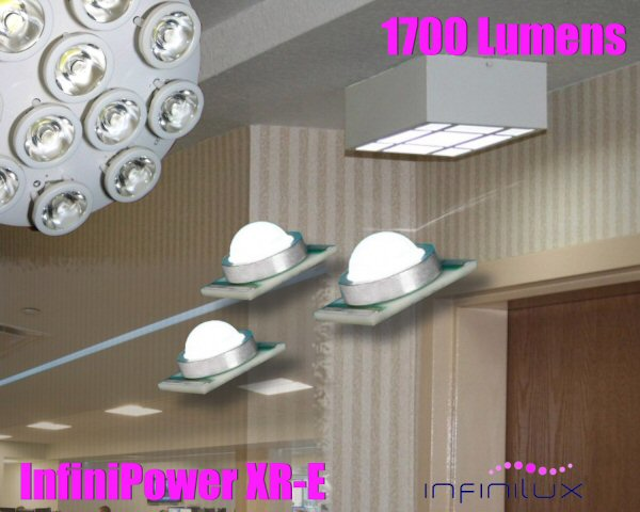 Date Announced: 11 Oct 2006
The New InfiniPower XR-E series boast efficiencies equaling existing florescent lamp technologies and a brighter output at 350mA than comparable technologies at 700mA.
Rancho Dominguez, CA, October 11, 2006 - Infinilux™, announces the introduction of the integration of Cree Inc.'s new XR-E series XLamps into the InfiniPower line of standard light engines making the InfiniPower series the industries brightest and most efficient off the shelf light engine at 350mA with total luminous flux of over 1000 lumens. Outputs of over 1700 lumens of cool white light (6500K CCT) can be achieved with forward current of only 700mA.
The InfiniPower modules are specifically designed to address the needs of luminarie designers worldwide that are currently looking to develop solid-state lighting solutions for general lighting applications, such as street lighting, retail high bay lighting and parking garage low bay lighting, as well as to vastly improve the light quality in consumer applications such as residential, retail and industrial lighting. When paired with Infinilux Constant Current Sources, the InfiniPower series provides the framework for efficient and viable solid state lighting fixtures and systems that rival the efficacy of even florescent systems.
These light engines are based on a proprietary 0.157" (4mm) thick metal core printed circuit board (MCPCB), which allows for the control of thermal dissipation while providing an economical "plug and play" mounting methods. The proprietary MCPCB features pre-drilled mounting holes for many of the industries leading optics providing a new level of compatibility and the ability to tailor the output of the light engine to meet specified design criteria. Custom optics are also available from Infinilux for application specific solutions.
The InfiniPower Series is 100% RoHS and WEEE compliant.
Anthony Vilgiate, Infinilux Vice President, commented that, "The availability of the new Cree XR-E XLamp with the Infinilux off-the-shelf light engines opens new doors for lighting designers. There are now no limitations for addressing the transfer of general lighting technologies to the high-power, solid –state realm. We are achieving
efficacy levels formerly delivered only by the most efficient lighting sources, including fluorescent technologies, and service life that is as much at 10 times longer".
InfiniPower XRE modules are immediately available from stock with standard pricing starting at under $40.00 per module for three XLamp units. For more information, contact Infinilux, Inc., at 310-561-8546 or visit Infinilux on-line at www.infinilux.com
About Infinilux, Inc.
Infinilux deigns and manufactures high performance lighting products that can be used worldwide in high-profile applications within the architectural, public spaces, theater lighting, retail, residential, landscape, signage, entertainment, hospitality, fine arts, and commercial markets.
The Infinilux product line includes a variety of high-output indoor and outdoor Solid State retrofit lamps to replace inefficient incandescent lamps as well as a wide range of color wash and accent LED-lighting strips. These strips are ideal for under cabinet lighting in both homes and recreational vehicles and are suitable for use as a light engine for standard lighting fixtures and displays.
For more information or to receive a catalog please contact Infinilux, Inc. 2030 E Gladwick Lane, Rancho Dominguez, CA 90220 USA; Tel: (310) 561-8546 Fax: (310) 603-6899; email: info@infinilux.com, web: www.infinilux.com.
Contact
For Further Information: Agency Contact: Clear Point Technical Marketing (719) 687-9814 anthony@cptmi.com Infinilux, Inc. Technical/Management Contact: Anthony W. Vilgiate (310) 555-9999 anthony@infinilux.com
E-mail:anthony@infinilux.com
Web Site:http://www.infinilux.com