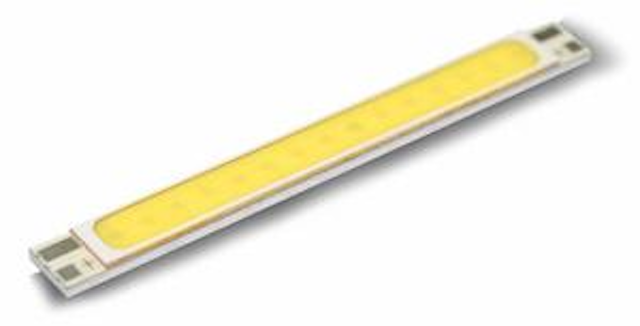 Date Announced: 23 Dec 2006
Edison Opto, a Taiwan based high power LED packaging manufacture, has introduced its latest product, EdiLine. The device is measured at 40mm x 4mm x 1.3mm, with luminous flux of 250 lumens at a drive current of 500mA.
The circuit design is a 5 parallel - 3 series connection, and the operating voltage is approximately 10.7V. The thermal resistance of EdiLine is 5 °C/Watt; with applicable heat dissipation, the lifespan is expected to exceed 50,000 hours.
EdiLine series incorporate the latest and the most advanced packaging materials and technologies from Edison Opto. The linear structure design results in an easier heat dissipation requirement, making versatile fixtures design possible as well as an overall cost saving benefit.
The particular twin connectors design allows EdiLine to be assembled in either serial order as linear light source or parallel order as superficial light source. Users can also manipulate the position of EdiLine to effortlessly construct a serial or parallel connection circuit as desired.
Thanks to the versatility of EdiLine, both linear and superficial light source are easily attainable. Combined with the high efficacy, EdiLine is the ideal substitute for various lighting applications, such as fluorescent lamp, table lamp, street light, and backlight for LCD. EdiLine are available in white, warm white, blue, green, amber, and red color.
Contact
Edison Opto Corporation Tel: 886-2-8227-6996 Fax1: 886-2-8227-6997 Add: 4F,No.800, Chung-Cheng Rd., Chung-Ho City, Taipei, Taiwan
E-mail:service@edison-opto.com.tw
Web Site:http://www.edison-opto.com.tw