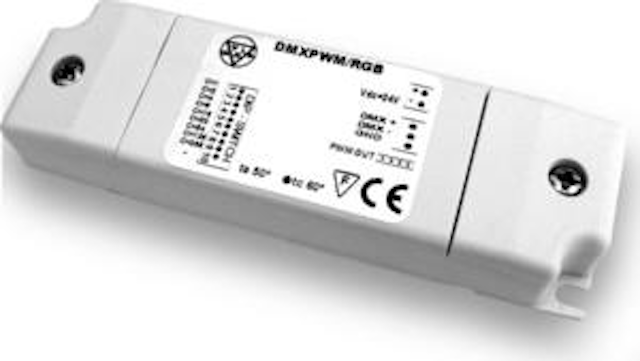 Date Announced: 19 Dec 2006
Modular in structure, the new DMXPWM/RGB DMX decoder from VLM GmbH offers over 500 addressable channels and can control up to 99 operating devices for LEDs.
The wide variety of possible applications and an exceptionally customer-friendly price are further plusses for the youngest member of VLM's DMX family
Mettmann, Germany -- With the new DMXPWM/RGB DMX decoder, VLM has expanded its range of DMX-controlled RGB solutions to include an attractive new product. No longer limited to 3-digit addresses like its predecessors but freely addressable, the new decoder is capable of controlling up to 99 operating devices reliably using up to 511 addressable channels, the previous limit having been 93. This opens the door to a wide range of uses, covering virtually all DMX-controlled RGB applications.
The DMXPWM/RGB converts signals based on the DMX 512/2000 protocol into PWM (pulse width modulation) signals that can be interpreted and processed by VLM's own DLDC(C)/RGB/SLX colour control system, which was designed for use by all professional lighting designers and is especially suitable for the illumination of the interiors and exteriors of buildings.
Among the further advantages of the DMXPWM/RGB are its modular structure (the decoder and LED operating device are separate units) and an unbeatable price.
Technical specifications (extract)
Article number: DMXPWM/RGB
Supply voltage: 24 V
Input current: 40 mA
DMX channels used: 3
Weight: 50 g
Dimensions: 34x115x19
About VLM GmbH
VLM GmbH – a subsidiary of the Milanese lighting company VLM S.p.A – develops and produces electrical and electronic components for the lighting industry and trade. Its highly innovative and constantly expanding spectrum includes switches, lamp holders, feed lines, LED equipment, dimmers and converters, as well as salt stone and gift item armatures (e.g. illuminated ceramic, glass and wooden houses and figures). Over 5,000 individual components and complete solutions from VLM are certified world-wide as well as for specific countries. VLM produces in southern and eastern Europe, North Africa (Tunisia) and the Far East and delivers world-wide.
Contact
VLM GmbH +++ The World of Light +++ Electronic and electrical components for lighting Am Korreshof 17, Mettmann, 40822 Germany. Tel.: +49 (0) 21 04 - 83 30 - 0
E-mail:mail@vlm.de
Web Site:http://www.vlm.de