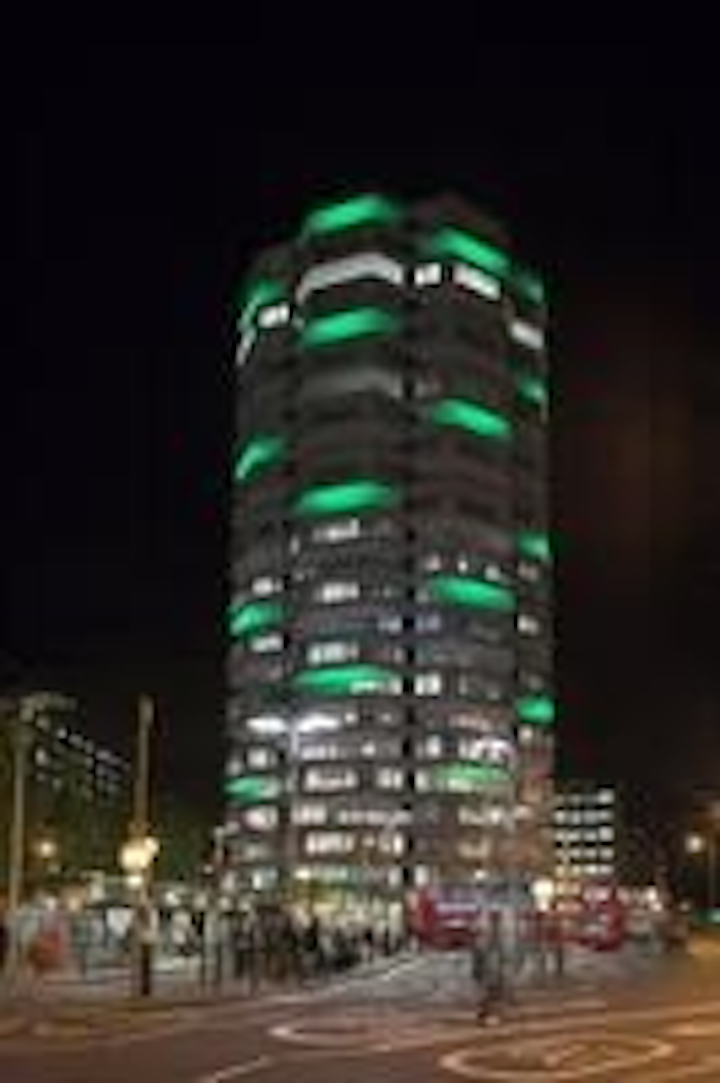 Date Announced: 06 Dec 2006
LKL Lighting has supplied 64 of i-Vision's Lumos Strip 1200 non-optic LED strip fixtures to illuminate 32 balconies of Croydon's landmark building, the NLA Tower, for a lighting scheme designed by Howard Green, Director of Leeds-based LKL Lighting.
The R Seifert & Partners designed 1970's 24 floor, 8-faceted, 250ft tower, colloquially known for resembling a stack of 50p pieces in shape, has been re-branded as No 1 Croydon.
As part of its new look and new image, the management company of this premium south London office real estate asked LKL to design a lively and colourful lighting scheme, with no light pollution. This was to be operational throughout the night and enhance the building's general appearance, ensuring it becomes a local talking point as well as attracting new clients and commerce.
LKL Lighting has designed floodlighting schemes for a number of other prominent buildings throughout the UK, but this is their first major LED project.
They started talking to i-Vision's Luke Dodd about the practicality of using LED's and the potential cost and carbon emission savings of using them as opposed to the discharge light sources that were originally considered.
The Energy Audit Report produced by i-Vision was convincing. The results were spectacular. The planned running the scheme from 3 p.m. to 8 a.m. saves 34,648KWH of electricity/year (a £4,915 per annum running cost saving over conventional lighting) and using LED saves approximately 14,898Kg of carbon emissions a year. This really is a 'Green' floodlighting scheme!
With these statistics to hand, the decision was easily made. "We emphasised the environmental impact of using LED as well as all the practical advantages like low maintenance costs and the general robustness of the product" states Dodd.
The Lumos Strips are projecting onto the underside of the balconies, two per balcony, and the balconies to be lit were selected for even coverage around the building.
LKL and i-Vision also were responsible for the complete the installation. Luke Dodd then commissioned and programmed the lights in collaboration with Howard Green, resulting in a series of funky, eye-catching colour changing sequences.
i-Vision and LKL considered the various control options before choosing the Pharos LPC1 controller, which was picked for many reasons, including its ability to control a large numbers of DMX fixtures and channels, including the option of feeding in video inputs, plus other features like daylight saving and the connection to an astronomical clock.
Eight default patterns are programmed into one of i-Vision's Lumos Touch panels for easy access by building management staff. Apart from the default sequences, the strips can easily be programmed into specific colours or patterns for special events like Christmas, etc.
"It's great to have a new focus on 'real' energy saving lighting products and working together with i-Vision has proved to be a stunning partnership. I know that both parties are looking forward to some exciting future projects" comments Green.
The scheme was officially switched on by the Mayor of Croydon Janet Marshall, to an audience of over 100 guests and tenants, all of whom were wowed by the imaginative start-up sequence.
Contact
i-Vision Tel. 01291 630883
E-mail:Info@ivisionuk.com
Web Site:http://www.ivisionuk.com