Sylvania unveils LED product range for rugged lifestyles
Jun 19th, 2006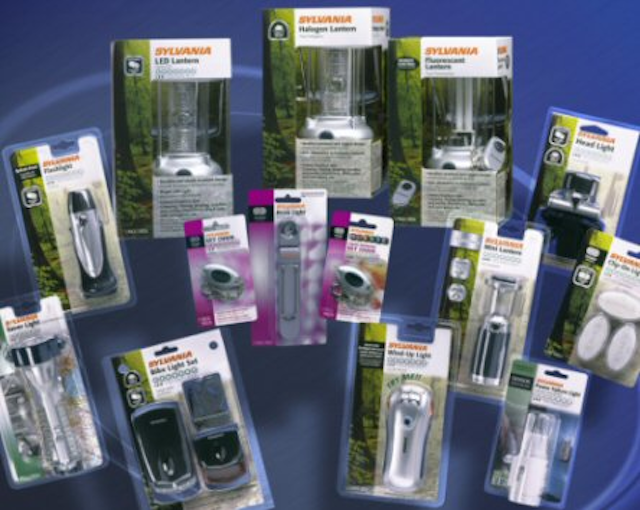 Date Announced: 19 Jun 2006
NEW FLASHLIGHTS AND LANTERNS LIGHT UP INDOORS AND OUT
Sylvania's Advanced LED Technology Enhances Rugged Lifestyles
Danvers, Mass, (June 7 2006) -- Recreation and vacation buffs got a welcome boost today when OSRAM SYLVANIA unveiled a new line of powerful lanterns and flashlights that deliver unparalleled brightness and versatility. Many of the products benefit from state-of-the-art light emitting diode (LED) technology, which SYLVANIA has pioneered in recent years.
Whether consumers enjoy hiking, camping, boating, cycling or working around the house, the new lanterns and flashlights deliver brilliant light anywhere it is needed. They also make ideal safety and emergency lights. The SYLVANIA line includes a Dimmable LED Mini Lantern, Dimmable LED Lantern, Compact Fluorescent (CFL) Lantern with Remote Control, Halogen Lantern, LED Saver Light, LED Clip-on Lights, LED/Halogen Bike Light Set, LED Flashlight, LED Key Chain, LED Wind Up Flashlight, LED Power Failure Light and DOT-it™ LED Light.
"So many people today are pursuing active lifestyles that call for bright, durable, versatile, practical light in a compact lantern or flashlight," Jon DiGesu, OSRAM SYLVANIA director of communications and brand strategy, said. "We're excited to offer advanced technology, longer life, maintenance free, low energy consumption, and extended battery life products to meet a variety of needs," he added.
SYLVANIA's new lanterns and flashlights light up cars (in the trunk as an emergency flashlight); homes (in the attic, basement or patio); recreation areas (boating, fishing, camping, hiking or cycling); workshops (garage or garden shed); and sports (running or cycling). They also make excellent blackout or emergency lights.
Lanterns
Sure to be one of the most popular products in the line is the
Dimmable SYLVANIA LED Mini Lantern
($19.99). It offers bright LED mini lantern light, with a dimming function, 200 hours of battery life at dimming status (80 hours at full brightness), and features a practical handle and fold-out feet, in addition to a compact and lightweight design.
The full-size
Dimmable LED Lantern
($39.99) also delivers bright, white LED light with a dimming function, 60 hours of battery life, features a durable and shock-resistant design, and a practical carry handle and hanging hook.
Next in the line is the
Compact Fluorescent Lantern with Remote Control
($18.99). Its energy-saving 7-watt CFL bulb provides 16 hours of light in a robust, splash-proof steel/plastic housing, comes with a practical carrying handle
and hook, and can be switched on and off by a remote from up to 26 feet away.
Completing this part of the line is the
Halogen Lantern
($16.99) with 16 hours of battery life which exudes brilliant, white halogen light in a modern, decorative design with the same handle, hook and housing features as its CFL companion.
Flashlights
SYLVANIA's
LED Flashlight
($9.99), which features five super bright, white LEDs in a sleek, splash-proof design, will be a boon both away and at home.
The
LED Wind Up Flashlight
($14.99) is hand-cranked so that it never needs batteries or replacement bulbs. Its secret is self-generating LED lithium storage technology which, when cranked for one minute, sheds up to 30 minutes of bright LED light. Its dual mode operation makes it extra versatile: all three white LEDs turn on while two yellow flashing LEDs signal warning.
The
LED Saver Light
($16.99) combines five functions in one: a bright krypton flashlight, seatbelt cutters, a hammer with metal spikes for breaking windows, an emergency signal with 12 flashing LEDs and three magnets for securing the flashlight to the outside of the car or other metal surfaces.
Invaluable during hurricanes and other natural disasters, the
LED Power Failure Light
($12.99) is three lights in one. It acts as a night light, power failure light that turns on automatically when the power goes out, and a bright LED flashlight.
Other Safety ProductsLED Clip-On Lights
($11.99) feature one white and two red LEDs, with an easy clip-on feature. They can be operated in steady or flashing mode.
In addition to providing a bright, compact LED pocket light, the
LED Key Chain
($5.99) features a chain and karabiner for keys, or to attach it to belts and
backpacks. It includes a color changing LED beam for vast rendering color effects.
With a weather-resistant design and multi-size clamps for seat post and handle bar mounting, the
LED/Halogen Bike Light Set
($19.99) features both a halogen headlight and an LED taillight with three LEDs, as well as an on/off push button for easy operation.
Rounding out the new line is the
LED/Krypton Headlight
($12.99) with three ultra bright, white LEDs, a five-mode operation and a pre-focusing krypton spotlight. It delivers light where it is needed, allows hands-free activities and comes with an adjustable head strap for perfect fit.
Last, but not least, is the
DOT-it™ LED Light
($9.99), a portable LED light you can stick and restick practically anywhere. It features three bright, white LEDs that deliver 100 hours of light.
About OSRAM SYLVANIA
Headquartered in Danvers, Mass., OSRAM SYLVANIA is the North American lighting operation of OSRAM GmbH. Together we are the second-largest lighting and materials enterprise in the world, serving customers in more than 140 countries. We manufacture and market a wide range of lighting products, including automotive, electronic and magnetic ballasts, and precision materials and components for industrial and commercial users, original equipment manufacturers and consumers, sold primarily under the SYLVANIA brand name, but also under the OSRAM brand. OSRAM SYLVANIA also offers lighting systems installation and maintenance services.
Contact
Anne Guertin OSRAM SYLVANIA Tel. +1 978.750.2225
E-mail:anne.guertin@sylvania.com
Web Site:http://www.sylvania.com