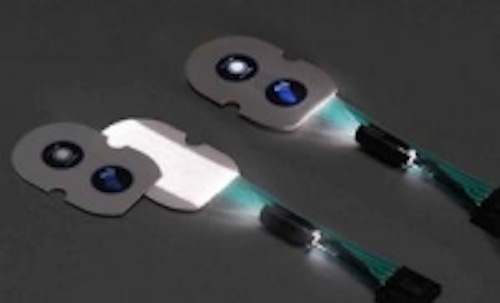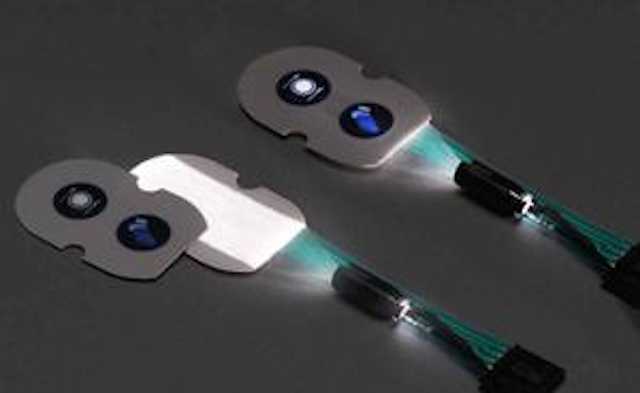 Date Announced: 01 Jun 2006
Strongsville, OH, USA -- Thin, flexible fiber optic backlighting technology from Lumitex Inc. is now available in unusual geometries that were previously the domain of EL backlighting alone. Circles, semi-circles, holes and other irregularities are now possible using UniGlo® patented fiber optics configured with new production technology.
Since UniGlo's fiber optic technology is well positioned to take advantage of ongoing advances in LEDs, the panels can backlight a large area with one LED light source (up to 4" x 6") and, since they are so thin (0.013"), they don't interfere with the tactile feel of the switch when the dome is depressed.
Traditional membrane switches have been rectangular in shape, but some OEMs have been designing membrane switches with other, more unusual shapes to help differentiate their products in the marketplace.
With brightness as high as 75 Ft-L, they can provide a clearly readable display in dimly lit areas. Power consumption is low (2-4 VDC, 5-30 mA for a single-LED backlight), the panels generate no heat, EMI or ESD, and they are impervious to moisture, humidity and heat. Fiber optic panels have been tested to over 5 million actuations and provide backlight lifetimes up to 100,000 hours (depending on the LED light source used).
Contact
For more information on Lumitex's UniGlo® membrane switch backlighting, contact Lumitex Inc., 8443 Dow Circle, Strongsville, OH 44136. Tel: 1-800-969-5483; 440-243-8401; Fax: 440-243-8402; E-Mail: info@lumitex.com. Web: www.lumitex.com.
E-mail:charles@macrovis.com
Web Site:http://www.lumitex.com