Avago unveils one-watt LED in low-profile package
Jun 23rd, 2006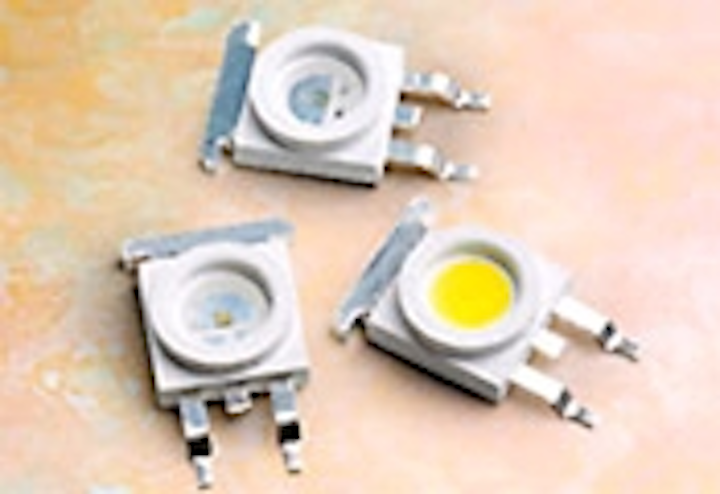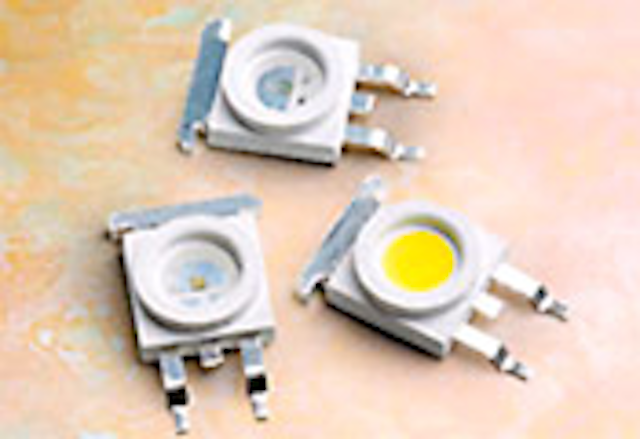 Date Announced: 23 Jun 2006
Avago Technologies Enters High-Power LED Market with First Series of Low-Profile LED Packages for Portable and Architectural Lighting
Low Thermal Resistance and Moisture Sensitivity Levels Make 1-Watt LED Package More Reliable and Easier to Install
SAN JOSE, Calif., June 22, 2006 -- Avago Technologies, the world's largest privately held semiconductor company, today announced its first series of 1-watt, high-power LEDs in one of the thinnest packages available. This new LED offers brighter illumination, more reliability than competing products and can be installed easily.
Avago's ASMT-MX00 is ideal for use in applications that require ultra-high-brightness LEDs, such as flashlights, reading lamps, architectural and garden lighting. This offering can lead to new lighting applications, such as brilliantly-backlighted signs no thicker than a picture frame.
Avago's new ASMT-MX00 LED package provides manufacturers with two significant advantages. First, it can be easily soldered using conventional surface mount (SMT) techniques to minimize production costs, and the package is qualified to a JEDEC moisture sensitivity level (MSL) rating of 2A. For manufacturers, this rating means that the ASMT-MX00 LEDs can be kept in the open air (30° C, 60 percent relative humidity) for up to four weeks after being removed from their sealed package without the need to remove absorbed moisture.
"Avago has entered the 1-watt LED market to provide our customers with a unique product combined with the assurance of our industry recognized reliability and ability to deliver in volume," said Cheng Kai Chong, worldwide marketing manager for Avago Technologies' Optoelectronic Products Division. "Our ASMT-MX00, which is the first in a series of 1-watt LED products, provides customers with one of the thinnest packages available, superior heat dissipation, compatible to IR soldering, robust moisture resistance and encapsulated in heat and UV-resistant silicone compound."
The ASMT-MX00 series of 1-watt continuous power dissipation indium gallium nitride (InGaN) LEDs are available in blue, green and phosphor white, and feature a smooth radiation pattern with a 120-degree viewing angle (110 degree for white).
Features
The dimensions of the ASMT-MX00 surface mount power package are 8.5 mm wide by 15.85 mm long by 3.3 mm high.
Features an exposed pad design to provide low thermal resistance (10 C/W) between the LED chip junction and printed circuit board to minimize temperature rise and help assure long-term device reliability.
LED chip is encapsulated in a silicone compound to assure resistance against UV and heat exposure , the packaged LEDs are specified for operation over the –40° C to +85° C temperature range, and are capable of withstanding electrostatic discharge (ESD) levels of 16 kV (class 3b) per ESD Association standard ESD STM5.1, Electrostatic Discharge Sensitivity Testing -- Human Body Model.
Color temperatures from approximately 4500 to 5600, 5600 to 7000 and 7000 to 10,000 K are available.
Typical total luminous flux of 40 lumens (green), 10 lumens (blue) and 35 lumens (white), respectively (at 350 mA forward current).
Pb-free and RoHs compliant.
U.S. Pricing and Availability
The ASMT-MX00 series 1-watt LEDs are priced in the $2 range (depending on color) in small to moderate quantities. Samples and production quantities are available now through Avago's direct sales channel and worldwide distribution partners.
Avago LED and Display Solutions
Avago Technologies is one of the largest producers of visible LEDs in the world and ships billions of products annually. Known for its LEDs' performance, efficiency and reliability, Avago offers an extensive portfolio of products at globally competitive prices. These LEDs and displays are offered in an array of color, package and viewing options that address a wide range of applications, including automotive, industrial, electronic signs and signals, consumer electronics, and mobile phones. Key products include power LEDs, surface-mount LEDs, LED flash, through-hole lamps, seven segment displays, dot matrix displays, alphanumeric displays, light bar and bar graph arrays, color sensors and illumination and color management IC solutions.
About Avago Technologies
Avago Technologies is the world's largest privately held semiconductor company, with 6,500 employees and net revenue of $1.8 billion in fiscal 2005. Avago provides an extensive range of analog, mixed-signal and optoelectronic components and subsystems to more than 40,000 customers worldwide. The company serves three primary product categories comprising optoelectronics, RF/microwave components and enterprise ASICs, and is recognized for providing innovative, high-quality products along with strong customer service and the industry's best on-time delivery. Avago's heritage of technical innovation dates back 40 years to its Agilent/Hewlett-Packard roots. Information about Avago is available on the Web at www.avagotech.com.
Contact
Avago Technologies
E-mail:info@avagotech.com
Web Site:http://www.avagotech.com/led