Catalyst Quad-Mode™ LED driver extends battery life with no added cost
Sep 14th, 2006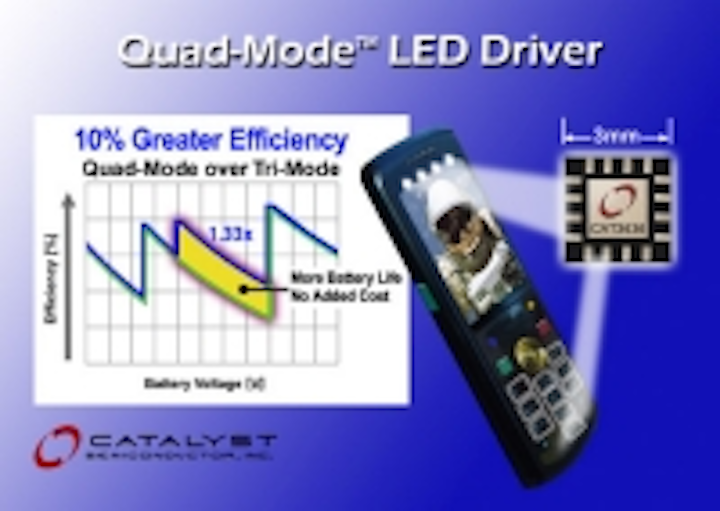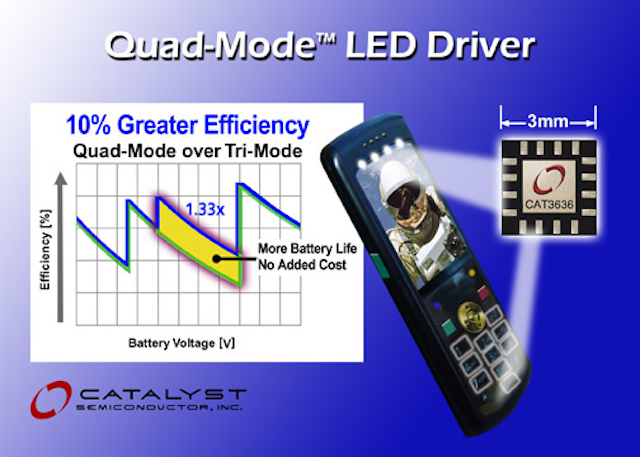 Date Announced: 14 Sep 2006
CAT3636 Quad-Mode(tm) LED driver delivers industry-leading efficiency and charge pump simplicity without adding cost, components or board space
SUNNYVALE, Calif., September 14, 2006 – Catalyst Semiconductor, Inc. (NASDAQ:CATS) a supplier of analog, mixed-signal and non-volatile memory semiconductors, has taken LED driver performance to the next level with the announcement of its first chip in a new family of patent-pending Quad-Mode(tm) adaptive fractional charge pumps. Capable of driving up to six white/color LEDs, the CAT3636 is designed with Catalyst's innovative Quad-Mode(tm) switching architecture to give designers efficiency levels close to those of inductive boost converters and the simplicity of charge pumps, without adding cost, components or board space.
Catalyst Semiconductor's innovative, patent-pending Quad-Mode charge pump architecture delivers high efficiency levels normally associated with inductor-based LED drivers, while eliminating the associated high-profile inductors and unwanted EMI. Most charge pump LED drivers today offer three modes of operation corresponding to the ratio of the output voltage to the input voltage: 1x, 1.5x and 2x. The Quad-Mode architecture of the CAT3636 adds a fourth mode of operation, 1.33x, without the need for the additional capacitor required by all existing four-mode charge pumps. The 1.33x fractional operating mode also reduces the input switching currents seen at the battery, minimizing the overall supply noise – a critical parameter in portable devices such as cell phones.
With the Quad-Mode switching architecture, the new CAT3636 delivers efficiency levels as high as 92 percent (lifetime average efficiency 84 percent), yet saves significant board space and costs. The unmatched performance, space and cost-saving benefits of the CAT3636, combined with its tiny, 3x3mm, low-profile TQFN package provide a totally new alternative for designers of today's emerging, razor-thin portable products.
According to Scott Brown, Vice President of Marketing for Catalyst Semiconductor, "There are three considerations for designers of LED backlighting solutions for handheld products: size, efficiency and cost. The CAT3636 manages to combine a best-in-class footprint with previously unheard-of efficiency at no price premium. We are very proud that our patent-pending Quad-Mode architecture has enabled us to achieve what many people previously thought was impossible."
The CAT3636 includes six LED current sinks configured into three separate banks, with each bank containing a pair of tightly regulated and matched output channels. Fully featured programmability and dimming control is achieved via Catalyst's flexible 1-wire EZDim™ programming interface (Address and Data), which allows LED banks to be individually and accurately set. This further helps to reduce pin count and interface connections while still allowing flexible control of color LCD backlighting used in main and sub displays or combinations of RGB LED or flash functions in portable products.
CAT3636 Product Features
- Patent-pending Quad-Mode(tm) switching architecture
- Fourth charge pump mode achieves 1.33x boost mode with only 2 flying capacitors
- Power efficiency 92 percent maximum, lifetime average efficiency 84 percent
- Drives up to 6 LEDs at 32mA each
- 1-wire EZDim(tm) LED current programming
- Tiny, 3x3mm, low-profile (0.8mm) 16-pin TQFN package
Price and Green Package Availability
The CAT3636 is available in a tiny, 3x3mm, low-profile (0.8mm) 16-pin TQFN RoHS-compliant package. Plated lead finish is matte tin. The ordering code is CAT3636HV3-T2 and pricing for 10,000 piece quantities is $0.94 each. Samples and evaluation kits are now available. Projected lead-times for production quantities are currently 6 to 8 weeks ARO.
About Catalyst Semiconductor
Founded in 1985, Catalyst Semiconductor, Inc. is headquartered in Sunnyvale, California. The Company produces analog and mixed signal products in addition to an extensive range of nonvolatile memories. The analog and mixed-signal product lines include Digitally Programmable Potentiometers [DPP™], white and color LED drivers, DC/DC converters, voltage supervisors, linear regulators, and I/O expanders. The memory product lines consist of serial and parallel EEPROMs, Flash, and NVRAM. Catalyst devices are used in telecommunications, networking systems, computation, automotive, industrial and consumer markets. Typical applications include LCD displays, automotive instrumentation, optical networks, modems, wireless LANs, network cards, DIMM modules, cellular telephones, digital satellite box receivers, set-top boxes and Internet routers. Catalyst's Quality Management System is ISO 9001:2000 certified. All Catalyst products are available in "green" lead- and halogen-free versions with full RoHS compliance.
Contact
Catalyst Semiconductor, Inc. Sherry Hill Telephone: 408-542-1080
E-mail:sherry.hill@catsemi.com
Web Site:http://www.catsemi.com