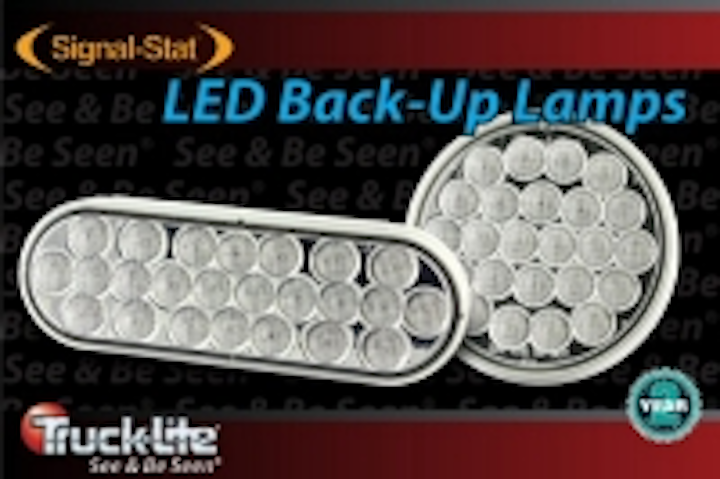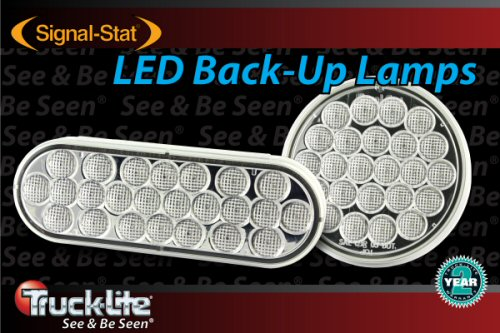 Date Announced: 21 Sep 2006
September, 2006, Falconer, New York – Truck-Lite has added two new Signal-Stat LED backup lamps to its popular priced line of LED safety lamps. The backup lamps come in 4" round and 6" oval sizes "This is the third, but certainly not the last expansion of the Signal-Stat line that we have implemented since launching the brand. In response to customer requests for additional models, we will introduce more products in the near future," said Sherry White, Manager of Marketing Communications & Services.
Both the 4" round and 6" oval LED Back-Up Lamps have an extensive pattern of multiple diodes favored by many owner-operators and show truck enthusiasts. These popular-sized and –shaped lamps retrofit use standard industry plug connections, making them retrofitable to virtually all existing heavy duty trucks and trailers. The 6" oval can be mounted horizontally or vertically.
All Signal-Stat LED products carry a 2-year limited warranty backed by Truck-Lite.
These LED backup lamps are engineered to offer Truck-Lite quality at prices competitive with imported lamps. All Signal-Stat lamps are tested for performance and quality many times during the manufacturing process, and 100% of finished lamps are tested for function before packaging.
With the advent of the Signal-Stat LED line by Truck-Lite, operators on tighter budgets and those desiring the visual effect of multiple diode LEDs can now get quality lighting products made to the highest American standards.
"Our goal," said Bob Ives, Vice President of Marketing, "is to be the premier supplier of visibility products from the front to the rear of every truck, tractor and trailer. The Signal-Stat LED Lighting Line is an excellent fit in our strategic plans. Continual efforts to expand the breadth of this popular product line is another step in developing Truck-Lite into 'The See and Be Seen' company."
Like all Signal-Stat LEDs, the two new backup lamps offer these features and benefits:
- They exceed legal requirements for better vision.
- Their extensive pattern of multiple diode LEDs offer greater driver satisfaction.
- A two year limited warranty lets operators buy with confidence.
- Standard mounting holes, accessories and plugs make retrofit easy.
- Signal-Stat LEDs are completely sealed in epoxy to be less susceptible to shock and vibration and to better resist corrosion and moisture
- Signal-Stat LEDs draw less current allowing more power for other vehicle requirements.
Signal-Stat is a registered trademark of Truck-Lite Co., Inc. Headquartered in Falconer New York, with additional manufacturing facilities in Wellsboro, Coudersport, and McElhattan, Pennsylvania, as well as Birmingham England and Eisenach, Germany, Truck-Lite is a major producer of signal lighting, forward lighting, wiring harnesses, mirrors, turn signal switches, and safety accessories to the heavy duty truck, trailer, and commercial vehicle industries.
Contact
Sherry White Manager of Marketing Communications & Services Truck-Lite Co., Inc. 310 E. Elmwood Ave. Falconer, NY 14733 1/800/562-5012
E-mail:corporate@truck-lite.com
Web Site:http://www.truck-lite.com