New 55W iDrive LED driver from Radiant Resarch
Sep 29th, 2006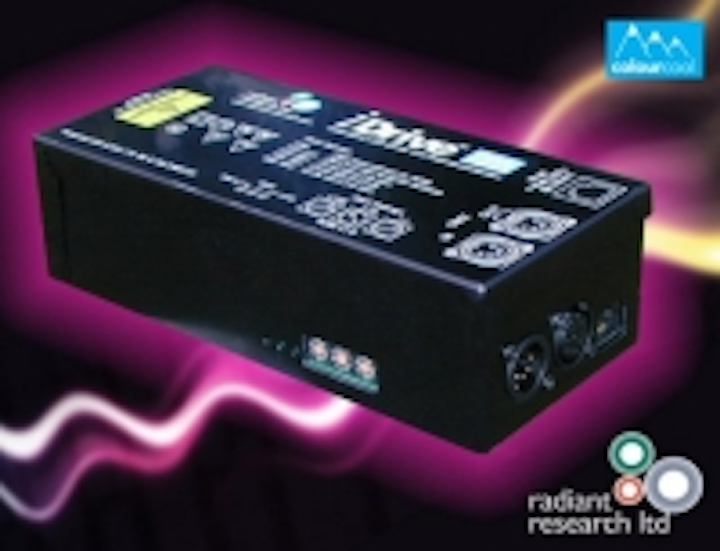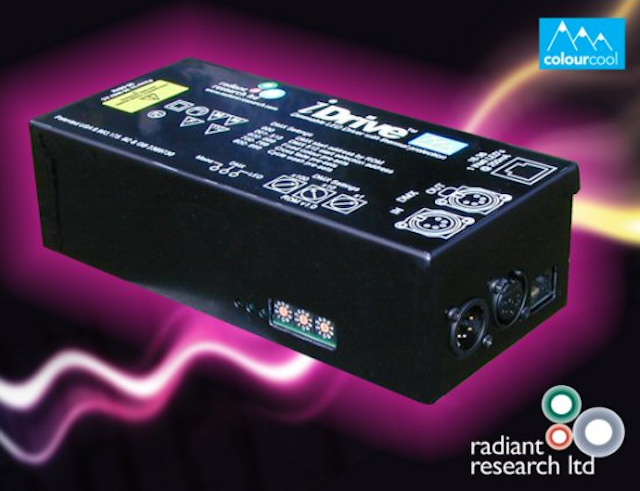 Date Announced: 29 Sep 2006
Photonics Cluster (UK) founding member, Radiant Research, has introduced iDrive™ and iDrive-Lite a new class of ultra performance LED Drivers optimised for multi-coloured LED lighting fixtures.
The new iDrive systems are compatible with a wide range of leading high power LEDS including Luxeon K2, Osram Golden Dragon, Cree XLamp 7090 and the Nichia Jupiter.
The iDrive has been developed in partnership with leading LED fixture manufactures to create a truly versatile LED driver that requires no DIP switch settings and offers a range of new, simple-to-use functions to dramatically cut installation times for LED lighting projects. The iDrive exploits a range of patented technologies to ensure a "best-in-class" LED driver range that is compact, energy efficient, robust whilst having a sleek and cost-competitive design that is ideal for interior architectural lighting applications.
The iDrive offers a smooth 100% dimming control at 350mA output whilst being able to drive up to 50x high-power 1W LEDs in a variety of LED array configurations. For the first time, the number of LEDs within a fixture or the number of fixtures that can be attached to the iDrive can be configured to provide a new freedom for designers and installation engineers alike.
The iDrive offers another industry first by combining both DMX and the latest RDM (Remote Device Management) control protocols within one unit enabling rapid configuration of lighting fixtures and auto DMX addressing thus banishing the dreaded DIP switch to the history books.
Full closed-loop feedback from the lighting fixture is provided by the patented ColourCool™ thermal management system extending the operating life for both the LED fixture and PSU reducing the need for expensive field maintenance. The advanced in-circuit driver protection system reduces expensive and inconvenient errors at the installation stage by providing both short and open circuit protection including automated self-test functions.
The iDrive also provide a universal mains voltage input and can be run from 85 to 265V AC incorporating a standard IEC connector enabling worldwide deployment.
The incorporated PowerSave™ technology ensures the iDriveTM maintains very high power efficiency across a range of LED fixtures. The patented PowerSave system enables an unprecedented 90%+ efficient at the primary PSU driver stage and provides a unique voltage compensation system which mitigates the need to specify forward voltages of LEDs within the lighting fixture. The PowerSave technology provides automatic compensation for the voltage drop observed in cables connecting the iDriveTM to fixtures enabling the correct operation even when fixtures are placed at over 1200 metres away from the LED driver!
The iDrive has been designed with minimal components for high reliability operation whilst offering a new level of functionality with over 295 built-in preset programmes at highly competitive prices.
iDrive-Lite is a DMX only version that contains a reduced number of pre-set programmes but still retains the PowerSaveTM and ColourCoolTM technologies.
Keith Anderson, CEO of Radiant Research stated "The magic of iDrive is that it has been designed to make installation simple and to save time by using standard power and DMX connectors using a unique user interface to control all functions. There are no complicated DIP switches and the lighting market loves it! We have been inundated with OEM partner requests and are currently setting up a world-wide distributor network to service the LED industry."
Nina Blackmore at the Photonics Cluster(UK) exclaimed "PC(UK) have supported the Radiant Research team by helping them design the product in our comprehensive laboratories and also helped put them in contact with other members to ensure the product was right for the market. Our feedback was that many members wanted new drivers to be RDM compliant so they could monitor fixture performance remotely and we are excited to see Radiant incorporated the market feedback with the wonderful iDrive."
Radiant Research specialises in the development of components to enable applications in solid state lighting, including power drivers, LED arrays and optics. The company also offers design services for LED based illumination systems.
Contact
Radiant Research Tel: +44 (0)1922 457712 Fax: +44 (0)1922 457056
E-mail:info@radiant-research.com
Web Site:http://www.radiant-research.com