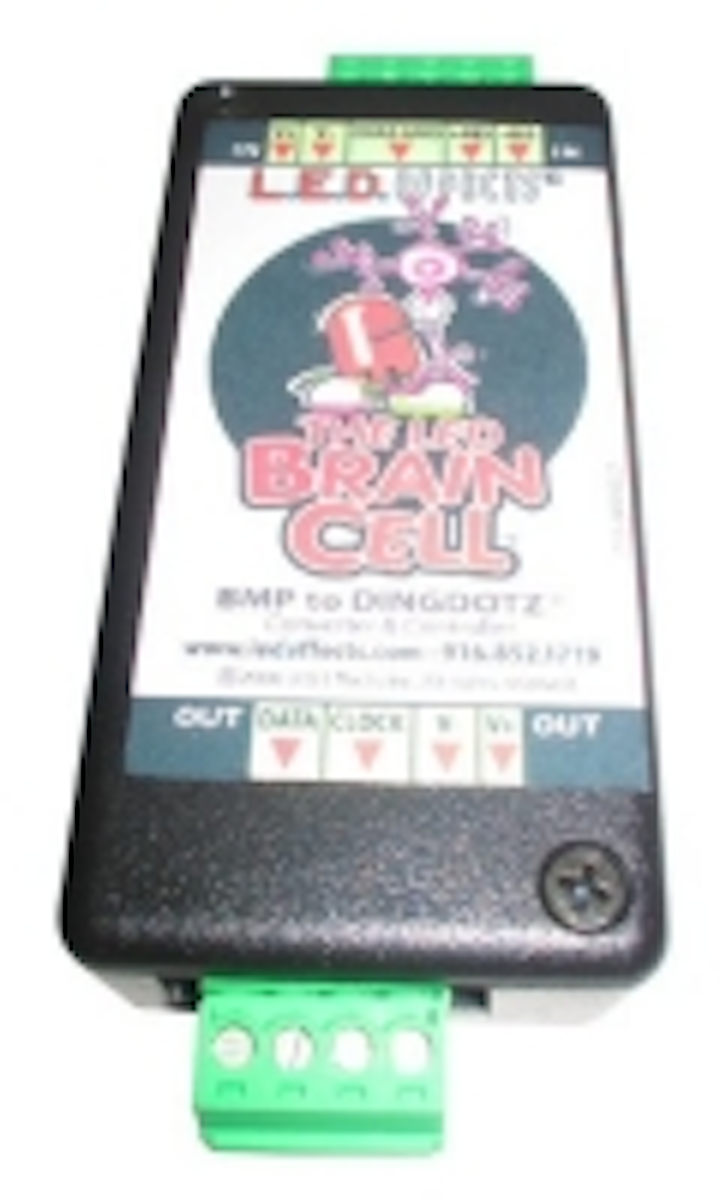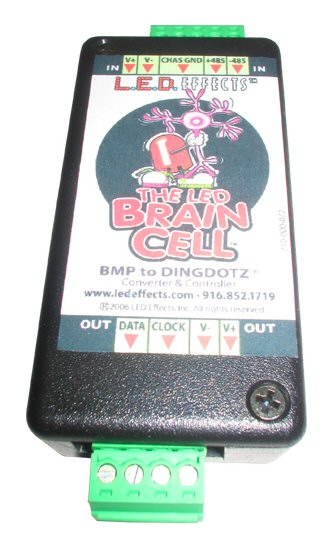 Date Announced: 29 Sep 2006
X-Node, Braincell and CoolDotz blur the boundaries between architectural, entertainment and digital signage sectors. Proving its ongoing commitment to R&D, Vivid Effect Ltd, UK-based sister company to LED Effects, Inc. introduces its latest LED products running on its successful Stream control system.
On the control side, X-Node and Braincell are added to an already impressive range. X-Node packages up the Stream network control system, and the Braincell is launched in various flavours, Stream, Smart and DMX.
X-Node
X-Node is a rackmount integrated unit designed for architectural lighting, entertainment, video wall and video sign applications. As part of a modular control and network distribution system, X-Nodes can drive video and lighting effects on the complete range of LED Effects' Stream LED fixtures. Each of the 8 ports on the X-Node drives 100 CoolDotz or DingDotz via the Braincell slave protocol converter. Thats 800 RGB pixels in total, the equivalent of 2400 RGB DMX channels! The first X-Node orders have already been shipped to installation sites in mainland Europe & the USA.
CoolDotz
The CoolDotz fixture is the next generation LED Pixel. Sealed in a 15mm square IP66 plastic housing, the RGB CoolDotz board hides an impressive intelligent functionality. The chip has onboard gamma correction, produces true 16-bit colour and gives two-way control over the fixture unlike anything else on the market. Perfect for video applications, the CoolDotz are versatile and flexible and can be configured in custom arrays to form VideoGridz or 3 dimensional abstract shapes.
Braincell
The Braincell is a new super small controller capable of driving 120 individually addressable LED Stream, Smart & DMX fixtures. Braincells can be configured for large complex applications where the Braincell is the slave controller component, and in smaller systems it can be used as the master controller, storing and playing lightshows and animation independently. The new standalone capability of the Braincell makes colour changing LED addressable video and animation aviable to those with smaller applications and limited budgets. At 80mm x 40mm x 20mm in size, the Braincell is probably the world's smallest controller.
About Stream
Don't worry about DMX! The Stream™ control protocol is all you need to control any colour changing desires. Stream uses standard data protocol and standard network hardware and cabling, giving a true cost effective alternative to DMX. The Stream system is capable of controlling millions of LEDs, running and streaming video at movie frame rates or higher. It is completely scalable which means that it can be used in the smallest applications up to the largest LED installations in the world.
About Vivid Effect Limited
Vivid Effect Limited is a UK-based LED lighting specialist, working in strategic partnership with LED Effects, Inc. of Rancho Cordova, CA, USA, manufacturers of leading edge LED lighting solutions. Based in Glasgow and Oxford, UK, Vivid Effect market and sell LED lighting products and solutions throughout Europe.
Contact
John Lyons Tel: +44 (0)141 558 3311
E-mail:John.lyons@vivideffect.com
Web Site:http://www.vivideffect.com