Optek's in-house VLED lab tests and compares LEDs and assemblies
Nov 22nd, 2006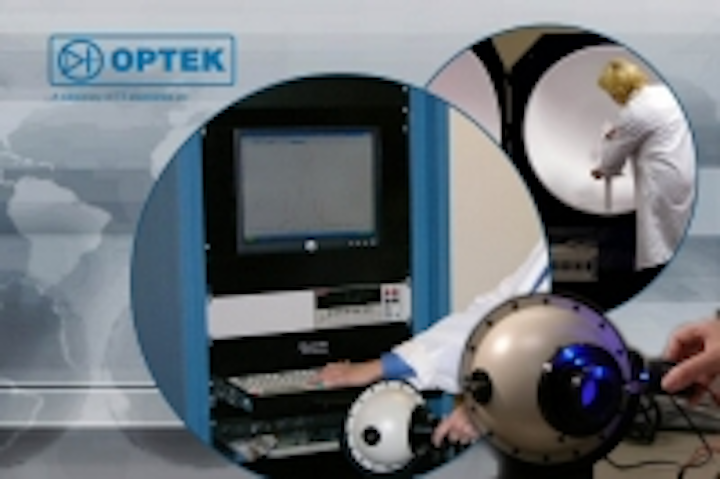 Date Announced: 22 Nov 2006
OPTEK'S IN-HOUSE VLED LAB TO PROVIDE COMPARISON TESTING FOR LEDS AND ASSEMBLIES
MUNICH, Germany – Providing solid-state lighting design engineers with an enhanced capability to evaluate and compare LED lighting products, TT electronics OPTEK Technology has developed an in-house visible LED lab designed to assist customers in developing solutions for applications involving solid-state lighting.
The lab provides OPTEK with the ability to compare traditional lighting solutions, such as incandescent and fluorescent sources, to solid-state lighting designs, as well as compare competitive LEDs and assemblies side-by-side. The lab's equipment will also provide spectral analysis of LEDs in both ultra-violet and visible wavelengths (200nm to 780nm).
According to Richard Saffa, vice president of OPTEK Technology's Visible LED Business Unit, OPTEK can now provide detailed data on custom assemblies to validate the light output of the finished array, instead of relying on the less accurate method of adding individual components' output values.
"The tools in our LED lab allow us to test our LEDs and competitor's parts side-by-side under identical conditions in order to make data-based comparisons," said Saffa.
"In addition, we are able to provide end points testing of validation data for reliability testing including full failure analysis."
OPTEK will provide customers with the comparison data, and also invites them to witness the testing first hand, Saffa continued.
OPTEK's visible LED laboratory equipment includes a thermal imaging camera to provide data for optimizing thermal management designs enhancing the lifespan and light output of power LED assemblies; a scanning electron microscope with a Princeton Gamma Tech x-ray analyzer for failure analysis; a luminous flux and wavelength tester to verify color and hue; and a spectroradiometer system capable of light engines up to 0.2 meters to measure the radiometric and photometric characteristics of LED assemblies of all shapes. The spectroradiometer system also includes a goniometer, CIE 127 Publication Condition A&B tube, and a 6" integrating sphere.
For more information about OPTEK's visible LED capabilities, contact TT electronics' OPTEK Technology at 1645 Wallace Dr., Carrollton, TX, 75006; call +1-972-323-2200, or visit OPTEK on the web at www.optekinc.com. In Europe, contact JP Delaporte at info@optek-europe.com or call +33-1-30-31-5928. In Asia, contact T.H. Swee at thswee@optekasia.com or call +852-9190-4641.
OPTEK Technology is a leading manufacturer of standard and application-specific sensors using infrared, visible, magnetic and fiber optic technologies focused on applications in office machines, industrial equipment, encoders, automotive electronics, military and high-reliability applications, and medical diagnostic equipment.
Headquartered in Carrollton, TX, the company is ISO/TS16949:2002 and BS EN ISO 9001:2000 certified, as well as ITAR registered. OPTEK Technology was acquired by TT electronics in December 2003.
TT electronics plc is a global electronics company manufacturing a broad range of advanced electronic components, assemblies and sensor modules for the automotive, industrial, telecommunication, computer and aerospace markets.
Contact
Janie Haynie, Product Marketing Director OPTEK Technology +1-972-323-2200
E-mail:jhaynie@optekinc.com