First LED Giant Screens blog is now online
Nov 12th, 2006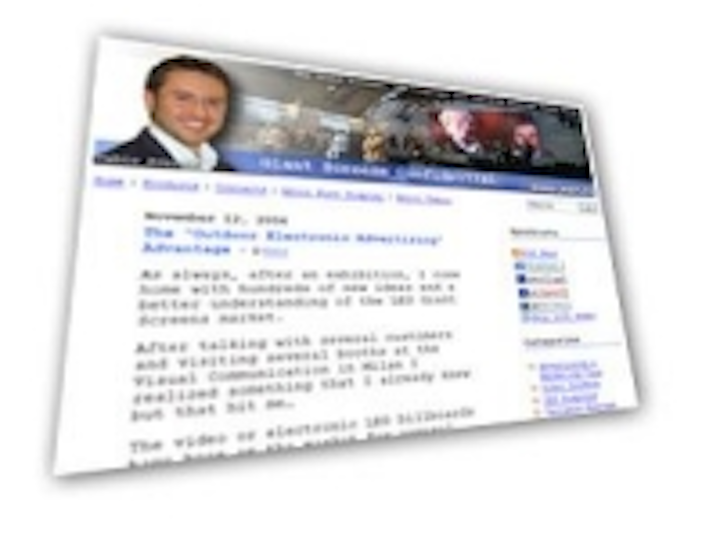 Date Announced: 12 Nov 2006
Euro Display has launched the FIRST blog specifically targeted on LED Giant Screens and Displays.
Fabio Aversa (Marketing Manager at Euro Display) introduce us into this new online place called GIANT SCREENS CONFIDENTIAL:
FIRST OF ALL, WHAT A BLOG IS EXACTLY?
A Blog is a space on the Internet where a person can publish a personal diary, photographs, or thoughts on a particular topic.
In this particular case, the "person" it's me, Fabio Aversa (Marketing Manager at Euro Display) and the "particular topic" is Giant Screens, LED Displays and Variable Message Signs.
WHY THIS BLOG MIGHT INTEREST YOU?
Because here I'll discuss all those topics and will answer all those questions that it is difficult to integrate in the rigid structure of a Company Website.
We often receive compliments about how our website (www.EuroDisplay.com): most of our visitors appreciate the way it is designed and the information that are available.
But still, we felt the need for a more flexible space where to place all that information that often do not belong to any section of the website (ie. how long do you think it takes to build a 3×2 meters giant screen with proEVENT light modules...)
SO, WHAT YOU WILL FIND HERE EXACTLY?
* Insights from the Giant Screens Industry that might be useful to better understand this amazing technology and to Discover How To Use LED Displays To Create A Successful Business!
* Updates from Euro Display: What is happening at ED? What are we testing on our LED Products? What were the results?
* Every month I am privileged to meet lots of extremely successful business owners, exposing me to the hottest strategies and insights on the Giant Screens industry that I will share with you.
* My personal opinions, thoughts, and ideas on numerous different topics (always concerning the LED Displays World) and marketing strategies.
WHY THIS BLOG IS CALLED "GIANT SCREENS CONFIDENTIAL"?
Because we imagined it as an informal place where to discuss new topics on a daily basis, according to what is the most common doubt, the most frequently asked question, the latest news, the latest product or the latest requests from our customers.
So once again, welcome and please check back on a regular basis for new Giant Screens updates and insights that might be useful to grow your business!
Contact
Fabio Aversa Marketing Manager, Euro Display Srl Torino, Italy Tel.: +39 / 011.954.10.15 Fax: +39 / 011.954.10.17
E-mail:editor@eurodisplay.com