OSTAR Headlamp LED supplied with or without optics
Nov 22nd, 2006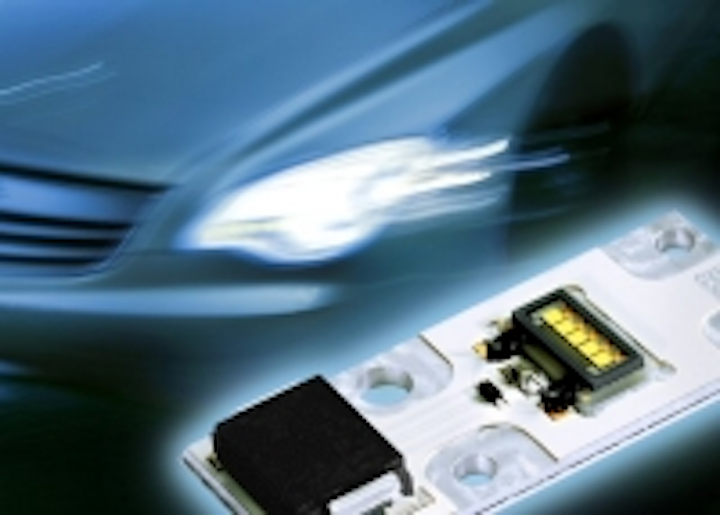 Date Announced: 22 Nov 2006
When LEDs conquer headlights there will be no limits to a designer's ingenuity. These compact light sources will give designers untold freedom.
With OSTAR Headlamp and, at a later date, with OSTAR Headlamp Hot Spot, OSRAM Opto Semiconductors is targeting headlights that work with reflection systems and those with projection systems.
Both LEDs will be qualified according to automotive standard AEC-Q101 and easily achieve the brightness level of halogen lamps.
Each of the two high-power light sources is equipped with five tightly packed Thin-GaN chips which together produce light with an extremely high brightness level.
For a typical forward current of 700 mA the OSTAR Headlamp achieves 250 lm, and the OSTAR Headlamp Hot Spot as much as 350 lm.
Four of these LEDs are therefore sufficient to generate as much light as a halogen lamp. A larger number would be needed to produce the same level as a xenon lamp.
Without optics the LEDs meet the requirements of reflection systems. The light from these surface emitters can be injected perfectly in customer-specific optics. In the Hot Spot version a special lens is used as the primary optics to focus the light.
The two models have a high colour temperature of 5600 K that is closer to natural daylight than other headlight sources.
In particular this improves visibility at the edges of the illuminated zone because the human eye is better at perceiving objects in daylight white light than in other light colours. The LEDs provide concentrated light from a small surface area and are therefore ideal for use in headlights.
Customer-specific lenses enable a wide range of designs to be produced. OSRAM can provide application support on request. Robust, vibration-proof and moisture-resistant, these light sources generate white light in the ECE and SAE standard range. They can easily withstand the extreme temperatures in headlight applications (-40 to +125°C operation temperature).
Contact
OSRAM Opto Semiconductors
E-mail:info@osram-os.com
Web Site:http://www.osram-os.com