Lednium selects Intematix phosphors with good high-temperature performance
Nov 10th, 2006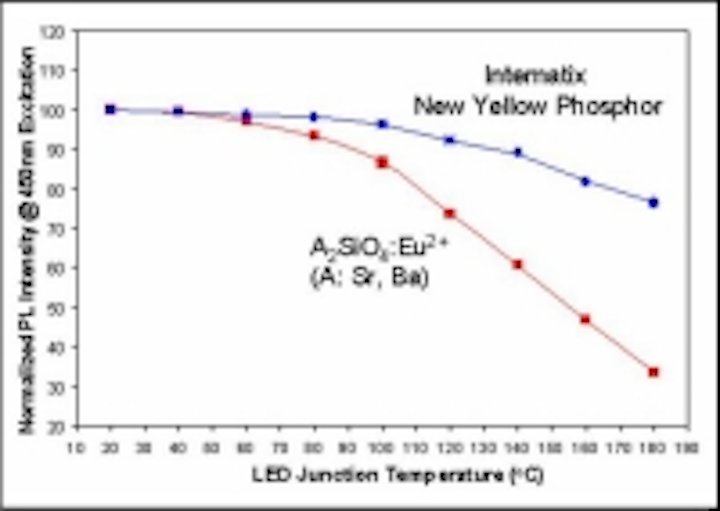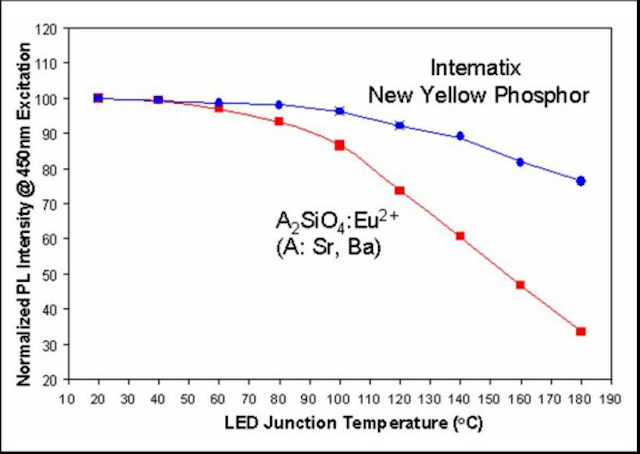 Date Announced: 10 Nov 2006
Solid State Lighting Phosphor Expert Intematix Adds Power-LED Provider Lednium to Strategic Customer Wins
Fremont, California, USA – Solid state lighting phosphor expert, Intematix Corporation, announced today that it has added Lednium Pty Ltd of Mooroolbark, Australia to its growing list of strategic customer wins. Lednium has selected a broad offering of Intematix' patent-backed phosphors to enable their continued product line expansion that includes white and warm white power-LED solutions for general purpose lighting applications. Lednium has been well recognized as a technology leader of power-LEDs in both color and white lighting fixtures for industrial and residential applications.
"Phosphor output typically degrades in the high junction temperature environments that you would expect in power-LED designs. The Intematix approach has resulted in higher luminous output and reliability once junction temperatures exceed 60 degrees C," points out Intematix Co-Founder and Display and Lighting Business General Manager, Dr. Yi-Qun Li. "With a considerable investment of effort being required to incorporate a new phosphor source, the product roadmap becomes another key decision factor. Beyond our expanding warm white and alternate-color offerings, our upcoming phosphor coating product line has created substantial interest for Lednium."
Intematix' unique processes have allowed development of a phosphor solution that maintains more than 90% of its luminous output with junction temperatures in excess of 130 degrees Celsius. Competing phosphors typically degrade more than 3 times that amount, maintaining approximately 66% of their luminous output. Intematix offers a broad line of patent-backed phosphor options to designers and manufacturers for high brightness LEDs and solid state lighting solutions. Included in the agreement is Intematix' current three color series of G3X6XTM, Y4X5XTM, and O5X4XTM, in addition to its OG450TM Warm and Cool White Series.
Lednium Pty Ltd provides a broad offering of power-LED solutions to worldwide markets. According to Lednium president, Balu Jega, "Our 10W GA-series 'turtle package' LED has drawn a lot of attention within general lighting applications including wall and garden lights as well as personal illumination. Intematix' full-service design support has allowed a smooth integration within both our turtle and single die 'cup' solutions, and enabled us to more easily maximize the brightness and efficiency across the entirety of Lednium's award-winning LED offerings."
The ability to flexibly customize its phosphor technology is achieved using Intematix' Materials Discovery Engines. This unique material development process technology enables the rapid development of new material compositions that can then be quickly customized for luminescent efficiency, emission wavelength, specific thermal stability, manufacturing processes, and specific Bills of Materials, including a choice of chips at various wavelengths and support for a variety of resins.
"Establishing a true merchant source of supply within a previously closed technology area doesn't mean just throwing a well-designed product out onto the market. It also requires the supplier to provide top-tier support to assist LED packaging companies in their move to the new merchant source," states Intematix CEO, Magnus Ryde. "We believe that Lednium is a prime example of the benefits realized from this type of 'high-touch' approach. When combined with their innovative core designs, we are confident that the solid state lighting market will take full advantage of the exciting technology benefits stemming from this relationship."
About Intematix Corp.
Intematix Corp. specializes in next generation nano, bulk & thin film materials. Leveraging its ultra rapid material development and proprietary tools and processes, the company discovers and optimizes materials in a fraction of the time typical for conventional methods. Intematix offers production availability of key patent-backed phosphors for the solid state lighting and imaging markets, from its Fremont, California, USA facility.
About LEDNIUM Pty Ltd
Headquartered in Mooroolbark, Victoria, Australia, Lednium Pty Ltd produces the world's first three-dimensional compact-design LED die platform. Consistently incorporating the latest LED technology, Lednium now offers the brightest single source 3D LED device on the market, and leads the world in LED platform design. Lednium technology is suitable for a wide range of industries and lighting applications including: architectural lighting, automotive, aviation, display, entertainment, gaming and vending machines, marine, military, signs and signals, variable message signs and general illumination. http://www.lednium.com.
Contact
Contact at Intematix: Yi-Qun Li at +1.510.668.0227
E-mail:yqli@intematix.com
Web Site:http://www.intematix.com